$12b HAYFEVER INDUSTRY TURMOIL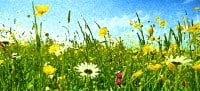 A heath-care revolution as seasonal allergy sufferers turn to new biotech solutions
In one of the biggest revolutions in self-administered health care, the traditional hayfever industry seems to have gone from boom to bust in just three years.
Despite the fact we have seen the worst and longest hayfever seasons ever, the players who were dominant in the $12 billion industry in 2013 have lost up to 80% of their markets since then.
Although the industry today is estimated to be about the same value 2013, three new companies have cornered more than half the market in the past few years – all with radical new treatments for seasonal allergies.
The companies, based in the UK, China and India, all market remarkably similar drugs that are still the center of several patent law suits. In the meantime customers are flocking to the new drugs and all the companies are struggling to meet market demand.
Circassia, an Oxford biotech company, started the so-called 'Hayfever Revolution' by developing immunotherapies for cat and hayfever allergies. They were established in 2007 and listed with fanfare in 2014, soon to be followed by apparent 'me too' competitors from China and India.
"Our focus has been to treat common conditions caused by inappropriate or uncontrolled immune responses that affect so many people when the pollen season arrives" said Circassia CEO, "our targeted immunotherapy is a revolutionary way to change the natural course of allergic reactions. Of course we're pleased the way the market has embraced our products. It's been very satisfying to be able to contribute to the quality of life of so many millions of people world-wide."
In the meantime, traditional players in this industry must be wondering what they missed, and what they can possibly do next.
Warning: Hazardous thinking at work
Despite appearances to the contrary, Futureworld cannot and does not predict the future. Our Mindbullets scenarios are fictitious and designed purely to explore possible futures, challenge and stimulate strategic thinking. Use these at your own risk. Any reference to actual people, entities or events is entirely allegorical. Copyright Futureworld International Limited. Reproduction or distribution permitted only with recognition of Copyright and the inclusion of this disclaimer.