CLIMATE CHANGE FORCES PROPERTY RETHINK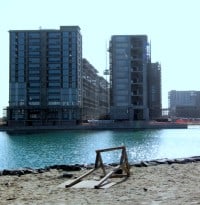 Sustainable technology starts a green housing boom
Empty properties from 2009 still litter the global beach-front. Elsewhere new developments incorporating only efficient solar systems producing energy and fresh water are writing new rules for real estate investment.
Low-power LED lighting and free wireless broadband from community networks make the new sustainable homes highly desirable, all derived from systems first deployed after the Haiti earthquake in 2010.
This simplicity has drawn investors away from property relying on connected services for power, water and media. "Environment, technology and investment risk have combined to generate a totally different wave of property demand," says Samantha Spencer of Global Eco Assets.
Hurricane Cindy hit Miami hard in 2011, wrecking condos and leaving communities without services. The combined failures of connected utilities, insurance and building management brought a rapid shift towards low energy, low impact, eco-assets built without reliance on connected grid systems.
In Europe, the Rhine floods disrupted power and water supplies for months, leaving utility and insurance companies overwhelmed.
Almost a million displaced people came to rely on emergency solar power and clean water recycling systems. The systems worked perfectly and with no service charges – people liked the independence!
Around the world the demand to live in low impact communities has grown rapidly. High tech solutions and government legislation have encouraged investment in self-sustaining homes and work spaces.
Disconnection from central services has become desirable and sustainable in the world of green property investment.
---
ANALYSIS >> SYNTHESIS: How this scenario came to be
Demand for energy-efficient homes
Over the last 20 years technological developments have taken place in building systems, energy generation and water recycling that make it possible to provide high quality living environments without expensive utility connections and building services. The property boom from 1997-2007 created a frenzy of construction where any and all property was taken at its built cost and little regard given for the sustainability design. Now the markets have turned, investors are looking to the efficiency of buildings long term and actively seeking out sustainable property that will ride the coming financial and climate storms. – Survey
1997: Property investment flourishes>
A property boom gets underway, based on the creation of wealth through mortgaged ownership. Financial and service industries promote a new lifestyle based on consumption and debt availability. New developments bring increased demand for energy and connected utilities fueling further growth in the support service sectors. There is reduced concern for the environment, sustainability and energy efficiency, as property developers seek idealized locations including coastal sites and historical flood plains that offer maximum value returns in the short term. In an era of consumption, property is considered a stable, long-term investment asset with little thought for sustainability and future energy efficiency, beyond basic mandated regulations.
2001: Dubai starts building the Palm Jumeirah>
An example of grand scale property investment and speculation. Artificial islands of sand are created in the Arabian Gulf as the Palm Jumeirah takes Dubai property out of the desert and into the sea. The whole world is talking about the Palm and everyone wants a piece of it. Most plots are flipped on the investment market before the land reclamation is completed or the buildings started. Problems emerge as the cost of construction rises and in an effort to raise more capital, the property density on the development is multiplied up.
Now services for water, power and waste water are overloaded and must be redesigned. Arguably the least sustainable property development ever constructed, the creation of the Palm Jumeirah begins in June 2001. Soon after, the Palm Jebel Ali is announced and reclamation work begins. In addition the Palm Deira, which is planned to have a surface area of 46.35 square kilometres, is announced for development in October 2004. Construction is originally planned to take 10–15 years, but there is no hint of the global credit crunch that will hit Dubai.
2007-2009: Global property market peaks – demand crashes>
The Dow Jones Real Estate Index hits a high in February 2007 at a value of 1115. There are rumblings of an 'unsustainable property market' among investment bankers. The bubble is about to burst.
The collapse of the property market in Dubai in 2008/09 is part of a worldwide reassessment of property value as banks and lending institutions are forced to realistically assess the asset value of property with a long-term perspective. Sustainability is key to future value as buildings stand empty because the cost of building maintenance and low demand make property developments uneconomic to hold.
2008: "Change the World" with Energy Star>
In the USA the Department of Energy (DOE) has been working for over a decade to bring forward more energy efficient appliances and devices under the Energy Star program. In October 2007 the first retail buildings to earn the Energy Star Award were announced and in April 2008 the DOE launches the "Change the World, Start with ENERGY STAR" campaign to help Americans join in the fight against climate change. The Energy Star certification assures consumers that products save energy and are high quality and also serves as an incentive for manufacturers to provide energy-saving products for consumers.
2010: EU mandate for "nearly zero-energy" homes>
The European Parliament gives new energy standards final approval. All new buildings constructed in Europe after 2020 will have to be virtually carbon-neutral. These standards are expected to have a significant long-term impact on the EU's bills for gas imports for heating from Russia, Norway and Algeria, worth tens of billions of euros each year.
The European Union's mandate for "nearly zero-energy buildings" will kick in for all new public buildings in the European Union after 2018, and for all new homes and offices two years later.
Environmentalists give the standards a guarded welcome, but say they will take effect too late and do little to encourage the renovation of Europe's existing housing stock. "Investing in building renovation is a win-win scenario, creating jobs in Europe's largest employing sector, reducing energy bills and improving our energy security," says Green politician Claude Turmes.
The 2010 Atlantic hurricane season proves even more active than feared, with 10 hurricanes, five of them major, and two of the major hurricanes hitting the US coastline. The intense season disrupts efforts to contain the huge Gulf of Mexico oil spill and also batters earthquake-ravaged Haiti.
2011: Record storms hit USA and Europe>
The weather trend from 2010 is continuing to intensify with increasingly energetic storm activity and record heat waves through July and hurricanes in August. The 2011 season has produced huge storm systems moving through the Gulf of Mexico carrying record rainfall across the Atlantic and causing widespread flooding in Europe. The successive and frequent nature of the storm events is progressively breaking down the ability of service companies to restore power and fresh water supplies. Service costs are rising and insurance becoming more restrictive.
As storm weariness has grown with climate impacts, public frustration erupts in the USA. NOAA (National Oceanographic & Atmospheric Administration) comes under fire from the public for not warning of the events and in an unprecedented move NOAA re-publishes its 2010 prediction update to defend its statement that "the climate is changing faster than we can keep up with."
2012: Unsustainable property write-offs peak>
Many empty buildings, built up to 2008 as second homes or property to flip, suffered storm damage. Insurance companies refuse to pay for repair and reconnection of services claiming they were "left derelict" by their owners, against the terms of their cover for occupied buildings. As demand for such property has fallen, property investment write-offs peak.
New priorities for property purchase and investment have now emerged, for buyers and commercial investors who seek only the best property opportunities, with the lowest monthly outgoings. Buildings that have low connected service costs, low maintenance and low insurance represent 'Best Buys'. Older properties in large, partially occupied or damaged developments are left empty, causing developers to continue to default on loans and increasing the cascade of developer and bank failures.
2014: G20 sets minimum sustainability standard for lending on property>
Nations still flushing out bad debt within a stagnant property market want to use the construction industry and solar technology developments to create a new sustainable property market and jobs stimulus. In order to meet climate change objectives, the G20 agrees worldwide new standards for sustainable building systems, to ensure that emissions targets are met and energy demand is reduced. Government controlled housing projects are the first to change but private sector development quickly follows, as customer demand moves toward a greater reliance on sustainable systems.
The new green housing boom has begun.
Warning: Hazardous thinking at work
Despite appearances to the contrary, Futureworld cannot and does not predict the future. Our Mindbullets scenarios are fictitious and designed purely to explore possible futures, challenge and stimulate strategic thinking. Use these at your own risk. Any reference to actual people, entities or events is entirely allegorical. Copyright Futureworld International Limited. Reproduction or distribution permitted only with recognition of Copyright and the inclusion of this disclaimer.