ECONOMY BOOMS – EMPLOYMENT FALLS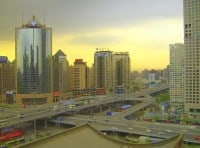 If you're not an entrepreneur, prepare to be unemployed
Last week's Fortune 500 conference hosted in Berlin reported sobering numbers. Globally, 2007 was the peak year for the number of people in formal employment in large companies. For the past five years the numbers have dropped each year. Now they are down by more than 20 million jobs.
Today's global leaders are increasing their economic power, but are shedding formal jobs at an alarming rate. Companies are turning their old management hierarchies into powerful new networks of business partners. They are sourcing many of their business functions and services from an increasingly 'flat world'.
Investors are changing their attitudes to company valuations. "We'd love to invest in IBM's business partners, but we can't – only 20 of them are listed. IBM's value is no longer in the company itself, but lies in sum of all its business partners," says Pieter Sharp of Apax Capital.
For individuals this means new attitudes to work and jobs. They are more likely to find 'work' than 'jobs'. Employment means creating your own opportunities and delivering on them yourself, with your own networks.
In the words of author Wolfgang Grulke, we're in a 'Relationship Economy' – and he sees 'Return-on-Relationships' as the new economic differentiator.
---
ANALYSIS >> SYNTHESIS: How this scenario came to be
Welcome to the Fractal Future
It doesn't help if you have the best degrees or years of practical experience, your chance of ever being employed is falling every year. Corporate enterprises are forming partner relationships rather than hiring employees.
Companies such as China's Li & Fung are thriving on these new realities. Procter & Gamble now starts every new project with at least one formal business partner, more often with scores. GE and IBM estimate that each of their businesses now has in excess of 100,000 business partners.
If you haven't embraced this new model for economic participation, you're likely to be left out!
2007: Job-less growth continues
Of the 26 million businesses in the US, 20 million have no employees.
The Institute for the Future's report on the future of small business says that although the world economy continues to boom, there is no accompanying growth in jobs. Off-shoring and out-sourcing has meant that people have to create their own businesses and their own opportunities.
2008: A new generation powers the new world
We used to talk about an emerging Generation-Y and what would happen when they entered the world of business. Now we see that generational attitudes are less determined by when you were born, but rather by the economy you are born into.
Take a look at all the boom areas in the world, from Bangalore to Beijing, from Moscow to London, and you will see young people with attitudes that resemble the natural optimism of Baby Boomers, rather than the schizophrenic mis-trust so often associated with Gen-X and Gen-Y. They are:
Cherish autonomy and the ability to 'do your own thing'>
Hate government interference and distrust central power
Put huge value in personal trust and respect
Live by maxims such as 'Life is short, play more, have fun!'
Be informal and flexible in your attitudes
We are extremely tech-savvy, networked and have ten times the numbers of relationships our parents had
This is the new power generation.
2010: A new skill-set emerges
Based on a FutureWorld's analysis of what has made leaders successful in the past decade some interesting new skill sets have emerged:
An appetite for risk
A tolerance for mistakes and the ability to learn from them
Strong conceptual thinking skills
Belief that there are multiple futures and that all outcomes are possible
Powerful dreams about their own future, and the willingness to share them
These skill sets will shape the future of the next economic boom.
2012: Serial entrepreneurship rules, OK?
It has become self-evident to anyone connected to the world's news media that there is only one person responsible for your future – and that's you!
If you don't do it, no-one else will help you. Not your parents, not government; no big organization will adopt you.
You have to work several 'jobs' at the same time. You will be an active part of hundreds of social and business networks. Your relationship skills will differentiate you.
You have to be a serial entrepreneur. Or be unemployed.
Warning: Hazardous thinking at work
Despite appearances to the contrary, Futureworld cannot and does not predict the future. Our Mindbullets scenarios are fictitious and designed purely to explore possible futures, challenge and stimulate strategic thinking. Use these at your own risk. Any reference to actual people, entities or events is entirely allegorical. Copyright Futureworld International Limited. Reproduction or distribution permitted only with recognition of Copyright and the inclusion of this disclaimer.