FORGET THE FLAB, TAKE THE FAT-JAB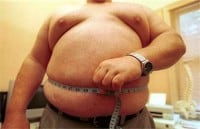 Anti-obesity drug set to radicalize new age health
"Another slice of cream cake? Or another beer? And then when we've eaten, we'll go out and party all night! Oh, and do take a handful of chocolates with you."
Remember the days of weight-watching? Now dieting has gone out the window with the concept of having to sleep to get rest.
First came the 'no-sleep' drug. Now the anti-obesity jab has liberated humans from the scourge of the diet.
People today look back in horror at 'barbaric' methods of surgery used in the first decade of the 21st Century to control overeating. The 'fat-jab' simply programs hormones to control appetite. At the same time, it cures Type 2 diabetes which five years ago affected hundreds of millions of people.
Chinese scientists have merged this with the 'exercise in a pill' developed in California and have spawned a new age of slim, fit First World citizens.
Response from the health industry has been mixed. On the one hand, billions of dollars will be saved in medical costs with a sharp decline predicted in heart disease and fat-related illnesses.
But the pharmaceutical and health food industries, which for generations have made huge fortunes from selling a vast range of anti-fat remedies, are less than thrilled. Diet planners and authors are up in arms, calling the new treatment 'unethical'.
---
ANALYSIS >> SYNTHESIS: How this scenario came to be
1 May 2007: May 2007Pill tells cells to burn fat
Scientists in California have been able to switch on the 'master regulator' in mice that controls the ability of cells to burn fat. This breakthrough promises the development of a sci-fi 'exercise in a pill'.
Salk Institute scientist Dr. Ronald M. Evans says that even when the mice are not active, turning on the chemical switch activates the same fat-burning process that occurs during exercise. The resulting shift in energy balance (calories in, calories burned) makes the mice resistant to weight gain on a high fat diet.
31 July 2008: July 2008Exercise in a pill
Scientists at the Salk Institute for Biological Studies announce they may have found a way around the sweat and pain of exercise. They identified two signaling pathways that are activated in response to exercise and converge to dramatically increase endurance.
The team of scientists, led by Howard Hughes Medical Investigator Ronald M. Evans, a professor in the Salk Institute's Gene Expression Laboratory, reports in the 31 July advance online edition of the journal 'Cell' that simultaneously triggering both pathways with oral drugs turned laboratory mice into long-distance runners and conferred many of exercise's other benefits.
9 September 2008: September 2008Fat-jab 5 years away
An injection that cures obesity could be available within five years, claim leading scientists.
Newspapers report that researchers at University College London are developing drugs to control a patient's hormone levels and effectively stop them feeling hungry.
The team made their breakthrough after they studied gastric band surgery and found the procedure altered levels of ghrelin – the so called 'hunger hormone' – along with several other hormones related to glucose regulation. Now they hope to recreate the effect in a drug. This could alter a patient's hormone levels to make them feel less hungry.
28 September 2010: September 2010Fat-jab and exercise pill in one
Chinese scientists announce that they have successfully combined the anti-obesity 'fat-jab' and the 'exercise in a pill' into a single drug.
Called Life-Slim, the new drug is currently undergoing safety tests and is expected to be released on the market in the next two to three years.
"This is fabulous news," says Cherry Burton, an ample resident of Dayton, Ohio, as she tucks into a double SuperMac. "I just can't wait to eat everything I want and still be skinny!"
24 November 2013: November 2013Supa-slim drug hits the shelves
The US Federal Drug Administration becomes the latest drug agency to approve the 'Life-Slim' anti-obesity and 'exercise in a pill' drug for sale to the public.
The release of the pill, worked on all over the world by scientists for decades, but perfected by the Chinese in 2010, is expected to cause a public frenzy when it goes on sale just before Christmas, dwarfing the 1998 release of Viagra, the erectile dysfunction drug.
Warning: Hazardous thinking at work
Despite appearances to the contrary, Futureworld cannot and does not predict the future. Our Mindbullets scenarios are fictitious and designed purely to explore possible futures, challenge and stimulate strategic thinking. Use these at your own risk. Any reference to actual people, entities or events is entirely allegorical. Copyright Futureworld International Limited. Reproduction or distribution permitted only with recognition of Copyright and the inclusion of this disclaimer.