FREE TABLETS FOR TOP SHOPPERS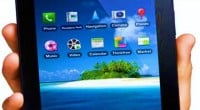 The final nail in the commoditization of computers and the digitization of retailing
Walmart and Tesco have long been leaders in wringing the last drop from shoppers' wallets through digital services. Walmart tell us that today almost 30% of their revenues, and more than half their profits, originate from online services, including home-shopping, insurance, phones, banking, music, movies and books.
Now, much to the final dismay of Apple, Samsung and Lenovo, they are giving anyone who spends at least $100 on their shopping a free tablet computer.
Of course there are limitations. The tailored software on the free devices directs you to their product offerings first.
However, Tesco are already known to have the best comparison software anywhere, which they use to fine-tune their prices continually, so many consider this not to be an issue. Tesco's 8000-strong technology workforce in Bangalore is seeing that they maintain this lead across all their services – and 'data mine' their seriously 'Big Data' customer base, united by their ClubCard brand.
Amazon, themselves on a march to become the "world's retailer," say they are "not worried and welcome the new competition."
The computer and phone manufacturers should have seen it coming. Hyper-competition and dwindling profit margins have made the device business increasingly less attractive. With these two supermarket orders alone expected to top 20 million devices this year, you can imagine that they will receive discounts cut down to the bone.
Hardware vendors' profits are expected to continue to slide.
Warning: Hazardous thinking at work
Despite appearances to the contrary, Futureworld cannot and does not predict the future. Our Mindbullets scenarios are fictitious and designed purely to explore possible futures, challenge and stimulate strategic thinking. Use these at your own risk. Any reference to actual people, entities or events is entirely allegorical. Copyright Futureworld International Limited. Reproduction or distribution permitted only with recognition of Copyright and the inclusion of this disclaimer.