FROM MALLS TO MARKETS IN A DECADE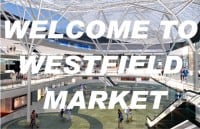 Economic quagmire destroys appetite for 'retail therapy'
Today is the tenth anniversary of the opening of 'Westfield London', then the biggest urban shopping mall in Britain.
This marble temple to up-market consumerism (a PR quote stated that "half the metamorphic layer of Italy is here") boasted 265 shops (with all the expected brands including Gucci, Prada and Tiffany) and more than 50 restaurants.
Look at the Westfield dream today. It is now decidedly down-market. The brand names are less exclusive and rather more accessible to the 'other 90%' of Britons.
Marks & Spencer is one of the few big brands that has survived but its brightly-lit store is not squeezed between Gucci and Prada – it is surrounded by bustling market stalls, noisy, frenzied and aromatic – reminiscent of India and China in the 1980s.
Consumers are poorer after years of economic squeeze, unemployment and minimal disposable income. The glitz is gone but the middle-class shoppers are back.
"The big brands have just priced themselves out of my reality," says one shopper. "I've become much more selective and prefer to haggle for what I want. Above all I don't want to feel I'm being ripped off."
The 20th century retail dream has turned out to be more like the 18th century, with malls transformed into 'market towns' so typical of Britain in that time.
In Dubai, Hong Kong and Singapore the upper-crust shopping malls that dominated city centers are desolate without their keystone tenants.
Today, they are filled with the small businesses previously constrained to areas such as Hong Kong's Stanley Market. Large mall-owners now have thousands of tenants rather than a few dozen.
One tourist proclaimed: "This is just like the Hong Kong we knew 20 or 30 years ago. Shopping here is fun again."
Things have come full circle; at least until the next boom cycle begins.
Warning: Hazardous thinking at work
Despite appearances to the contrary, Futureworld cannot and does not predict the future. Our Mindbullets scenarios are fictitious and designed purely to explore possible futures, challenge and stimulate strategic thinking. Use these at your own risk. Any reference to actual people, entities or events is entirely allegorical. Copyright Futureworld International Limited. Reproduction or distribution permitted only with recognition of Copyright and the inclusion of this disclaimer.