Gazprom the biggest casualty in Crimea crisis aftermath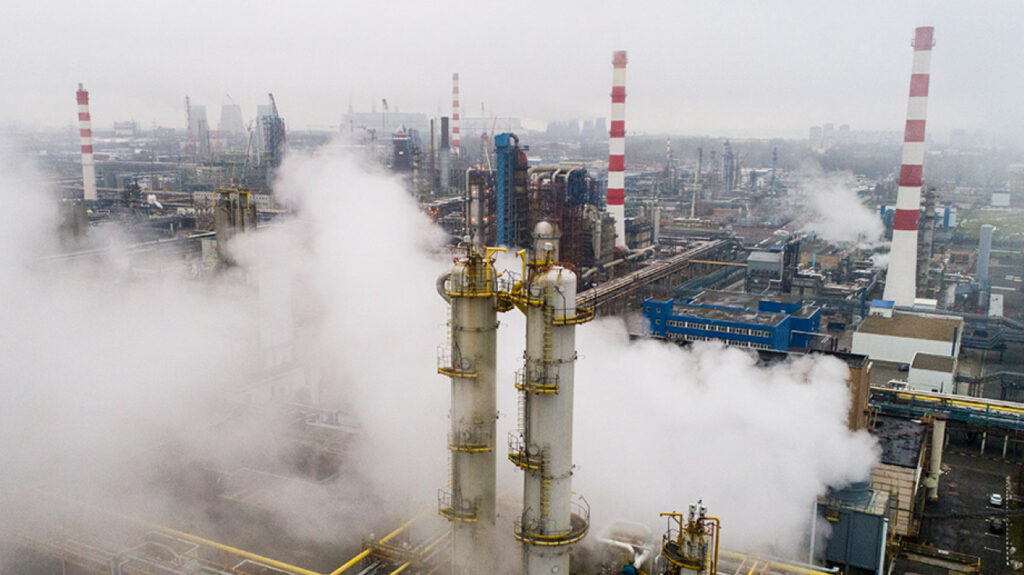 Merkel declares Germany free of Russian gas
Yesterday, Chancellor Angela Merkel announced that Germany had achieved a new level of energy security and independence.
"It has taken us five years to wean ourselves from Russian gas but today I can announce that the last Gazprom supplies are being officially switched off."
In March 2014, Russia claimed Crimea as their own. In the diplomatic crisis that ensued, Russia held an economic weapon – Europe's dependence on gas supplies from the east. The crisis was a catalyst for EU leaders to rethink their strategic energy positions. Germany, as the largest single consumer of Russian gas, began doing the only thing it could; building new infrastructure to access new gas sources.
The political response in Europe may have done little for Ukraine, but it has pushed forward legislation to create a common energy market and Europe entered the fracking industry a lot more enthusiastically. Alternative sources of shale gas from the UK to Estonia now supply 10% of Europe's gas demand.
Qatar is the biggest beneficiary of the gas shake-up, with new port capacity in the Netherlands and Spain to accept their LNG shipments. New gas supplies from Australia and a new off-shore facility near Israel, along with increased production in Norway and the Netherlands, have gradually replaced the European Union's dependence on Russian gas imports.
The Russian economy has faltered, and Gazprom, once the largest energy supplier in the world, has been forced to slash prices to keep customers. All of this comes too late for the people of Ukraine, but it is the least that Germany can do. Ironically, the Ukraine itself still gets half its gas from Russia; it has no other choice.
---
ANALYSIS >> SYNTHESIS: How this scenario came to be
Trade Wars
Should Russia flex its muscles and start a trade war with the West, it might indeed come off second best. Although China is Russia's largest trading partner, the EU accounts for half of all trade to and from Russia. With the relative size of their economies in mind, Russia's trade with the US, UK and France is quite small. This chart from the Guardian shows where the power lies.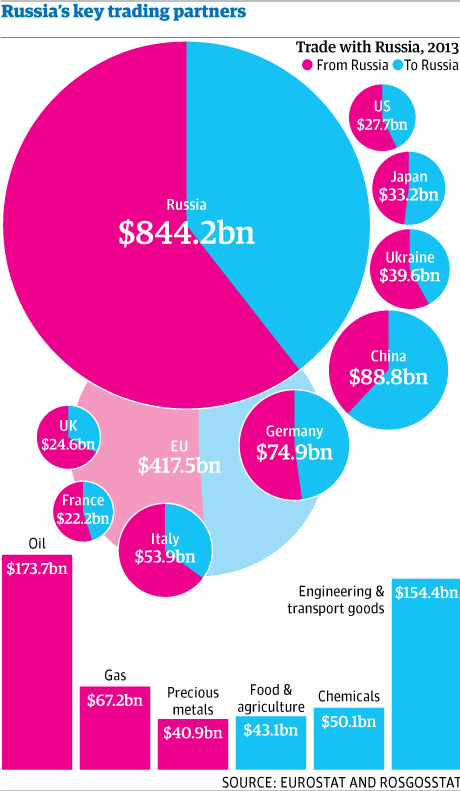 April 2014: Crimea crisis
The diplomatic circus in Berlin is in full motion. Journalists from across the world have gathered to listen. "What is happening today is a dangerous military intervention in Ukraine. It is an act of aggression. It must stop. This is a choice for Russia," says Susan Power, the US Ambassador to the United Nations Security Council in her opening remarks. Other ambassadors and representatives follow, but it's all rhetoric. No one wants a war.
A smaller conference, filled with engineers and technicians, is taking place only a few miles away in Frankfurt. It is the European Unconventional Gas and Oil Summit. Ordinarily, this would – as with the various similar oil and gas conferences taking place across the EU – be a very low-key affair as extractive companies attempt to avoid political animosity. Not this time. An unusual alliance of politicians, political activists and investors has gathered at a panel discussion called "Towards European Energy Independence."
"I'm here because we cannot permit Russia to dictate how we respond to our comrades in Ukraine," says Frank Bsirske, the president of Vereinte Dienstleistungsgewerkschaft, one of Germany's largest trades union. Europe has been very antagonistic towards fracking and gas extraction from their shale deposits.
"We're not saying that Europe could be energy independent. Our shale basins do not contain the levels of recoverable gas that we see in the US or Russia," says Oisin Fanning, head of the AIM-listed driller San Leon Energy, which is exploring in the 'Baltic Basin' near Gdansk, Poland. "But we can significantly reduce gas imports and cut gas costs. What we need are improved government legislative processes and faster regulatory approval for drilling."
Politicians are taking notes. A representative from Gazprom, the Russian energy giant, is frantically trying to be heard, but is shouted down. Their stand, on the show-room floor, is empty.
January 2015: Fracking in the EU
Poland continues to struggle to bring its fracking regulatory regime in order, even with Russian troops close to their border once more. "We have tried dealing with them, but it's no good," says Stanslaw Nagy of Exxon. "We eventually pulled our operations out and are heading to Romania. It's definitely the place to be right now."
Across Europe, governments are gradually getting their regulatory frameworks implemented and the investors are coming. Twenty-seven companies are exploring in Portugal. Estonia, Latvia and Lithuania – which share the same Baltic Basin with Poland – have created a massive free-trade zone for shale exploitation. Even the UK has settled its concerns about shale in a determined effort to ensure energy independence. The Scottish – after deciding, after all, to remain in the UK – are investing in shale as well.
France remains a no-go zone for fracking, although they are looking at adding in new nuclear power stations – but none of these will be operational until 2035. Even Germany is looking at their shale basin.
"It's not quite Ohio, but we're definitely seeing a gas rush," says Antonio Juniata, CEO of Puntera Madera, a prospecting outfit in Latvia.
August 2015: Gazprom responds
The winters in Europe over 2013/14 and 2014/15 were extremely mild. Europe's stores – which were massively expanded following Gazprom's row with Ukraine in 2009 – have been well over capacity. Germany, alone, has 90 days of reserves. However, this winter is predicted to be extremely cold as the jet stream shifts further out of alignment across Europe.
"We will offer you Europeans a deal," says Alexei Miller, CEO of Gazprom. "We will cut gas prices during your winter, in exchange for better trade deals with Russia."
"We are certainly concerned," says Cristina Corazza of Italy's Natural Gas Authority. "After Germany, we are the largest consumer of Russian gas by volume. The new single market for gas has not been tested and this winter looks to be difficult."
The South Stream pipeline from the Caspian to Hungary, Austria and Italy comes into operation on schedule, but Gazprom finds there's a sudden lack of demand. The Russians have been on a charm offensive, visiting European leaders and taking out adverts on television and social media. The response from the public has been decisive: "No thanks."
March 2016: Europe's winter of discontent
Fracking in the US has led to American energy independence but, even as Europe struggles with gas shortages, the US suffers a glut. That is about to end.
"It's been a hard bit of lobbying," says John Boehner, Ohio Republican representative, "but we feel that dropping restrictions on natural gas exports is the right thing to do and good for American business." The news causes share prices for Cheniere Energy and Kinder Morgan, two gas exporters, to rocket 25%. Chesapeake Energy, one of the largest unconventional gas extractors, sees its share price boosted by 11%.
Recently sworn-in Italian Prime Minister, Silvio Berlusconi, declares his gratitude from the steps of the Italian High Court during a break from his latest corruption trial, "We are pleased that the US has, once again, seen fit to support Europe and recognize its responsibility to the international economy."
Qatar has ramped up production at their Qatargas terminal to 67 million tons of natural gas per year. Gas futures in Europe plunge 18%. The South Hook LNG terminal in the UK now handles some 35% of the UK's gas needs, while the Adriatic LNG terminal, 9 miles offshore of Italy, has been scaled up and now supplies 15% of Italy's gas, about 12 billion cubic meters per year.
Street protests in Germany and Poland over high gas prices are mollified when the EU announces a short-term subsidy. "Gas prices are already coming down, as our infrastructure and capacity improve. This will be a short-term subsidy," says Gale Nordstrom, an energy analyst at Deloitte.
June 2017: Gazprom looks East
"The Japanese government today announces that we have successfully set up an offshore refinery to extract gas from our methane hydrate reserves," says Fumio Kishida, Japan's Minister of Foreign Affairs. Clathrates are only the latest unconventional energy source found 50 kilometers offshore in the Nankai Trough.
This is political, as clathrates promise to supply only about 5% of the Japanese energy market. The balance is still dominated by nuclear power.
Gazprom hasn't bothered trying to sell in Japan, but they have been lobbying in China. A deal between Rosneft, Russia's largest oil company, and China National Petroleum Corporation signed in 2013 is looking shaky. Rosneft promised to supply 200,000 barrels of crude per day but has battled to reach that level of capacity as deals with BP and Exxon – who were to build and operate the oil fields in Eastern Siberia – were delayed. Gazprom has promised the Chinese a dedicated pipeline in 2018, but China has already been operating the Myanmar pipeline for oil and gas since 2013, and has pipelines from Kazakhstan and Turkmenistan.
China, in the interim, has ramped up its shale gas production capacity to 15.5 billion cubic meters in the last 12 months. China has the world's largest shale gas reserves and is finally getting their infrastructure in place to exploit this effectively, despite the technical challenges.
Gazprom and Rosneft are looking increasingly forlorn as their markets are limited to countries inside the Commonwealth of Independent States, Russia's tame trade alliance.
April 2019: Germany closes Gazprom's taps
The winter was difficult. "We were joking that, in January, you could walk from Europe to Qatar simply by stepping from gas tanker to gas tanker," says Maik Neubauer, partner at energy consultancy Baringa.
Investments in improving the gas distribution systems are still far from complete, but gas supplies through the winter held even as Gazprom was cut to less than 5% of the European market.
"We're relieved, mostly," says Neubauer.
The extension of existing energy capacity – especially Germany's nuclear power generators – and the gradual addition of unconventional gas sources means that the German Chancellor can make her announcement. Angela Merkel tells Gazprom to go. "It has taken us five years to wean ourselves from Russian gas but today I can announce that the last Gazprom supplies are being officially switched off."
Gazprom shares, which have fallen almost 70% since 2014, remain unchanged in this widely telegraphed announcement. Vladimir Putin, the Russian President – who has not been seen in months – has yet to respond. Russia has become an embattled economy, trading with its satellites, BRICS countries and Africa, and struggling to engage with the rest of the world.
In Europe, at least, the grip of the Russian Bear has eased.
Warning: Hazardous thinking at work
Despite appearances to the contrary, Futureworld cannot and does not predict the future. Our Mindbullets scenarios are fictitious and designed purely to explore possible futures, challenge and stimulate strategic thinking. Use these at your own risk. Any reference to actual people, entities or events is entirely allegorical. Copyright Futureworld International Limited. Reproduction or distribution permitted only with recognition of Copyright and the inclusion of this disclaimer.