iPA, YOU KNOW MY EVERY MOVE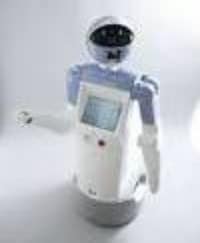 Virtual PA re-writes the rules of office efficiency
At the annual Service Excellence Awards banquet in New York, Electra Speed, a virtual personal assistant from Virgin Stars, won the top honour against stiff competition from fellow virtual assistants entered by Apple's iAssist, Microsoft's Mania and Google's Gurus.
It's notable that of the fifty finalists, only two were real people.
Jane Slack, CEO of the world's largest virtual placement agency, said that given the rapid advances in virtual support software and intelligent computing linked into the web, there is no business support function that a virtual office assistant can't do. And their social networks are mirrors of the entire internet. No-one is out of reach, ever.
For centuries the role of a secretary or PA revolved around scheduling and logistics. Today, a Wikipedia search yields no recent result for the word 'secretary', only archaic references.
With the advent of Apple's latest version of iAssist – coupled with locational software, predictive analysis, and global databases – these new tools offer live, intelligent, immediate value. So, stuck on a highway about to miss a flight? No problem, iAssist simply voices the next available flight, books it, extends the car rental and all is done. No more frantic calls to the office to find one's human assistant out and unavailable.
Richard Branson reminisces fondly of the days of the real personal assistant: "I just can't get used to the beguiling voice of my dear Virgin Star". Sir Richard's daughter laughs at his ramblings – she has never met a real live assistant and just can't imagine coping with the frustrations of a real person running her life.
In fact, many other corporate roles are under pressure as the new tools expand into other service and support areas – work will never be the same again.
And, to stay relevant and valuable, business executives are taking a whole new look at what they are engaged in every day: "What I do – is it business or just being busy?"
Warning: Hazardous thinking at work
Despite appearances to the contrary, Futureworld cannot and does not predict the future. Our Mindbullets scenarios are fictitious and designed purely to explore possible futures, challenge and stimulate strategic thinking. Use these at your own risk. Any reference to actual people, entities or events is entirely allegorical. Copyright Futureworld International Limited. Reproduction or distribution permitted only with recognition of Copyright and the inclusion of this disclaimer.