MARKETING & ADVERTISING IN GLOBAL TURMOIL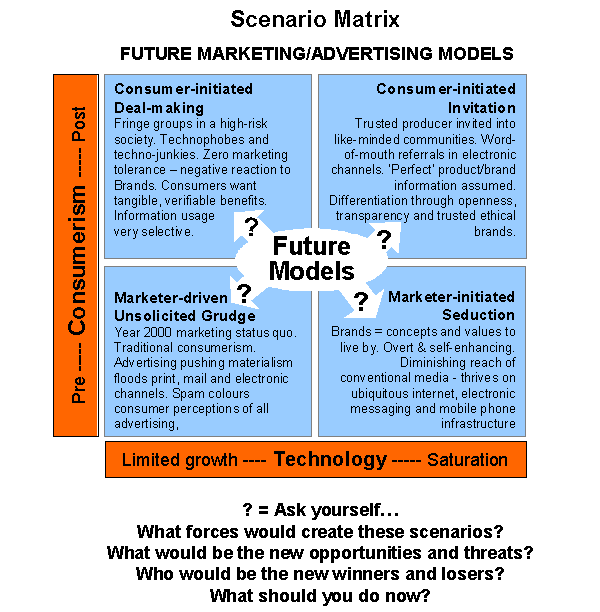 Anti-spam movement creates massive push for change
The global advertising industry has called for an unprecedented week-long emergency session in New York, under the auspices of the World Economic Forum, to explore possible solutions and the economic implications of an industry under threat.
What once was seen to be the ineffectual protestations of a few radicals has become a formidable groundswell of angry consumers insisting on their ultimate rights and freedom of choice. Thousands of consumers are protesting in a well-organized front against advertising.
What started as a reaction against email and mobile phone spam, has evolved into negative sentiments against all forms of advertising. Their sentiments can be summed up as: "If I have not asked for it, then you have no right to advertise to me".
Adding fuel to fire are the high-tech filter controls built into consumer products such as phones, computers, game consoles and televisions which allow users to blot out any or all advertising.
The advertising industry has been ignoring the signs for too long. Now there is a clear and present need for new marketing models acceptable to ever-more demanding consumers.
First it was tobacco – now the target is advertising! The time has come for fundamental change.
(Read the full story in the MindBullets data base – for subscribers only)
---
ANALYSIS >> SYNTHESIS: How this scenario came to be
Background
The face and practices of advertising and marketing in general will have to evolve in line with our society which is in a flux of shifting values that reflect attitudes of post-consumerism and an increasingly risk-averse society. Add to this advancing technological capabilities and an unprecedented choice of often parity goods and services, with the associated increase in marketing and advertising messages
Knowledge society and the changes in attitude to commercial messages.
Bodies such as the FTC's Spam Forum and advertising and marketing regulatory bodies are all attempting to define spam and find ways of regulating commercial email practices.
The GSM Association (GSMA) and European Commission have also taken a stance against SMS spamming. It is primarily affecting fixed networks, but with the success of text messaging over mobile networks, SMS spam is gaining impetus in the mobile space.
Email spam and related pop-up ads are creating strong feelings of antagonism to traditional forms of advertising. The more consumers are exposed to spam and pop-up ads, the angrier they are about all forms of advertising. They actively support ad-filtering technologies and show overall erosion of trust in advertising and advertisers. There is increasing annoyance expressed at telemarketing practices, and a growing number of individuals are expressing anti-spam-like perceptions and sentiments about television and radio adverts on their weblogs.
Due to technology large parts of marketing and specifically advertising practices have evolved into interpersonal, tailored messages based on so-called permission marketing principles. This has resulted in escalating marketer-initiated permission marketing. The direct result is increased intrusion on consumers' privacy. And the effect is that consumers are beginning to feel aggravated, cynical and are losing trust in companies.
Social trends are inadvertently driving the marketing and advertising practices from a current push approach to a pull approach. In this age where marketing communication has turned into a feedback loop, the power has shifted to the consumer. The consumer's increasing ability to access information when it is needed or wanted means that a new marketing model of 'By Invitation Only' is evolving. It is a consumer-initiated form of permission marketing, not the current marketer-initiated version.
2003/4: Spam results in Anti-Advertising mindset
Consumers are increasingly using spam and pop-up ad filters to control the flow of unsolicited advertising to their computer screens. There is huge demand for technologies that filter out television commercials. Sales of products such as Tivo soar.
A study by a market and technology research firm, Ferris Research, estimates that spam costs US corporations about US$8.9 billion in 2003, whilst European business would pay US$2.5 billion to deal with the problem.
Vodafone helps its customers by introducing of a special filter in its network that provides better protection against unwanted SMS messages. This new technology temporarily denies access to all unidentified providers of SMS services until such providers have identified themselves and indicated that they will comply with a code of conduct Vodafone has for third parties.
Whilst advertising organizations are preparing a spam policy, they are however circumventing the issue of pop-ups and other intrusive online ad formats. Research shows that consumers are even more annoyed by these ads than by unsolicited messages.
The number of weblogs denouncing advertising, especially TV advertising is on the increase. Consumers voice their frustration at not having a choice as to whether to watch an advert or not.
Anti-spam companies Brightmail and Cloudmark filtered over 85 billion email messages for companies in January 2004. Of these email messages, more than 60% were spam.
Further statistics show a 2% increase in spam messages each month, trending towards an 80% spam element of all email sent by the end of 2004.
Strong anti-marketing trend has been discovered in Japan by well-known trend watcher Loic Bizel. A Bathing Ape, a line of sweat shirts, baggy pants and T-shirts sporting a logo of a gorilla head has, without marketing or promotion, become one of the biggest fashion statements to surface from the Tokyo street scene
2005: Closing the 'Gates' on spam
Bill Gates announces the imminent death of spam via 'pioneering' Microsoft technology at the World Economic Forum.
Consumers and the media however remain sceptical, arguing that the institutions that oppose spam, would not completely eradicate the threat since, by doing so, they would be eradicating the reason for their existence.
The Consumer's Choice Council, actively involved in promoting practices such as ecolabeling, expands its influence to support consumers in their concerns and grievances about ever-increasing levels of permission-motivated contacts from marketers and advertisers.
2006: Developing World Opportunity
The increase in telephone lines in developing world markets over the past five years has required some $200 billion investments. In the meantime, growth of cellular use in Third World countries has risen exponentially. Corporations are now gearing up to further increase their presence in the developing world markets. Many, including Third World governments, feel it is payback time. The collective investments for ICT development in these markets is seen as a reason to now turn up the volume on R&D, manufacturing and marketing activities, capitalising specifically on technological capabilities to reach and connect with many outlying and rural communities.
2008: Mobile/SMS Explosion
Almost 4 billion people on the planet now own a mobile phone. SMS marketing messages continue to boom reaching even rural communities, and the illiterate, with voice and graphic messages. Angry consumers blame their mobile phone operators for the inconvenience of spam-SMS. Law firms are encouraging users to become involved in mass-action suits against those who sent them unsolicited SMS's. In a desperate last-ditch effort the GSMA board is investigating ways that their members can collectively combat this pervasive problem on a global basis.
2009: Skin-deep Marketing
VeriChip™ Corporation with their motto of "miniaturised, implantable identification technology with multiple medical, security, and emergency applications", has been approached by a consortium of marketers who are attempting to gain access to individuals with implanted microchips. Their proposition is to "explore the potential benefits to the consumer when marketers have access to individual microchips and the data. The benefit will be a reduction in mass marketing exposure such as unwanted SMS and the provision of truly personalised information and services to individuals".
2010: From Permission to 'By Invitation Only'
The signs of what may be called a 'mass collaboration technology' are evident. The marketing and advertising industry is currently fraught with an adversarial battle for consumer attention, but the consumer is winning the war. Many consumers carrying microchips also refuse to give marketers permission to access their information and to connect with them via their chips.
Technology has made it possible for people to remain in control of their own personal space. And mass collaboration technology has made it possible for virtual communities of consumers, providers and intermediaries to emerge. The past five years have seen an unprecedented perfecting of information about goods and services, much as a result of consumer insistence and demand and resultant business compliance.
People these days check the web before doing anything else when they want to buy something or need a service. They tap into people 'on the same team', virtual communities that have bought the same products or services, or those who make a living aggregating information from previous buyers. No more opting-in to a targeted marketing campaign.
A slow turn of the tide towards an Invitational model of marketing is the very likely future, initially mainly in the developed world. Marketers and advertisers will have to make sure that they support the intermediaries and that they supply honest, factual, and relevant information. The consumer will do the rest. The consumer will decide whether to invite them into their lives or not.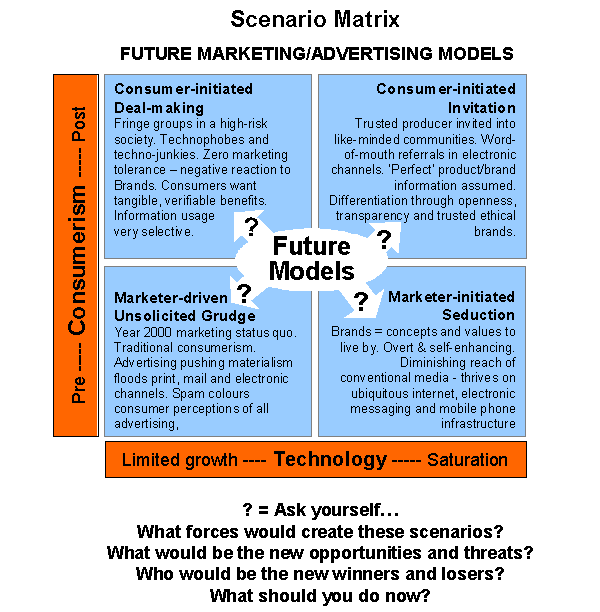 Warning: Hazardous thinking at work
Despite appearances to the contrary, Futureworld cannot and does not predict the future. Our Mindbullets scenarios are fictitious and designed purely to explore possible futures, challenge and stimulate strategic thinking. Use these at your own risk. Any reference to actual people, entities or events is entirely allegorical. Copyright Futureworld International Limited. Reproduction or distribution permitted only with recognition of Copyright and the inclusion of this disclaimer.