ONE BILLION VOTES CAST IN 'WORLD IDOL' CHAOS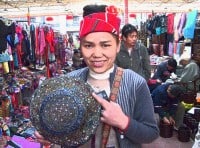 Music, social extremes and politics collide in ultimate reality show
More than one billion votes were cast in the final round of the Disney's World Idol competition.
For Disney, this is proving to be a marketing disaster. When they consolidated the rights to American Idol, the Eurovision Song Contest and other similar events in 2009, it was seen as a major global coup.
The reality of execution has been anything but that. Rather than uniting the world around music, World Idol has proved to be the most divisive reality show in history, with impact far beyond the entertainment industry.
While contestants represented both their country and themselves, it became clear in the qualifying rounds that votes were being cast largely on national preferences and had little to do with the quality of the delivery.
Contestants protested for the rules to be changed to downplay national affiliations. Others pushed to have the broadcasts banned from mobile phones. "These tiny devices don't convey the quality and depth of my performance," said a frustrated Twiggy Bent, the UK contestant. It is estimated that more than half the viewers saw yesterday's 24-hour show on mobiles.
The British Press was its usual critical self. "This is an embarrassing caricature of national cultures, dumbed down to three minutes for maximum local appeal. Where's the art in this? I'm pleased that we continue to enter our worst possible contender just to show our disdain for the whole event," said The Times' Terry Wogan. Predictably, Ms Bent was not prepared to comment on this assertion.
When the results are announced tonight it is certain that China's Elvis Woo will be crowned the winner, with India or Belarus trailing far behind. There will be wild celebrations in Beijing and an active cold shoulder from the rest of the world.
According to insiders, it is likely that Disney will break up the World Idol conglomerate and that these will revert to being largely regional, and perhaps even successful, events.
Warning: Hazardous thinking at work
Despite appearances to the contrary, Futureworld cannot and does not predict the future. Our Mindbullets scenarios are fictitious and designed purely to explore possible futures, challenge and stimulate strategic thinking. Use these at your own risk. Any reference to actual people, entities or events is entirely allegorical. Copyright Futureworld International Limited. Reproduction or distribution permitted only with recognition of Copyright and the inclusion of this disclaimer.