OWNERS DEFEND THE DEFENDER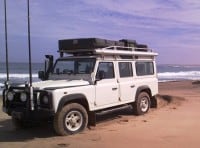 High Court judgement prevents the demise of the quintessential British motoring icon
In a landmark ruling in the High Court, an English judge has ordered Jaguar Land Rover (JLR) to continue production of the Land Rover Defender utility vehicle, for at least another five years.
The production of the iconic vehicle, which has been manufactured in the UK for a record 67 years, was due to cease at the end of 2015. But customers and fans of the 'Landy', as it has been fondly referred to for decades, had other ideas. "Raise the price if you wish, but we are not going to allow you to stop production," said Lord Montfort, echoing the sentiments of Landy adherents across the globe.
At the heart of this debate is the right of customers to dictate business strategy and product design. Consumer protection should be extended to not denying customers what they so clearly want. "Conscious capitalism goes beyond just satisfying shareholders' desire for growth and profits," said FutureWorld guru Anton Musgrave. "You need to consider customers, employees and the broader community, and delivering on a higher purpose will get you loyalty you can't buy!"
Chief among the arguments in court was the fact that there is steady demand of 18,000 units per year for the original Land Rover. It may be a niche product, but in the age of long tail marketing, that is sufficient to sustain it. No company should squander brand heritage built up over generations; there is plenty of room for new high-tech models alongside the Defender.
JLR's parent company, Tata of India, was reminded by the judge that their corporate values are founded on 'Trust', and more than a million Landy owners around the world are trusting them to do the right thing, and keep supporting the Defender.
Warning: Hazardous thinking at work
Despite appearances to the contrary, Futureworld cannot and does not predict the future. Our Mindbullets scenarios are fictitious and designed purely to explore possible futures, challenge and stimulate strategic thinking. Use these at your own risk. Any reference to actual people, entities or events is entirely allegorical. Copyright Futureworld International Limited. Reproduction or distribution permitted only with recognition of Copyright and the inclusion of this disclaimer.