WORLD MARKETS IN TURMOIL AS CHINA DECOMMITS FROM ALL FOSSIL FUELS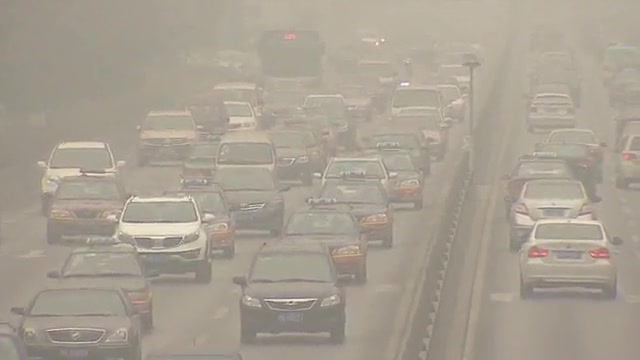 Bold energy strategy targets pollution and leadership in world automotive industry
Just four weeks before the start of the 2008 Beijing Olympics, China has played a trump card in global politics.
China has taken the pollution bull by the horns and announced a bold twenty-year strategy to eliminate all fossil fuels in the Chinese economy.
Increased investment in safe nuclear power and a massive new program to develop its 'hydrogen economy' is at the core of this thinking.
As part of a new Sino-Japanese trade and hydrogen research initiative, Toyota has agreed to move up to 80% of it's world-wide production of fuel-cell cars to China within a decade.
American and European auto manufacturers have seen their governments' tentative support for hydrogen fuel-cells usurped by this bold Chinese move. It is expected that China will be the world's largest, and perhaps only, manufacturer of state-of-the-art fuel cell cars within a decade.
New tax structures announced at the same time will put huge incentives into the hydrogen economy and are certain to change consumer and business preferences for cars.
---
ANALYSIS >> SYNTHESIS: How this scenario came to be
One-third of all growth in global car sales is coming from China, and within a decade China is destined to be the largest market for cars in the world. The Chinese middle class will soon exceed 100 million.
All the while, VW's Santana production line in China still looks like a Wolfsburg plant in the 1970s.
International pressure on China to stop rampant pollution is growing. Cars are seen to be the biggest problem in future and there is massive pressure to phase out China's inefficient and dirty coal-based power stations.
Already the government has made a massive investment in a new nuclear power program that will see China becoming the world's #1 generator of safe, clean nuclear power.
Will the Chinese government seize its chance to leap-frog environmental concerns and turn these actions into a massive long-term competitive advantage?
2004: Pessimism over Hydrogen Economy abounds
Automotive manufacturers call for more government investment in research and infrastructure to make the Hydrogen Economy a reality.
Bill Reinert, of Toyota's Advanced Technology Group, says: "High-volume production (of fuel-cell vehicles) could still be 25 years off. I'm less than hopeful of reducing costs sufficiently, solving hydrogen storage issues and packaging these systems into a marketable vehicle".
Experts don't see any such commitments coming from governments.
2005: Fleets of fuel-cell prototypes hit the streets
During the past decade, since the introduction of the first fuel-cell prototype, tens of billions of dollars have been invested to create really clean and efficient propulsion technologies to replace the internal combustion engine.
While Toyota is widely regarded as the leader pushing the envelope of fuel-cell hydrogen-powered vehicles, almost every other manufacturer, including VW, Nissan, Renault, Mitsubishi and Hyundai, is getting into the game.
A fleet of sixty DaimlerChrysler F-Cell hydrogen fuel-cell cars are undergoing driving trials world-wide. Thirty buses are being tested on the streets of Europe's cities, Beijing and Perth.
Honda has twenty of their latest FCX under test and Ford's Focus FCV compacts are hitting the highway. GM is to provide thirteen fuel-cell vehicles to New York City for evaluation in 2006.
The look and feel of these prototypes is little different to conventional cars – and that's a clear sign that we are getting closer to commercialization.
Although fleets of fuel-cell prototypes are hitting the streets, many basic technical and logistical obstacles must still be addressed before clean hydrogen-powered cars can become a reality.
2006: NY Times exposes car makers' collusion
In an astounding claim, the New York Times has revealed that major car makers have been colluding to keep fuel-cell developments off the market in order to milk their existing production lines. It is believed that several executive jobs are under threat as national governments take charge of possible criminal investigations.
On the positive side, it is felt that this may spur governments into serious national commitment to a new emphasis on cleaner automobiles. The USA and the EU both announce plans to have "a committed strategy in place no later than 2010".
2007: Toyota follows Honda into China
Honda was the first auto-maker to set up a wholly-owned factory in China – on condition that its entire production would be exported. Now Toyota has announced that it will set up the largest automotive factory yet seen in China, on similar terms.
Toyota already has several low-tech plants in China – some building engines for its US models. Now Toyota will bring its technology and patents for fuel-cell vehicles to the party and will manufacture up to 75% of world-wide needs from this one factory.
The agreement with the Chinese government is unique and allows local sales to be bought from Toyota at cost, maximizing the profits of the Chinese sales channel and Toyota's market penetration.
This unique relationship is being called 'unfair' by other manufacturers but that is not likely to deter the Chinese.
2008: China uses Olympic platform to announce 20-year energy strategy
Just four weeks before the start of the 2008 Beijing Olympics, China has played a trump card in global politics. It has announced a detailed plan to rid the Chinese economy of all dependence on fossil fuels.
Industrial power needs will be almost completely supplied by nuclear and hydro-electric power, plus a few remaining coal-fired power stations burning 'clean coal'. All high-sulfur coal will be phased out in "ten to fifteen years". The experimental wind-farms will be continued but are seen to be more of a PR effort than contributing significantly to China's energy needs.
Perhaps most surprising are China's plans to outlaw the internal-combustion engine from 2020. Not even California has taken such a bold step. It is clear that China's embrace of Toyota and their fuel-cell technologies is at the heart of this strategy. China becomes the primary manufacturing base for Toyota globally, and by sheer force of numbers, China's commitment to fuel-cell technology will give it the #1 position in what is already being called "the new automotive industry".
By showing massive national focus to rid the country of an almost unimaginable pollution legacy, China has shot down the classic chicken-and-egg dilemma of fuel-cell cars – how to get economies of scale without punitive consumer prices in the early stages of development.
The US and EU seem to have been left dumbfounded by China's bold move.
2010: China starts construction of hydrogen infrastructure
In a colorful ceremony to celebrate the start of China's hydrogen production and distribution system, China's victorious Olympic athletes shared the spotlight with business luminaries.
China has selected fourteen production sites and this event took place on the first of these, to be situated on the outskirts of Beijing. European and US contractors will be able to bid for almost half the share of projects to build the hydrogen distribution system – consisting of pipelines and storage facilities.
China will build 12 000 new 'hydrogen stations' over the next few years at a cost of US$ 8 billion, and also upgrade the existing network of gas stations. Effective immediately all new 'gas' stations will be built to the new government specifications for the hydrogen economy.
2011: Oil and coal prices continue decline
Since China has demonstrated its absolute focus on ridding its economy of fossil fuels, the oil price has been in gradual decline. This month it hit a low of US$23 per barrel.
Political instability has increased in the Middle East as countries battle to balance the economic futures. With China's demands for oil set to decrease to zero, and with the increased demands for its fashionable fuel-cell vehicles, it seems as if low oil prices will be the norm for the future.
Coal prices seem to be headed in the same direction as China's nuclear power stations come on stream. Coal producers are focusing on the exotic minerals contained in coal for profitable new niche markets.
Warning: Hazardous thinking at work
Despite appearances to the contrary, Futureworld cannot and does not predict the future. Our Mindbullets scenarios are fictitious and designed purely to explore possible futures, challenge and stimulate strategic thinking. Use these at your own risk. Any reference to actual people, entities or events is entirely allegorical. Copyright Futureworld International Limited. Reproduction or distribution permitted only with recognition of Copyright and the inclusion of this disclaimer.