XMAS EARTHRISE – THIS TIME FROM MARS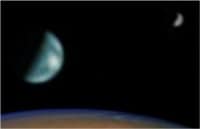 Could this mean more new perspectives for mankind?
It was sixty years ago today, at 3am London time, that an astronaut aboard Apollo 8 took a series of never-to-be-forgotten photographs – grainy images that showed our Earth as a tiny blue ball floating in space, above a barren lunar surface.
Rather than sparking off an interest in the moon, these photos set off an unparalleled introspection into life on earth. It shaped the environmental movements and eventually the Cold War itself.
This morning, perhaps another such photograph was taken: a new view of the Earth and Moon from Mars orbit, taken from a distance of 139 million km away, digitally zoomed and enhanced. The first images coming in are very low-resolution but their potential impact can already be felt.
Mars is the fourth planet in the solar system and is at its closest 80 million km away from Earth. Our moon is only about 385 000 km away from us.
In the early 2010s President Obama gave space exploration a big push, echoing JFK's passion to motivate the entire nation.
This co-operative mission by China, India, Russia, the EU and US, is a direct result and gave new incentives to put a 'Human on Mars'. What had been planned to happen in the 2030s has now been realized five years early.
The images coming back from Mars today are a spectacular boost for all humanity, at this holiday season, especially in light of what the New York Times has called "the worst economic depression in a century".
Warning: Hazardous thinking at work
Despite appearances to the contrary, Futureworld cannot and does not predict the future. Our Mindbullets scenarios are fictitious and designed purely to explore possible futures, challenge and stimulate strategic thinking. Use these at your own risk. Any reference to actual people, entities or events is entirely allegorical. Copyright Futureworld International Limited. Reproduction or distribution permitted only with recognition of Copyright and the inclusion of this disclaimer.