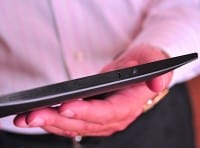 Like the Company Car of yesteryear, the Company Computer has become an anachronism
Back in 2010, Gartner boldly stated that power was shifting from corporate IT departments into the hands of individuals; they underestimated the speed with which employees would reject the notion that their employer should provide a computer for their personal use.
Younger employees from the new generation want to use their own device, and it shouldn't be a "boring corporate PC." They want to use the current coolest smartphone or tablet and can't understand why they should use it only for business purposes. Nor do they want to give it up when they leave the company.
Sales of smartphones have outstripped those of laptops and PCs. More than 50 million tablets have been sold, including iPads and competing products from a dozen big brands, like Amazon and Google.
People and work are now more mobile than ever before, along with ideas, capital and relationships. Freelance is the preferred model in many industries. Cloud computing services are removing the need for a corporate data-center. Many of the new generation of whizz-kids would consider it an affront if you tried to shackle them to a corporate LAN.
"That's last century thinking. I'm much more productive when I'm mobile, and when I can choose which of my own devices to use!" says Avery Wong, a 30-something executive.
Of course, proliferation of these 'non-standard' devices provides a headache for the typical CIO. Today they, and providers of cloud services, had better make sure that their services can handle this chaos of choice, are guaranteed available 24/7 and perfectly secure.
"Our employees need to be able to get to their data – even if they lose their devices!" warns the Chief Mobile Information Officer of a Wal-Mart. "If a device is lost, we need to be able to wipe it clean remotely and provide a replacement device instantly. Anywhere. It has to be a one-click service." She's right, of course.
The world's mobile operators, IT and telecoms companies are rushing secure services into these lucrative new markets. Apple, Amazon, SingTel, Vodafone and others are competing fiercely in this market-space, providing end-to-end one-stop services that even large corporates cannot contemplate doing themselves.
'The Cloud' is no longer just about infrastructure; it's about complete business solutions for large and small businesses. Now they can re-invent themselves without the constraints of capital investments. It's the quality of their business thinking that will set them apart.
---
ANALYSIS >> SYNTHESIS: How this scenario came to be
Gartner's Top End User Predictions for 2010
By 2012, 20% of businesses will own no IT assets.
By 2012, India-centric IT service companies will represent 20% of the leading cloud aggregators in the market.
By 2012, Facebook will become the hub for social networks integration and Web socialization.
By 2014, most IT business cases will include carbon remediation costs.
In 2012, 60% of a new PC's total life greenhouse gas emissions will have occurred before the user first turns the machine on.
By 2014, more than three billion of the world's adult population will be able to transact electronically via mobile and Internet technology.
By 2015, context will be as influential to mobile consumer services and relationships as search engines are to the Web.
By 2013, mobile phones will overtake PCs as the most common Web access device worldwide.
2007: iPhone, you phone
Apple launches the ultimate PDA – a connected mobile device that is easy to use, powerful and cool. Although we've had smartphones with colour screens, this is a new way of interacting, and takes the market by storm.
2010: iPad is born
Despite a lot of cynicism, the Apple iPad creates a new niche – the mobile interactive tablet – and sells 30 million devices in two years. Within 18 months there are dozens of competitors, and equally many tech journalists explaining why iPad is in a league of its own.
2011: Smartphones outstrip PCs
Total iPhone sales since launch exceed 100 million units.
Sales of smartphones exceed PCs and laptops. Tablet wars see the demise of HP's Touchpad within a year of launch. The iPad powers ahead. Amazon launches the colour Kindle, a multi-function tablet, with cloud services.
Google buys Motorola's mobile device division and starts producing Google-branded devices with Google software and supported by Google cloud services, just like Apple.
2012: Mobile money
More people use mobile devices – smartphones, tablets and minitabs – than PCs and laptops for accessing the internet and conducting ecommerce transactions. The app economy has arrived.
Now the market for smart mobile devices is dominated by Apple, Amazon and Google – the only brands that have the cloud and clout to make it work.
2013: Bring your own device
Corporate IT shops have surrendered. Now it's all about provisioning the device of choice for every employee with the secure services needed to help them do their jobs. Technology has become a true enabler, rather than a barrier to doing business. Bring your own device – it's your choice!
Warning: Hazardous thinking at work
Despite appearances to the contrary, Futureworld cannot and does not predict the future. Our Mindbullets scenarios are fictitious and designed purely to explore possible futures, challenge and stimulate strategic thinking. Use these at your own risk. Any reference to actual people, entities or events is entirely allegorical. Copyright Futureworld International Limited. Reproduction or distribution permitted only with recognition of Copyright and the inclusion of this disclaimer.