CEO CONVICTED IN LONDON FOR EMAIL CRIME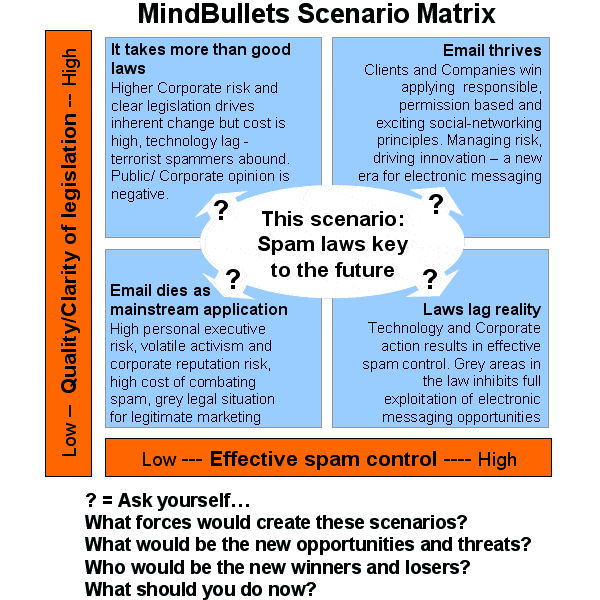 Landmark ruling under tough anti-spam laws
In an amazing outcome to the widely publicized High Court trial of Global Mutual Plc's CEO, Sir Jim Humphrey-Smythe, a serious blow has been struck against spam. The business community has been shocked to its core by the landmark case which has created a commercial nightmare for almost every business.
Not since the new disclosure and accounting requirements after the Enron scandal, way back in 2001 sent shivers down the spines of CEOs, have company executives faced such daunting risks and potential personal liability.
Organizations are initiating urgent plans to curb current email and SMS-based marketing plans. The fear is that firms could almost unknowingly contravene the confusing anti-spam laws in their traditional customer communications. The conse-quences are serious and the business community is angry. They believe that they could be an easy target for law enforcement agencies, radical lobby groups and class action lawyers.
A quick poll this morning amongst 5 CEOs of leading UK companies confirms the concern. "It reminds me of Greenpeace in its hey-day" said one prominent CEO, who did not want to be named. "The business community is being held hostage by a few hundred underground radicals, and they will continue to thrive", he said. The future for email in business looks grim.
Read the full story in the detailed Analysis/Synthesis section – for subscribers only
---
ANALYSIS >> SYNTHESIS: How this scenario came to be
Background
Since 1998, email has delivered more messages than all the world's Post Offices combined. Since 2002 mobile phone messaging (sometimes called SMS) has eclipsed email as the most popular electronic messaging service.
Spam has become the bane of individual and corporate users alike. During 2003 spam began to represent more than 50% of all emails sent, and began to emerge as a serious threat on mobile phones. Within the next 3 years it is expected that spam will also represent more than 50% of all SMS traffic. Network operators are caught between loyalties to their business customers (for example, banks and retailers who want to pepper us with ever more advertising) and their end-users.
During the next decade all electronic messaging services will integrate and become vastly more information intensive, with the addition of pictures, charts and videos. The impact of spam, viruses and fraud in these forms of electronic messaging may threaten their very existence and use by all. The world needs some anti-spam action and fast!
In November 2003, America enacted its first laws outlawing spam or unsolicited emails. This followed the UK anti-spam legislation, enacted in October 2003. These initial laws were then rapidly enacted across the world as countries and organizations grappled with the increasing security threats and the spiraling cost of managing email systems to block viruses, spam and junk mail and yet provide employees with unrestricted access to the internet and all its offerings, a legal obligation in terms of the Access to Information legislation found in most English speaking developed countries.
Unsolicited email cost European business 3 billion Euros in lost productivity in 2002 according to the European Commission. Business has begun to question at what point the operational and strategic benefits of electronic messaging pale when compared with the operational cost of maintaining anti-spam, anti-virus and productivity gaining initiatives?
2003: Spam and regulation explode
UK makes spam a criminal offence in an effort to stop the flood of unsolicited email messages being sent to users of the internet. Spammers can now be fined GBP 5000 in a Magistrates court or an unlimited penalty by a jury! Under the new law, companies have to get permission from an individual to send them an email or SMS on their mobile phones! EU and USA rapidly follow suit with similar laws. The US Congress says the new law is a first step in sending a message: "If you are a spammer, you may end up in the slammer!"
Phones 4U is the first company to ban email
Phones 4U Boss, John Caudwell, sparked a media blitz when he banned all internal email at Phones4U. He claims the ban will save the company GBP 1 million per month. He also claims the messaging format is misused with unnecessary people being copied on nonsense emails. The media attention makes people really think about what email is good for and what it costs within organizations. Of course, it begs the question whether any Generation X'ers will work for a company that does not allow them free networking opportunities in the 2 mediums they know best – maybe in the only mediums they know, email and SMS!
2004: Lobbyists drive change
Malicious code within spam mails causes more than $50 billion in corporate losses. Global corporations add their voices to the already loud voices of increasingly powerful anti-spam and anti-virus lobbyists all over the world. The figure is estimated to reach $80 billion by 2007. Anti-spam software is expected to reach $3 billion in sales revenues by 2007.
Spam decoys proliferate
The number of providers offering anti-spam decoy programs grow fast as users demand protection. The challenge remains to balance the effectiveness of anti-spam software with ensuring that legitimate email is not caught in the anti-spam net. Cloudmark, an anti-spam programme using a network based approach, relies on the principles of democracy to counter spam – if enough users designate a message as spam, all users of Cloudmark automatically have the messages blocked. `
2005: Spam Commonwealth is born
12 English speaking countries join the anti-spam war. New laws ban unrequested email or SMS outright. The burden of proof rests on the company to establish email or SMS consent. Records must be kept for 10 years. The cost of fighting the 'inbox' war soars to billions of dollars annually in the US alone. Global productivity is under pressure and winning this war will mean significant productivity improvement for embattled companies and countries.
First Company charged
Global Mutual Plc, the worlds largest life office following one of the biggest mergers of 2005, becomes the first corporation to be charged with contravening new tough anti-spam laws following a 'class action law-suit'launched by enraged clients. Clients, who claim to have 'de-registered' themselves from the Global Mutual's email lists, are still receiving over 25 marketing messages each over a 6 month period, from various divisions from within Global Mutual. All attempting to entice the customers to purchase investments, new products and new services on offer from the company.
Spam now comprises 90% of all email
In a dramatic surge in recent months, spam now accounts for more than 90% of all email traffic in the world. Users are not only disgruntled, they are seeking alternatives with increasing urgency. More than 35 billion unwanted email messages swamp the internet every day, according to Microsoft Research. There are now 30 million small businesses in the US alone. If just 1% of these get hold of your email address and send you just 1 email per year, you would have to contend with 657 additional unwanted emails every day – the equivalent of a spam nuclear war!
2006: Fortune 500 under spotlight
Ten new cases against Fortune 500 retailers and leading financial services institutions, including stock brokers, banks and insurers, are launched by the US Attorney General in a concerted effort to bring high profile offenders to book. In a fiery speech before the Annual Telecoms Conference in New York, the Attorney General states that it is essential that big business realizes the practical implications of the new legislation and that the focus is not simply to stop the bedroom hacker from bombarding email users with free mood drugs and cosmetic surgery offers.
AI software joins the fight
BT launches Artificial Intelligence (AI) software to sort all incoming email according to user profiles and signatures – almost eliminating all spam. The AI software works on PCs and the worlds most widely used communication platform – the mobile phone.
This software works on the principle that each user defines his or her known 'agent' that learns usage patterns and senses the user's broader network. Any incoming mail from a source outside the user's network and user signature is stopped and the user is afforded the chance to verify the communication before it clogs the user's inbox and mail server. The new software struggles to achieve take up rates high enough to counter the ongoing explosion in spam.
2007: Lobbyists threaten war
Anti-spam lobby groups become more powerful and radical than Greenpeace in its heyday! E-Sanity, the most powerful of these lobby groups, plans a massive attack on business mail servers during the busiest retail season of the year – the weeks preceding the Christmas shopping rush. Other similarly radical lobbyists threaten to implode (using new seek and destroy software) the world's key internet servers in a massive, global and co-ordinated attack on unwanted emails. The US and EU governments meet urgently to resolve the threat and tighten existing anti-spam laws hastily.
2007 CEO imprisoned
Sir Jim Humphrey-Smythe, CEO of Global Mutual Plc, the worlds largest life assurer, is convicted of the charges brought against him almost 2 years previously and is sentenced to 5 years imprisonment with no option of a fine. The sentence sends shock waves through the corporate world and many CEOs say complying with the new laws governing spam will render many of their business strategies redundant and will set companies back years in their marketing and client service plans. The ongoing conflict between business development and expansion strategies on the one hand, and business efficiency with tight regulatory controls on the other, continues. Where will it all end?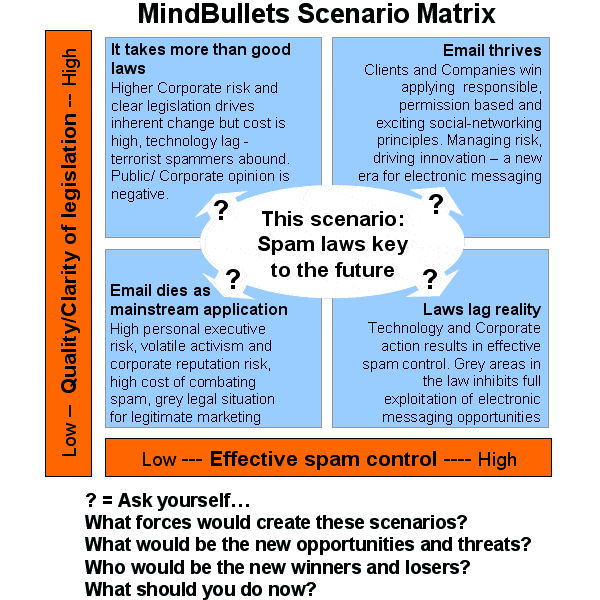 Warning: Hazardous thinking at work
Despite appearances to the contrary, Futureworld cannot and does not predict the future. Our Mindbullets scenarios are fictitious and designed purely to explore possible futures, challenge and stimulate strategic thinking. Use these at your own risk. Any reference to actual people, entities or events is entirely allegorical. Copyright Futureworld International Limited. Reproduction or distribution permitted only with recognition of Copyright and the inclusion of this disclaimer.