DISASTERS NOW BIG BUSINESS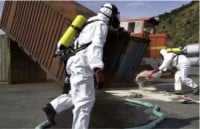 Fortune launches Non-Profit Top 100
As man-made and natural disasters grow in frequency and scale, the importance of aid has increased proportionally. Every major disaster gets prime-time media coverage – and creates billion dollar 'businesses' in its wake.
Those who rush to aid disaster victims are no longer the T-shirt and sandals brigade – now professional organizations take charge. And, they have grown massively in size, power and influence.
The idea of 'Non-Profit organizations' has become an oxymoron. Now they must shed ideology, deliver robust business results and generate growth to keep up with the demands of their stakeholders.
To quote Fortune magazine: "There is clearly a market for doing good – aid has become really big business. The non-profit sector has grown so powerful that we feel compelled to launch the Non-Profit Top 100 this year. It will recognize both the scale of commercial impact plus new ventures such as the innovative television channel Celebrities Unite."
Disasters are no longer seen as short-term traumatic events. The need for aid is felt long after the 'big bang' of the event itself, requiring continued growth and project management. Aid projects already support a workforce of 60 million in 120 countries, growing at a faster pace than commercial markets.
---
ANALYSIS >> SYNTHESIS: How this scenario came to be
Following the Money
The growth in the Non-Profit sector is the result of two forces: the rise in the number of disasters (both man-made and natural), and the rise in the power of the media – the minute-by-minute scrutiny of each disaster as it unfolds, anywhere on the planet. Increased media coverage has put huge pressure on individuals, corporations and governments to be seen to be acting in humanity's interests.
The Non-Profit sector consists of organizations that are private, without profit motives, largely self-governing and voluntary.
Disasters are billion dollar events. These events have huge political and economic impact. Look at the recent media storm over hurricane Katrina and the crippling earthquake in Pakistan and India.
To understand the scope of the Non-Profit sector one has to understand the scope of disasters. This covers natural catastrophes such as hurricanes, tsunamis, floods, earthquakes, volcanoes, droughts, forest fires, mud slides and more. Add to this list unintended effects such as global warming, pandemics such as flu, aids, malaria, poverty, man-made catastrophes such as terrorism and war and scientific accidents. Just as problematic are the little crises that affect people every day, brought on by poverty, disease and stress. Also, aging populations spawn the need for counseling, hospices, shelters, health care and new economic growth.
Non-Profit organizations get involved in all the phases of these disasters such as prevention, planning and containment, dealing with the crisis phase and then the eventual rehabilitation of places and people, both physically and mentally. Many of these organizations are activist in nature and more and more involved in shaping policy, often to their own eventual benefit.
The Non-Profit sector as a whole is equal in size to the fifth-largest economy in the world. Johns Hopkins University studied 37 Nations and found Total Operating Expenditure in 2002 of US$1,6 trillion. This is a growth story that has few parallels in business. For example, in the USA, non-profit groups grew 77% faster than the overall economy between 1977 and 1999 and did not blink during the recession.
The players are very diverse from the really huge aid-cum-activist organizations like Oxfam to the soup kitchens that operate in most big cities around the world.
The big organizations look more and more like Fortune 500 companies. As they re-invent themselves and become more efficient, they need to grapple with increasing regulation and oversight, as well as how they measure success. They know they can't just sit back and wait for donations; they must pro-actively create self-sustainability and growth. They need to shed ideology and act more like big business – but how does this affect the underlying premise of humanity and doing good?
Opportunities abound for individuals and businesses, from employment to investment opportunities. Non-Profits are huge employers and in many countries have outstripped job growth in the formal economy. In the Johns Hopkins study for example, Non-Profit organizations represented 4.6% of GDP on average; they had some 31 million full time equivalent (FTE) workers (6.8% of the non-agricultural workforce).
As Non-Profit organizations re-invent themselves as 'big business' they will present huge opportunities for consulting firms and other supporting services such as software. As they strive for internal fund generation and sustainability they will launch into increasingly successful ventures in the traditional business sector.
They are positioned at the heart of many services industries. Already they attract a huge volume of service fees – some US$880 billion worldwide in 2002 – for operating schools, hospitals and consulting on conservation projects, counseling, logistics and more. Governments also outsource aid activities to Non-Profit organizations. In the UK for example the government is planning to increase its funding to key groups by 40%. This is not just about the money but the power and influence of these key groups in foreign policy.
Big money presents fertile ground for scandal and fraud. Harvard's Hauser Center issued a report citing 252 incidents of misconduct which includes 104 cases of criminal activity between 1995 and 2002 in US-based groups. Individuals in well-funded aid organizations have power over huge budgets and sometimes make the most of the criminal opportunities.
2006: Celebrity bonanza
Rarely have celebrities had such an active and visible podium as the business of doing good – everything from natural disasters and poverty to the G8 summits. Combined celebrity power and the booming Non-Profit sector has this year caught governments on the back foot.
The Bush administration has still not fully recovered following their mismanagement of hurricane Katrina. The non-profit sector is flexing its new power. 'Celebrity charities' become powerful members of the new lobby groups.
This year sees the launch of a new TV channel owned by celebrity charity Celebrities Unite. Part reality TV and part documentary, it combines what people want today – danger, excitement, celebrities, human interest and reality. The TV channel aims to be the main fund-raiser for Celebrities Unite, and profitable in its own right.
Celebrities Unite is the brain child of former eBay executive Betty Clark. Multi-billionaire Clark departed eBay last year searching for her second career – in the business of doing good – flexing her business savvy and hiring top talent from organizations such as Miramax.
The question on everybody's lips is why so little is being done by governments. The appalling failure of governments as powerful as the US lends credibility and impetus to the increasing power of the Non-Profit sector as an alternative to government aid.
2007: The most powerful CEOs on the planet>
This year sees a further roll-out of large commercial enterprises by the big players in the Non-Profit sector. The Red Cross buys itself an airline – combining its skills and expertise in logistics to create FedEx's largest potential competitor.
Simultaneously, their influence on government is on the rise. Western governments increasingly outsource aid operations to the Non-Profit sector. The UK has outsourced 60% of its aid coverage and the USA more than 40%. CEOs of organizations like Oxfam, The Red Cross and Celebrities Unite now wield enormous commercial power – more than US$2 trillion in 2006 – but they also wield enormous policy-making and political power.
Importantly, these people are not elected and their businesses are (not yet) regulated by market forces.
The big four consulting firms launch major consulting initiatives focusing on the Non-Profit sector, to assist with the transformation from sandals and soup kitchen to suits and the boardroom. This requires new skills in strategy, measurement, motivation and capacity building in the sector.
The incidence of fraud, crime and corruption escalates and regulation becomes a major issue. The sector continues to be a two-layer model, with around fifty huge, well-managed players at the top and thousands of small organizations at the bottom. Legal discrepancies in local practices create many legal loop-holes, especially in smaller organizations.
2008: Disaster is a growth industry
Disaster relief has become huge business and is seen as the fastest growing sector in many Western economies.
Non-Profit jobs continue to grow. By end-2008, 60 million people are formally employed of which around 40% represents voluntary time. These are some of the most interesting jobs available in the market today. Beyond money, these jobs offer adventure and purpose, qualities that young people aspire to today.
Several leading universities launch programs aimed at qualifying graduates for the Non-Profit sector.
2009: The Fortune Non-Profit 100
Acknowledging the size, growth and importance of this sector, Fortune publishes the first Non-Profit 100.
This is a pivotal event at Fortune Magazine, an organization which has dedicated itself to the pursuit of profitable business. Fortune says they came to the conclusion that the challenges of running successful non-profit organizations are the same as running big business.
This issue reports on five top CEOs who have left their corporations to run Non-Profit enterprises, lured by the purpose, adventure and market-related pay packages. They claim it was the opportunity of "making a difference" that made them move. Also, they are likely to wield new power to change the policies that affect the life of millions – certainly priceless.
The new fear is potential over-regulation of the Non-Profit sector. Recently established is a Science Court with wide-ranging powers to evaluate and control scientific projects; a UN-sponsored center for catastrophic risk assessment; plus a BioSciences agency.
Now, a proposed 'force to evacuate bill' to deal with forced evacuations is seen as a potential threat to traditional freedoms.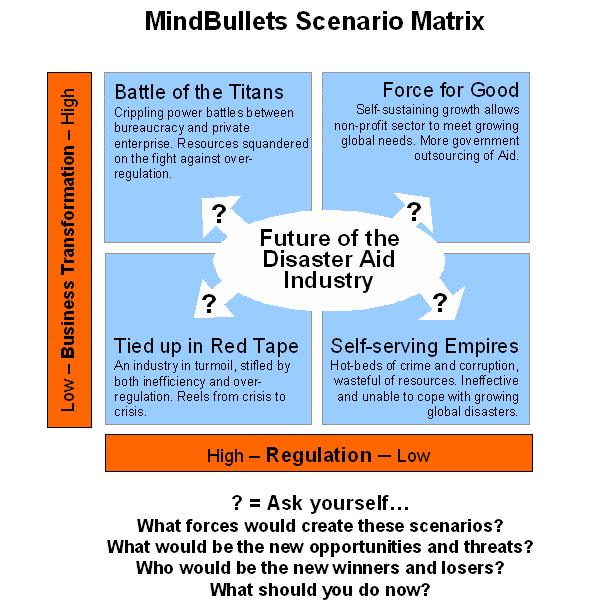 Warning: Hazardous thinking at work
Despite appearances to the contrary, Futureworld cannot and does not predict the future. Our Mindbullets scenarios are fictitious and designed purely to explore possible futures, challenge and stimulate strategic thinking. Use these at your own risk. Any reference to actual people, entities or events is entirely allegorical. Copyright Futureworld International Limited. Reproduction or distribution permitted only with recognition of Copyright and the inclusion of this disclaimer.