FIFA OUTRAGED BY RIVAL WORLD CUP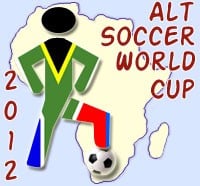 South Africa exploits 2010 success to expand the game
South Africa has announced that it will host the first Alternative Football World Cup in 2012. Following the spectacular success of the 2010 World Cup, the country has decided to cash in on the infrastructure and tourism boom.
"We have secured full commitment from six sporting bodies and expect to host an event similar in size to last year's FIFA World Cup," said Danny Jordaan, chief executive of African Sports Stage. The idea was inspired by the surprising success of a Futsal tournament hosted during the World Cup.
FIFA is outraged by South Africa's plans to host non-FIFA aligned forms of football like Bossaball, Footvolley, and the ever popular Street Soccer.
"We are dismayed by South Africa's decision. It betrays the unity of the FIFA image," said a tight-lipped FIFA spokesperson.
Google's surprising success with their web-cam monitored Street Soccer Spectacle has turned impoverished backstreet players into overnight soccer superstars.
A radically modernized version of soccer will take center stage at the new World Cup. Bigger goals will be used to promote higher score lines. Captains will be able to challenge marginal decisions and have them reversed by a playback referee.
Jordaan expects this new version of soccer to reduce the problem of theatrical dives and rioting fans – and restore integrity to the modern game.
---
ANALYSIS >> SYNTHESIS: How this scenario came to be
1989: FIFA takes control of Futsal>
FIFA is alarmed by the rapid growth in popularity of alternative football games, like the five-a-side version of soccer that is played both indoors and outdoors. In an attempt to maintain their dominance over all that is perceived to be football they stage a sporting coup by taking over control of the Futsal game from the previous governing body called the Worldwide Futsal Association.
Futsal is popular among the youth because everyone gets a turn to play. Other football variations emerge like FootVolley, Bossaball, Slamball, Australian Rules Football, Gaelic Football and Jianzi.
September 2006: The Homeless World Cup comes to South Africa>
President Mbeki welcomes homeless world cup to South Africa.
The Homeless World Cup is an annual street soccer tournament uniting teams of homeless people from around the globe in an effort to address poverty. "You love football. But how do you train if you are homeless? How do you travel to compete if you do not have a passport? Football is for everyone. Get into the Homeless World Cup. I do," says Rio Ferdinand from Manchester United.
2007: Big Brother becomes a virtual referee>
A group of kids playing soccer in Baynes street in Camden, London, are surprised to hear the voice of Police officer Terry Yates barking orders on foul and goal decisions from speakers attached to nearby security cameras. Yates becomes a popular referee and virtual coach to street games in the area. "We have several people watching over two hundred cameras, so my supervisor said it was okay if I spent a couple of hours doing some constructive community service," Yates tells the Daily Mail.
"When we first heard Terry shouting at us through the Big Brother speakers we thought we were in trouble because we were playing in the street instead of Regent Park. But Terry's a cool ref and helps us with our game." says Jonathan Beardsley, one of the rising stars in Britain's informal street soccer craze.
2009: Online Street Soccer TV is Launched>
Google Video runs a pilot project with Camden council to bring street soccer to viewers online. News reports in other countries start surfacing, reporting a growing trend in security camera use in street sports. Google Video and Online Gol TV launch Street Soccer Spectacle, an online real-time digital image stream from a network of security cameras. Google's specialized search engine trawls through blog sites looking for references to street soccer games. Together with Google Earth these are used to identify whether security cameras in the vicinity can be used to monitor these games.
Several attempts by FIFA to gain control of Street Soccer Spectacle are resisted by Google, who prefers to keep the phenomenon as an interactive-online experiment in self organizing systems.
April 2010: FIFA World Cup a spectacular success>
The 2010 FIFA Soccer World Cup is a spectacular success as 350,000 visitors are delighted by a unique African soccer experience. The 2010 FIFA World Cup generates ZAR 12.7 billion in direct spending, creates just under 160,000 jobs and results in an estimated ZAR 8 billion in indirect spin-offs.
Organizers manage to secure extra ticket sales by simultaneously hosting the Futsal Indoor World Championships during the FIFA World Cup. This gives tourists more football entertainment during their trip and offers extra opportunities for locals to engage in the frenzied football experience.
October 2010: African Sports Stage takes on FIFA>
Several members of the 2010 world cup organizing committee establish African Sports Stage, who signs Memoranda of Agreements (MoU's) with six alternative football organizing bodies. "There is no reason why big sporting organizations should continue to dominate the large sports events. Commercialization & professionalism is the name of the game," insists Molefi Oliphant, the spokesperson for African Sports Stage.
"This comes as no surprise. Just as there is competition in commercial markets with product substitution or brand mimicking, there is potential for similar forces to start playing a role in the sporting world. The massive revenues generated by large sports events like the Soccer World Cup should attract competition from creatively minded individuals and organizations," says Sheila Dallas, a marketing research consultant.
December 2010: Street Soccer World Cup qualifiers selected online>
Street Soccer Spectacle establishes a virtual committee based on volunteers from around the globe. Teams are selected by popular vote. Teams represent communities rather than countries and as a result unknown backstreet players become overnight superstars.
"I couldn't believe my luck when my goal was voted best goal of the month on Street Soccer Spectacle and Andy asked me to join their team at Smith Street. Now I hear we Smithies are gonna play in the World Cup next year! I've never been on an airplane before!" says an excited Ricky Tyler as he looks in bewilderment at a sea of reporters with flashing cameras outside the front door of his home in Brixton, South London.
The Street Soccer Spectacle Committee agrees to co-host their world cup at the Alternative Football World Cup.
2011: Alternative Football World Cup announced>
Announcing South Africa's plans to host the Alternative Football World Cup President Mosiuoa Lekota applauds the efforts of many individuals in the international community, who have managed to use sport as a way to break down class and poverty barriers. "Today I believe the world is truly flat. This tournament will prove to us that individuals can help each other rise from a sea of destitution and bask in the glory of the human spirit of Ubuntu," says Lekota.
Plans reveal that stadiums, streets, beaches and many other smaller venues will be used to maximize public accessibility. A revised version of soccer will be played at stadiums using FIFA rules but with larger goals to promote higher score lines.
To add to the technological upgrades a hawk-eye monitor, similar to that used in the US tennis open, will be used to establish whether the ball has crossed the goal line. Captains will be given three opportunities per game to challenge any decision that the referee or a linesman makes, based on a similar principle to that of the US Tennis Open's 'Challenge the Call'.
"I think it makes the game fairer and removes the potential for match fixing," says Andrea Pirlo the latest international star to favor the modern emerging version of the game.
Warning: Hazardous thinking at work
Despite appearances to the contrary, Futureworld cannot and does not predict the future. Our Mindbullets scenarios are fictitious and designed purely to explore possible futures, challenge and stimulate strategic thinking. Use these at your own risk. Any reference to actual people, entities or events is entirely allegorical. Copyright Futureworld International Limited. Reproduction or distribution permitted only with recognition of Copyright and the inclusion of this disclaimer.