'FRUGAL' IS THE NEW 'COOL' AS EU INCENTS 100% RECYCLED GOODS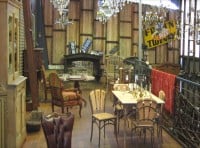 Antiques industry lauds new environmental moves
European Union regulators are being hit by severe criticism from furniture manufacturers as they plan to launch new environmental incentives.
Part of the new package to be launched next month includes recommendations for 20% rebates on antique and vintage items bought for personal use during the next year.
"If we are serious about protecting the environment and encouraging everyone to recycle as much as possible, there have to be strong incentives in place.
"When someone buys used furniture rather than the new equivalent, it makes sure that the materials are 100% recycled. In fact this is the slogan of our new program," says EU project manager Wim Franks. "These incentives will also apply to jewelry and small household items."
The reaction from retailers and manufacturers has been quick and vitriolic. "Of course used items have always been cheaper than the new equivalent," says a representative from Ikea who did not want to be identified.
"This could make even antique furniture cheaper than the new equivalents. This is unfair competition. Governments are funding one industry against another. This could lead to a major loss of jobs and profits."
For the last two decades antique furniture has largely fallen out of fashion for many, with prices falling accordingly.
Now, with continued difficult economic times, 'frugal' is again a powerful personal statement and it is quite likely that these EU incentives will contribute strongly to a new boom for antique and vintage furniture, jewelry and used goods of all sorts.
You'd better get out there and get those items you've always wanted before they become unaffordable again!
Warning: Hazardous thinking at work
Despite appearances to the contrary, Futureworld cannot and does not predict the future. Our Mindbullets scenarios are fictitious and designed purely to explore possible futures, challenge and stimulate strategic thinking. Use these at your own risk. Any reference to actual people, entities or events is entirely allegorical. Copyright Futureworld International Limited. Reproduction or distribution permitted only with recognition of Copyright and the inclusion of this disclaimer.