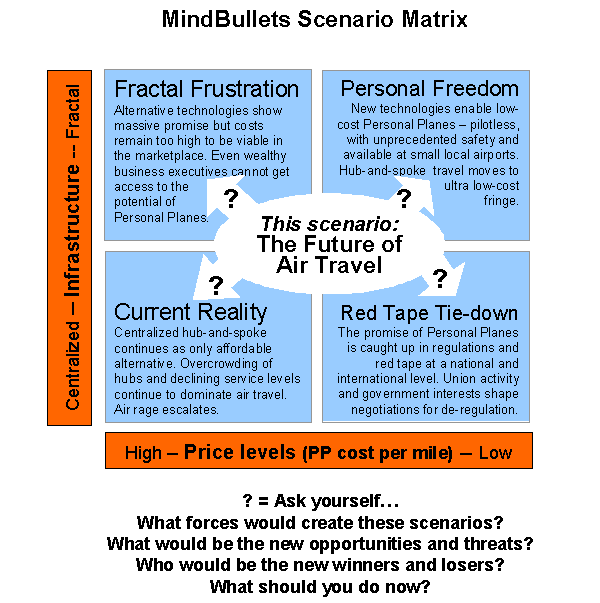 Boeing and Airbus in a tail-spin as the allure of personal planes hits air travel
As the holiday season gets into full swing, some of the major air hubs in Europe and the USA are comfortably quiet. Chicago, Atlanta, Amsterdam and London's major airports are reporting the lowest passenger numbers for a decade. "We're back to the passenger numbers of the late 1990s", said British Airports Authority CEO, Mark Savage, speaking from Heathrow airport.
As the passenger numbers on Europe's established airlines dwindle, so the travellers choosing to fly Hertz and Avis are doubling every 3 months. There were red faces all round as Hertz was voted Europe's most popular airline by readers of Conde Nast Traveller magazine at a sumptuous dinner in Berlin last night.
What started off in 2006 as a fringe activity for rich business executives, 'personal planes' (or PPs as they are fondly known) have now become the most lucrative new revenue streams for Hertz and Avis.
PPs are pilotless, sleek, 'ultra-cool', and now available at almost every local airfield. While travel by personal plane is still more expensive than seats on airlines' ageing Jumbo and Airbus fleets, for the extra cost you can avoid the hopelessly-clogged big airport hubs completely.
Bombardier is now the new investment darling amongst aircraft manufacturers. Their representative said today: "PPs have done to air travel what the PC did to computing in the early 1980s. This new mode of flight is destined to become the norm for all forms of air travel within the next ten years".
Shares of the 'new' players in air travel reached their highest levels in history, while those of the airlines and the traditional aircraft manufacturers dipped this week to twenty-year lows.
(Read the full story in the detailed Analysis/Synthesis section – for subscribers only)
---
ANALYSIS >> SYNTHESIS: How this scenario came to be
Background:
"At some point, a problem gets so big that it represents an entrepreneurial opportunity. So it is with the headache-filled world of air travel." Ron Lieber
Airline travel mushroomed with the advent of cheap jumbo-based travel in the early 1970s.
From the 1980s onwards, with increasing deregulation, the large airlines were forced by competition to cut their costs and fill seats like never before. The concept of hubs to concentrate traffic and services apparently did the trick. It was deemed better to concentrate these points of service to reduce complexity and to achieve economies of scale in the use of expensive skills and infrastructure. Passenger comfort and convenience was placed secondary after lowering the cost of commoditizing air travel.
Throughout the 1990s passenger numbers grew at roughly twice the rate of the world economy. We saw the explosion of low-cost airlines and increasing cost pressures on premium airlines. Traffic through the hubs grew exponentially.
James Fallows, in his book "Free flight: from airline hell to a new age of travel", noted that the number of US cities served by the big carriers decreased from 463 in 1978 to just 268 by the end of the millennium. In fact during this period the number of hubs reduced significantly even as the number of take-off from them more than quadrupled! More focus, focus, focus. Aircraft got bigger and prices dropped. It was left to many smaller airlines, sometimes called 'spoke' airlines to complete the hub-and-spoke analogy, to gather passengers from the proximity and transport them to the overcrowded hubs.
The effective result, in Fallows' words, was that "any airline trip 500 miles or less is no faster than driving a car!"
Is there a long-term solution to this problem: larger and larger planes flying more and more people on fewer flights and through fewer ever more crowded hubs???
Could the solution be: Many more but much smaller planes flying more and more flights into the ubiquitous smaller airports around the country? Could there be a 'swarm' solution to air traffic control?
Early 2000s: New realities, new players, new ideas
9/11 exposes the security risks of piloted planes and starts strong debates over the advantages of 'pilotless' planes. Airbus leads the way in aircraft automation amongst the large manufacturers.
Cirrus Design, a manufacturer of small personal planes, launches their Airframe Parachute System, a parachute system that when activated will lower the whole plane safely to to ground. In 2002, the first Cirrus aircraft came down by parachute.
NASA emerges as key player in concept of advanced air traffic control systems. Their proposed Small Aircraft Transportation System (SATS) heralds a potential new era of personal planes.
In July 2003, the FAA certifies the Wide Areas Augmentation System (WAAS). This system provides a very important element in precision air traffic control. WAAS allows more accurate positioning of aircraft and makes it possible to know where every aircraft flying over the United States is at all times to within a few feet. The European GPS system called Galileo, has been approved and will become operational in the next few years. Russia's GPS system, Glonass, has been in place for several years but is not presently operational for economic reasons.
2006: Air travel being shaped by Volks-power
Boeing and Airbus sales are still decling and future prospects look dim. Public debate about the problems of the current hub and spoke approach gets heated. Calls for airlines to 'do something drastic' to improve service quality – already rated in the bottom of all industries by ACSI for the past 5 years, along with banks.
Companies such as Bombardier and Cirrus show exponential sales growth for smaller corporate planes. Costs drop dramatically. Volkswagen enters the race, announcing a co-branding and design venture with Canada's Bombardier to build a future 'VolksVogel' – people's birds!
Safety is a key sales point: "The onboard software is integrated via NASA's global 'Smart GPS' network into the existing air traffic control systems and will enable our PP1 to 'swarm' – just like a flock of birds – a safety cell 4 times as safe as anything that came before it. If everything fails, you will still come down to earth gently with the plane's integrated parachute".
2008: An infrastructure for personal flights emerges
Large airline revenues (and profits) start to take a major hit as top executives move away from First and Business class travel onto 'shared small plane' infrastructure. Luxury airlines forced to compete head-on for passengers with budget airlines as the top end of their markets take flight. Pilots' trade unions start militant actions against the airlines. Holiday schedules severely disrupted causing further alienation between passengers and airlines.
The idea of swarming planes starts capturing the popular imagination and NASA announces plans to develop the architecture for global navigation and air traffic control in a joint venture with Europe's Vodafone.
Much safer than centralized air traffic control, each personal aircraft is to contain NASA's swarm software that manages its relationship to all aircraft in the immediate proximity. This is to be a 'living' and 'learning' air traffic control network. NASA provides centralized control system to give an effective quadrupling of control over possible collisions. Never has flying been so safe. All without pilots, without human air traffic controllers – and without having to go through the congested hubs.
A furious scramble starts in the USA for local airports to be registered as part of the PP network. There are more than 5000 'public use' small airports throughout the US. More than 98% of the US population lives within a 30-minute drive of one of these facilities. Suddenly everyone of these is potentially part of the new personal flight network.
2009: The first Personal Plane
The first commercial pilotless small plane comes onto the market – it's the first product from a conglomerate formed by Bombardier (the owners of Learjet)and VW, and now joined by Cirrus and Intel. The new product is dubbed the 'Personal Plane' or PP – with echoes of the launch of the IBM Personal Computer 28 years before. The manufacturers claim that "the PP1 and the new global navigation network will do for air travel what the PC and the Internet did for business in the 1980s".
2011: Hertz and Avis open first plane franchises
In a grand convergence of executive jets (from Bombardier and others) and personal plane initiatives (such as Skycar and Cirrus Design), coupled with NASA and Vodafone's air traffic control systems, small local airports have been liberated to participate in a growing new industry around the Personal Plane.
While the US initially harboured ideas of 'a national air-taxi system', these nightmare visions of air-cabbies in the mold of New York taxi drivers or the Star Wars movies will not come to be –NASA's software ensures that these PPs will have no pilots at all!
Commercial firms such as Hertz and Avis have beaten the large airlines and the government to this massive new 'white space' market.
By the end of 2011 there are PP hire outlets presence at 100 small US airports. Plans are in place for a similar launch in Europe within the next 12 months.
2015: Personal Planes become executive 'first choice'
Personal Planes become dominant and preferred air travel of choice at the premium end of the travel market. Congestion at hubs is reduced as usage is limited to low-cost travel. Traditional air travel loses much of what little glamour remains.
In the USA 500 local airports, 10% of the overall potential, are now a part of the PP network. European growth is surprisingly high with 300 local airports now established in just 12 months.
2020: Hertz voted Best Airline
"The new air travel revolution", as reported by CondeNast Traveller magazine, wins overwhelming approval from business and premium passengers.
The big airports are today dominated by low-cost airlines offering extremely low fares and minimal service – flying from them has become a nightmare cattle run – not suitable for any busy executive.
Avis and Hertz are now being touted as the "new airlines" and their customer satisfaction ratings approach those not seen since Amazon scored the 'highest ever' ratings back in 2003, a time at which airlines were rated right at the bottom of world customer satisfaction ratings.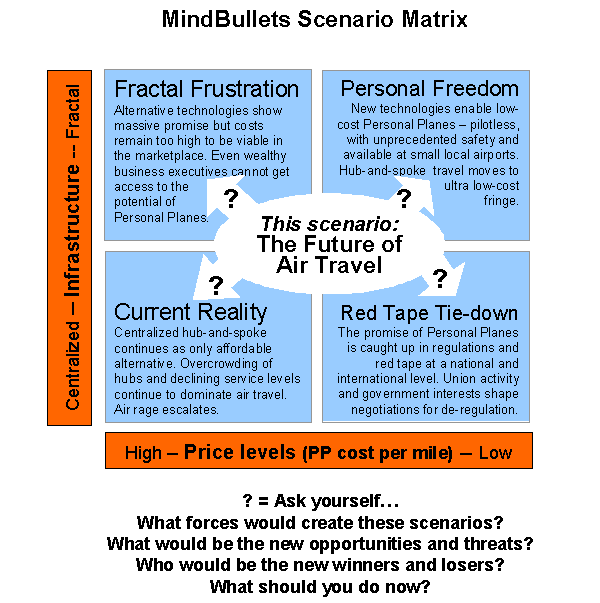 Warning: Hazardous thinking at work
Despite appearances to the contrary, Futureworld cannot and does not predict the future. Our Mindbullets scenarios are fictitious and designed purely to explore possible futures, challenge and stimulate strategic thinking. Use these at your own risk. Any reference to actual people, entities or events is entirely allegorical. Copyright Futureworld International Limited. Reproduction or distribution permitted only with recognition of Copyright and the inclusion of this disclaimer.