IT'S ILLEGAL TO BAN SOCIAL NET ACCESS DURING 'WORK HOURS'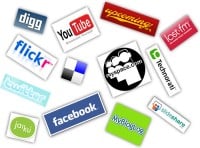 European Court of Human Rights ruling surprises business
A pressure group on the Facebook social networking site has created legal history by changing workplace rights for everyone in the EU.
In a bold reaction to many bosses charging that Facebook, Twitter, YouTube and other social networking sites were wasting employees' time and diverting attention from their paid roles, the pressure group PeopleForce charged that the term 'work hours' was no longer a concept valid in today's pressurized work environment.
"We are constantly asked to be flexible in terms of when we do our work and most of us take work home at night. We charge that it is a responsibility of employers to recognize this reality and stop putting one-sided rules in place to stop us living full lives while at the workplace," says Julie Turner of PeopleForce. "In any event social networking sites have become an integral part of the way we connect to customers and business partners – many bosses fail to recognize that."
While many organizations did embrace social networks to broaden communications with clients and partners in the past few years, such as HSBC (with Facebook), Deloitte (with YouTube) and the British Government (with Twitter and Facebook), many did not.
In fact PeopleForce was spawned by a 2009 interview with the chairman of Rymans, and Dragon's Den TV star, Theo Paphitis. In it he said: "Facebook is an orgy of exhibitionism, and it's now infected the workplace; a severe distraction. At Ryman we had to knock this problem on the head when it became obvious that staff time was being eaten up by this nonsense."
Now those views have suddenly become outlawed. A new level of trust has to be given to employees to deliver business results using the 'best tools available' and they have a right to a degree of social flexibility – in terms of a split between time spent on work and personal items – a recognition that often these are best completely intertwined.
---
ANALYSIS >> SYNTHESIS: How this scenario came to be
The European Court of Human Rights in Strasbourg is an international judicial body established under the European Convention on Human Rights (ECHR) of 1950 to monitor respect of human rights by states. The European Convention on Human Rights, or formally named Convention for the Protection of Human Rights and Fundamental Freedoms, is a convention adopted by the Council of Europe. All 47 member states of the Council of Europe are parties to the Convention. Applications against Contracting Parties for human rights violations can be brought before the Court by other states, other parties or individuals.
(Source: Wikipedia)
Warning: Hazardous thinking at work
Despite appearances to the contrary, Futureworld cannot and does not predict the future. Our Mindbullets scenarios are fictitious and designed purely to explore possible futures, challenge and stimulate strategic thinking. Use these at your own risk. Any reference to actual people, entities or events is entirely allegorical. Copyright Futureworld International Limited. Reproduction or distribution permitted only with recognition of Copyright and the inclusion of this disclaimer.