LONDON POPULATION FALLS AS SCOTTISH INDEPENDENCE LOOMS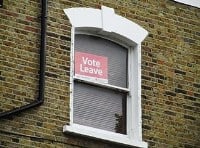 Investment boom in Edinburgh triggers housing shortage
London, a city which at its peak had almost 8.5 million residents, feels like everyone has gone away for the summer. You can always get a table, even at the trendiest restaurants, and the Tube is only half full.
Over the past three years, as major employers have moved their corporate headquarters, or restructured to keep their European markets, hundreds of thousands have left. Following the loss of the UK's banking passport, Frankfurt and Dublin have emerged as new centres of finance, gaining the head offices of Goldman Sachs and Morgan Stanley, respectively. Berlin and Vilnius actively recruited London's high-tech startups, including paying for relocation costs.
"We did our best to convince companies to stay," says Sadiq Khan, Mayor of London, "but after Theresa May [UK Prime Minister] called a halt to the London M&A market we were fighting a losing battle."
Outside London, academic centres in Oxford and Cambridge saw the withdrawal of research funding from the EU as Britain was forced out of Horizon 2020 and other grant-making organisations. It is estimated that 20,000 research professionals returned to Europe over the past three years.
To that migratory pressure, we can add the looming referendum for Scottish independence. If, as widely expected, Scotland chooses independence, on 18 September 2021 – the seventh anniversary of their first failed referendum – they will become an independent country and an immediate member of the EU.
"We were told we'd be bankrupt before we even started," says Nicola Sturgeon, leader of the Scottish National Party. "All we can say is, between our lower corporate tax rates and the raising of tariffs in the rest of the UK, Brexit has been the best advert for moving operations to Scotland. We've had local economic growth of 15% even as the rest of Britain is in recession." The rising oil price has also helped.
"We've moved 2,000 of our staff to Glasgow," says Amber Davids, CEO of LifeWorks, a venture capital firm focused on healthcare. "For the companies we finance, it's been a lifeline. We've encouraged all of them to go. Some 20 firms in our portfolio are moving." It is an attitude widely shared by the young, the talented, and the globally mobile.
Edinburgh's population has grown to 1.2 million putting immense pressure on housing and construction. Glasgow has grown by over 500,000. London has seen its population fall almost 12%, to only 7.5 million.
On the bridge over the Tweed at Coldstream, the heavy traffic continues, heading north.
Warning: Hazardous thinking at work
Despite appearances to the contrary, Futureworld cannot and does not predict the future. Our Mindbullets scenarios are fictitious and designed purely to explore possible futures, challenge and stimulate strategic thinking. Use these at your own risk. Any reference to actual people, entities or events is entirely allegorical. Copyright Futureworld International Limited. Reproduction or distribution permitted only with recognition of Copyright and the inclusion of this disclaimer.