MADMEN REPLACED BY ADBOTS AND ROBO-WRITERS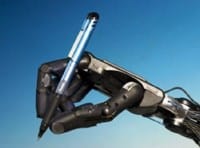 Saatchi & Saatchi hire creative robots, not people
I remember clearly when artificial intelligence expert Vivienne Ming told us: "No job or industry is safe from robotics and AI." That was five years ago.
As a freelance copywriter, I was smug in my assumption that her assertion didn't apply to us, to creative skills. We were the exception to the rule; machines, no matter how smart, can't be truly creative, can they?
Software bots and AI systems quickly evolved to handle ordinary, routine work like news and sports reports. Machine learning and deep neural networks on-a-chip sprinted ahead, giving mobile devices and cloud services the ability to easily find new patterns of human behaviour, recognize faces and predict likes and dislikes.
Even drones and cameras are smart enough these days to learn from what we do on a daily basis, and from other sensors and devices too. Their ability to make intelligent inferences from our routine activities and transactions is kind of creepy!
But creating something from scratch, like a brilliantly persuasive piece of copy, an artwork or inspiring music – surely not?
Until now. If a machine can write political speeches and choose the winning colour combinations for a new product, then why can't it sell washing powder and smartphones, and become a fashion designer?
Saatchi & Saatchi have seen the future, and are hiring AlphaWord instead of new creatives. It's just better business, with far fewer prima donnas and people who take long liquid lunches.
Ah, the old days, they were fun! I guess I'll just have to start a new agency. How about #UMAN for a catchy name?
Warning: Hazardous thinking at work
Despite appearances to the contrary, Futureworld cannot and does not predict the future. Our Mindbullets scenarios are fictitious and designed purely to explore possible futures, challenge and stimulate strategic thinking. Use these at your own risk. Any reference to actual people, entities or events is entirely allegorical. Copyright Futureworld International Limited. Reproduction or distribution permitted only with recognition of Copyright and the inclusion of this disclaimer.