MICROSOFT LOSES THE SMARTPHONE WAR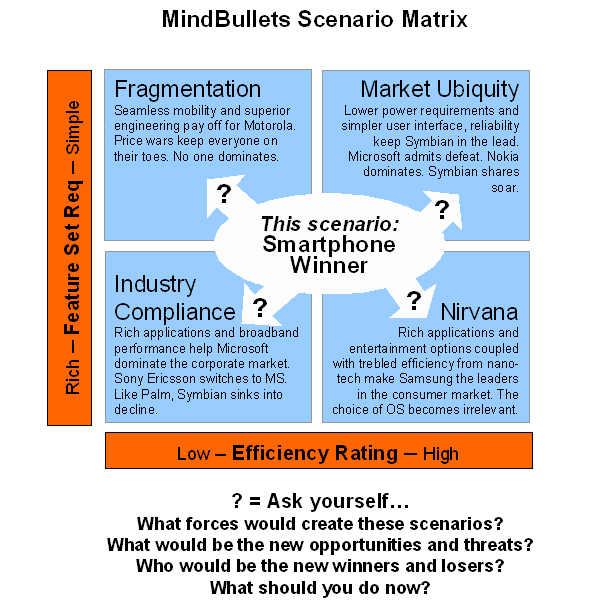 Symbian cleans up in the hottest tech space since the PC
It's official. Research group Gartner has reversed its 2003 prediction that Microsoft would triumph in the battle for the Smartphone platform.
In a rare public admission of defeat, Bill Gates announced that, although Microsoft would continue to support Windows Mobile on existing handsets, the company's focus would be on improving the "natural interaction" for users of Windows devices such as mini Tablet PCs and MediaPads.
There was no immediate reaction from Symbian, but Nokia, the dominant member of the consortium, stated that its range of Smartphones would continue to benefit from intensive development of the Symbian operating system, providing even better access to email, internet, documents and video, while maintaining simplicity and ease-of-use when making a phone call.
There was hardly a reaction from the market, as Symbian-based handsets from Nokia and Sony Ericsson have been increasing their share for some time.
(Read the full story of how Microsoft failed, and the future implications for business, in the detailed Analysis/Synthesis section – for subscribers only)
---
ANALYSIS >> SYNTHESIS: How this scenario came to be
The Full Story
As gigantic and ruthless that Microsoft is, its primary opponent was another behemoth: Nokia. Nokia threw its huge weight behind Symbian and was determined to succeed at all costs.
Another factor was 3G, the third generation system for cellular communications, promising always-on connection to the network at broadband speed. While Microsoft pushed power-hungry WiFi (802.11 wireless networking standard) and WiMAX, a long distance high speed networking technology, for its mobile broadband options, Nokia embraced 3G and its successors to give high speed data connectivity to phones, PDAs, and mobile game consoles.
But in the final analysis, it was a matter of philosophy and approach that sealed Microsoft's fate. Microsoft has always sought to increase the richness of the client operating system, requiring ever more powerful processors, memory and storage space. This top-heavy operating system with its bundled applications gave you the very best graphics, editing, sound and video, but at a cost in terms of power, weight and price.
After all, if you want all the processing power of a PC, just get a lightweight laptop! Nokia understood that the true Smartphone user wanted access to all their email, messages, contacts, bank accounts, but on the net, where it belongs. The phone is just the access medium. First and foremost, a phone has to be small, lightweight, stylish, easy to use, and reliable. You can't be expected to wait minutes for your phone to re-boot before you make the next call!
2001: First Smartphones
The first Smartphones make their appearance. Manufactured by Kyocera and Treo, these are mono screen devices which are essentially PDAs (Personal Digital Assistants) with mobile phone functions. Pagers are still widely used in the US, and Blackberries are only for email.
Microsoft competes with Palm on the PDA platform, with MS offering colour screens and sound on Pocket PC, while Palm offers lightweight and cheaper devices. Both these options generally need a host computer or special network or modem adapter to connect to the internet and synchronize email.
In Europe Nokia is already king of the mobile phone hill, and GSM is the dominant system. In the US, CDMA prevails, with Motorola dominating the handset market. In Asia, dominated by Japan, Hong Kong and Taiwan, the eastern manufacturers hold sway, and proprietary systems such as iMode are popular.
2002: 3G Fiasco
The European 3G license bidding war sees billions paid for a single 3G license; and subsequently fails to attract subscribers or show a profit. The reason: 3G is pitched at consumers with gimmicky applications, ignoring the viable market – business users accessing corporate email and data. A lack of handsets from reputable manufacturers compounds the problem.
Microsoft woos Nokia and declares its intention of becoming a big player in the mobile market. However, Nokia fails to be impressed, and joins with other handset manufacturers to establish the Symbian consortium.
At the same time, early versions of MS Pocket PC Phone Edition emerge on primarily Taiwanese PDAs with GSM phone functions. GSM add-on modules for Pocket PCs appear, and the infamous iPaq "jacket" that allows wireless network connection via a full size WiFi card. However, it's not long before WiFi cards have shrunk to compact sizes, eventually being available on SD (Secure Digital) format, the same size as a digital camera memory card.
2003: Microsoft Smartphones
Large screen phones from Taiwanese OEM (Original Equipment Manufacturer) HTC appear with Windows Mobile for Smartphone software, providing most of the functions of Pocket PC and a cell phone, including internet browsing over GPRS or GSM. Later versions include cameras, Bluetooth and the ability to accept an SD WiFi card. They are joined by a single clam-shell model from Motorola.
Nov 2003: Nick Jones, vice president and research fellow at Gartner, the foremost IT industry research house and consultancy, declares premature victory for Microsoft in the Smartphone battle. His theory is that with Microsoft's muscle and corporate footprint, the market will eventually accept it as the standard, in the same way that Palm lost to Microsoft in the PDA tussle.
2004: Smartphone market explodes
March 2004: Analysts expect the Smartphone market to explode: "The third generation networks will expansion tremendously in 2005 after the demand for smartphone expected to pick up in the second half of the year, according to a spokesperson at the High Tech Computer Co. (HTC), Martin Lau, during the annual technology conference held by Merrill Lynch. Lau said: "We foresee the opportunity and we can provide very good products to download e-mails very quickly, to access the Internet quickly and which are convenient for end-users." Last year, the total shipments of smartphone was 8.5 million units, sharing only 2 percent from the total global handset shipment while this year's shipment to reach 20.6 million sets and will balloon to 84 million in 2007, according to Gartner."
Indeed, a plethora of PDAs, phones and handheld audio and gaming devices are launched. HP, having swallowed up Compaq, is entrenched as the major Pocket PC maker, many of which have built-in WiFi and Bluetooth. Towards the end of the year, two models with integrated phones are released, while others sport cameras and miniature keyboards.
Blackberry now have models which include phones, as do Palm. Treo have advanced PDA phones, while the cellphone makers all have a range of camera phones in various shapes and sizes. One of the first to launch true Smartphones on the Symbian system is Sony Ericsson with the P800 and P900/910. Nokia stumbles in 2004, coming to the market late with models like the 6600, but is feverishly working behind the scenes to dominate the Symbian consortium. Samsung and LG focus on integrating cameras and entertainment in their models.
Apple's iPod also makes a big impact in the personal device market. By year-end iTunes sites are selling one million songs per day online in 15 countries. However, like the PDA, an iPod is useless without a host computer (Windows or Mac) to connect it to. Meanwhile phones are becoming more and more powerful, and can take pictures, play music and games, download email and attachments, and access the internet. 3G services become established and start to mature, giving business people access to corporate data and the internet at broadband speeds, even when in foreign countries.
Vodaphone boasts the largest customer base, with over 120 million subscribers globally, and is firmly behind 3G, supporting the dominant handset makers and ignoring MS Smartphones. Competitors like T-Mobile and Orange promote Windows based OEM Smartphones with their own branding. 3G UMTS (Universal Messaging Transport System) services are established in six metro areas in the US. Sony Ericsson benefits from strong demand for its 3G models. Nokia finally announces its range of serious business Smartphones like the 6670, 7610 and 9300, some of which support 3G.
2005: PDAs grow up and start to disappear
PDAs get hard drives for the first time, but non-phone versions are outnumbered by Smartphones. Both Microsoft and Palm now have very similar strategies with their mobile platforms – both platforms now focus almost exclusively on Smartphone capabilities.
The operating systems vary but are dominated by Symbian. For example, smart phones are on the market with varying versions of Symbian, Palm, Linux, Blackberry, Microsoft, and proprietary operating systems running on multiple processors. "The leading smart-phone operating system is Symbian, accounting for nearly four-fifths of 2Q04 worldwide shipments," says Gartner Research analyst Ben Wood.
Also expected to hamper MS Smartphone adoption is Microsoft's focus on features. The Windows software maker wants lots of applications running on its OS (Operating System), including those that play games and music, show movies, transmit pictures, and more. This is quite apparent in Portable Media Center models, which also run Windows Mobile.
Symbian, on the other hand, targets a broader market by getting its OS on all phones, particularly those that have very few features other than voice communications. Those phones are still expected to be 91% of the market in 2007. "What Symbian is doing is moving down market to the utilitarian handsets, rather than look like a little PC in your hand."
And to make it more affordable, Nokia signs up with Texas Instruments to make phones that have all the mobile functions on a single chip, using TI's DRP (Digital Radio Frequency Processing) technology.
Motorola, the second-largest handset manufacturer in 2004, is neither siding with Nokia nor Microsoft. Its new strategy of "seamless mobility" is designed to focus on ease of use. As wireless, wireline and multimedia technologies proliferate, Motorola believes it is in a unique position to "bring simplicity to complexity" by tying everything together through the mobile handset. Motorola says it is uniquely positioned to smooth the transition between home, work, automotive and mobile environments, providing high-speed internet access on trains, for example, email in cars, video on phones, or mobile-phone coverage on planes.
3G services roll out nationally in the US. WiMAX emerges towards the end of the year.
2006: iPod goes mobile
Just as we see the departure of traditional, PC-connected PDAs in favour of Smartphones with PDA functions, Apple turns its iPod into more of a multifunctional device, and gives it mobile connectivity. Now you can have your calendar, email and contacts on your iPod Mobile as well as music and photos. But Apple avoids the phone war by backing WiMAX as the connection route. This cuts the cord between iPod and PC and extends the market to non-PC owners, giving iPod new life. People are soon downloading tunes as well as email at the nearest coffee shop or metropolitan WiMAX hot-spot.
In Europe however, the Smartphone rules, although iPod is a hot fashion item and popular with geeks who want the large hard storage and long battery life. Symbian continues to dominate the phone platform. Savvy iPod and Smartphone users start using voice message emails as a cost-efficient way of communicating.
Microsoft is desperately competing on both fronts, with its feature-rich mobile MediaPad, boasting better graphics than iPod and WiMAX support, but shorter battery life. MediaPad is also competing with Playstation Personal and other mobile gaming devices, but support for mobile gaming on the Symbian platform is so advanced that many gamers simply use their Smartphones. On Smartphone platforms, Microsoft is limited to HP, Dell and Taiwanese makers, having failed to entice any more support from the Symbian manufacturers. None of the MS Smartphone devices support 3G, concentrating rather on built-in or add-on WiMAX cards.
The big fight in mobile devices is battery life. With Nokia's long superiority in this field and Symbian and 3G's lower power requirements, Nokia makes further gains. However, competitors such as Motorola and Samsung are already touting nano-technology and fuel cells as tipping the balance in future.
Linux gets a boost as Palm converts all its phones to open source, but still fails to get significant traction in the corporate field. Blackberry considers its options as Symbian gradually conquers the US.
2007: Microsoft admits defeat
Early in the year, Skype, leader in free voice telephony on the internet with 100 million users registered at end 2006, releases a version for iPod Mobile. Pocket Skype has been available for years on WiFi-connected PDAs and Tablets, but has never made the leap to 3G Smartphones.
Gartner announces victory for Symbian. In a personal interview over the future of mobile computing, Bill Gates stresses the importance of rich applications, with natural interaction by means of handwriting and speech dominating the operating system. Gates admits that they have failed to make Windows popular on phones, and will be concentrating on further enhancements to MediaPads and Tablet PCs.
Symbian is expected to operate 89% of Smartphones sold this year. Microsoft has finally thrown in the towel and gone back to more sophisticated devices like media centers. But strangely enough, the Smartphones of tomorrow will increasingly resemble 'network computers' as all the information resides on the network, and the phone simply acts as an intelligent terminal, always connected at high speed.
Microsoft is playing down this latest defeat, still hyping MediaPad and mobile X-Box-M, but the implications are profound. If Smartphones are gradually replacing laptop computers for many mobile professionals, and Smartphones outnumber PCs by many times, then it could truly be said that Symbian, not Microsoft, controls the mobile "desktop". Does this mean that we will see more back-end, server based systems optimized for Symbian thin clients? You bet! And which platform will be best suited to those systems: Microsoft .NET, SUN's Java, or IBM Linux? The web services arena becomes a very interesting space.
2008: Windows sales decline
Sales of PCs running Windows Reloaded decline. Laptops outnumber desktops in total hardware sales, and rumours abound of a Linux-Symbian operating system in the works for small screen notebook computers. Smartphone sales outstrip all other consumer electronic devices, and Symbian makes its IPO simultaneously on the EU and NASDAQ stock exchanges. It's a runaway success, and the share price doubles within a week. Microsoft's stock takes a dive.
But there's also a paradigm shift in the way we use Smartphone technology. Now that Microsoft's dominance of the client system has been broken, enterprises are free to risk relationships with alternative providers of integrated systems and middleware. In the past, many corporate customers insisted on MS compliance to avoid inter-operability problems and costly user support. "Industry Standard" basically meant "Works with Microsoft". Now that the Smartphone is becoming the ubiquitous device, and Symbian the default interface, corporations and solution providers are free to explore the multi-functional nature of a connected wireless terminal, for access control, transaction verification, supervisor overrides, process monitoring, or just turning on the TV and paying for the pizza!
We are entering the Smartphone Society, and Nokia is its champion, thanks to Symbian.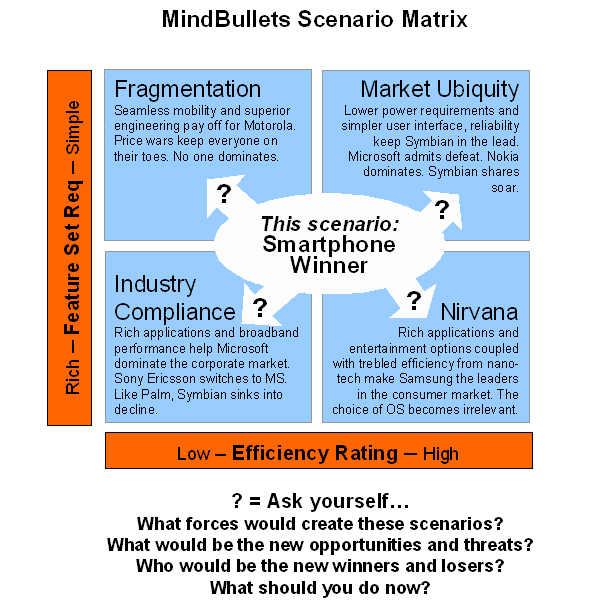 Warning: Hazardous thinking at work
Despite appearances to the contrary, Futureworld cannot and does not predict the future. Our Mindbullets scenarios are fictitious and designed purely to explore possible futures, challenge and stimulate strategic thinking. Use these at your own risk. Any reference to actual people, entities or events is entirely allegorical. Copyright Futureworld International Limited. Reproduction or distribution permitted only with recognition of Copyright and the inclusion of this disclaimer.