MURDOCH CREATES FULL MONTY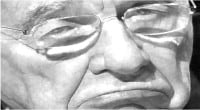 Digital swoop 'completes' media and retail empire
In a brilliant swoop on the jewels of the digital world, Rupert Murdoch's News Corp. has seized control of the top auctions, payments, video and communication platforms to add to their powerful global news and social networks.
eBay's 35% stock price dip due to recent rumors of drug trafficking on the auction site was too much for his investment bankers to resist. Their hostile bid shocked markets in terms of the speed of execution. Together with eBay came their global payments platform PayPal and Skype, the world's #1 voice business.
It seems as if Murdoch's pursuit of Joost had been in the works for some time, but the announcement of its acquisition to tie in with eBay was something of a master-stroke.
It is clear that the successful globalization of the Wall Street Journal brand has made Murdoch's bold confidence ubiquitous. Some analysts are saying that "This time he has gone too far." Others say that he now has the pieces to dominate social networking at a level never before possible. His plans to make all these communication, voice, payments and purchasing platforms available to all 200 million MySpace users is just the start.
All in all, his businesses now connect more than 1,5 billion customers. The possibilities to cross-sell services are vast and limited only by News Corp's imagination.
"Sometimes I wish I could live forever," said Murdoch at the New York launch party. "We stand at the most exciting point in the history of media, retailing and communications. I love being at the center of it all."
---
ANALYSIS >> SYNTHESIS: How this scenario came to be
The future of media is inexorably tied to the future of advertising – it has always been its primary source of income.
As brand positioning moves more into the area of social networks (you see companies giving away their products in return for open and honest comments on blogs and social networking sites) and companies are emerging that will tell you exactly what people are saying about your products (for example BuzzLogic) – it is fast becoming clear that one thoughtful user endorsement is worth more than ten ads.
The credibility of personal recommendations that launched Amazon.com, eBay and Google into the financial stratosphere is now coming home to roost in the media industry. Rupert Murdoch is riding the crest of that tsunami.
Warning: Hazardous thinking at work
Despite appearances to the contrary, Futureworld cannot and does not predict the future. Our Mindbullets scenarios are fictitious and designed purely to explore possible futures, challenge and stimulate strategic thinking. Use these at your own risk. Any reference to actual people, entities or events is entirely allegorical. Copyright Futureworld International Limited. Reproduction or distribution permitted only with recognition of Copyright and the inclusion of this disclaimer.