PEACE, LOVE & WOODSTOCK 50 YEARS ON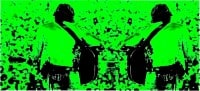 Old dreams of a new world amidst cyber drugs & porn
Exactly 50 years ago today, on 17 August 1969, more than 200,000 people gathered at Yasgur's farm in upstate New York to preach love and peace amidst a global youth revolution against 'the establishment'.
It dawned on the gathered multitude that their combined numbers represented about the number of US soldiers active in Vietnam at the time. Specifically they called for an end to the war and advocated free love and legalized drugs.
Well, how differently their dreams have turned out.
Today Jimi Hendrix and marijuana have been replaced with iMusic-promoted ephemeral entertainers and cyber-drugs that can construct almost any imaginable experience, and many unimaginable, on demand.
The music may have lost some of its soul but the drugs are legal.
This morning a balding Michael Lang, one of the original Woodstock founders, driving a Hybrid Harley, opened The Woodstock 50 festival in New York's Central Park.
His interview in this morning's Times said it all: "Our Woodstock dreams were quickly vanquished by global capitalism and the past decade has seen the world plunge into increasing misery and conflict – it's time for another youth revolution."
The US government, in dire need of national upliftment, has declared today a holiday to encourage the nation to think about a "bold new future" and the "power of each individual to make a difference".
Although it is expected that today's Woodstock 50 Festival will attract few real people due to ongoing security fears, it is estimated that more than 2 billion people world-wide could share the music, and perhaps even some of the aspirations.
Warning: Hazardous thinking at work
Despite appearances to the contrary, Futureworld cannot and does not predict the future. Our Mindbullets scenarios are fictitious and designed purely to explore possible futures, challenge and stimulate strategic thinking. Use these at your own risk. Any reference to actual people, entities or events is entirely allegorical. Copyright Futureworld International Limited. Reproduction or distribution permitted only with recognition of Copyright and the inclusion of this disclaimer.