PRIVATE BANKING GETS REALLY PERSONAL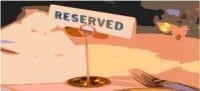 They'll even bank your DNA and baby's stem cells
Do you remember, just a few short years ago, when companies introduced 'Concierge Services' to support busy executives and high-flying travelers?
Today, those experiences are even changing private banks. They have found that you cannot have hum-drum relationships with ever-more demanding clients. The concept of 'wealth management' seems positively Victorian by comparison with today's service levels.
Notice how private banking has effectively merged with the 'lifestyle management' services industry? The lifestyle companies came looking for new revenue streams, and the private banks have been searching for differentiation in increasingly globally competitive and networked markets.
"Relationships in today's networked economy are fundamentally different to what they were – in fact we are understanding 'relationships' properly for the first time," says Wolfgang Grulke, author of the book 'Quantum Relationships'. "In a world of perfect choice, even the Swiss private banks are finding that concepts like 'trust' and 'loyalty' are being redefined by the marketplace. Clients are starting to behave like their YouTube-generation kids!"
More than half of all over-50s have multiple new careers, typically low-cap ventures that they have started and built into powerful knowledge and service based networks.
As clients of private banks, they want both their personal and business services handled by one seamless product menu, all digital of course, supported by a relationship manager who is available 24×7, world-wide – a need that clearly cannot be satisfied by only a real human being.
The 'new private banks' are building new brands and engaging their clients in fundamentally different ways and turning them into 'passionate participants' in their business. "We are offering vast menus of related services to make the relationship experience bold and passionate", in the words of HSBC Private Banking spokesperson Marinda Speed, herself a "proud wrinkly" (her own words).
"We offer our clients access to a network of more than 100 specific adventure services, games and shopping. We are pushing the envelope. Our JV with Google and Match.com are just two examples of our new full-service relationship strategy for this market."
Warning: Hazardous thinking at work
Despite appearances to the contrary, Futureworld cannot and does not predict the future. Our Mindbullets scenarios are fictitious and designed purely to explore possible futures, challenge and stimulate strategic thinking. Use these at your own risk. Any reference to actual people, entities or events is entirely allegorical. Copyright Futureworld International Limited. Reproduction or distribution permitted only with recognition of Copyright and the inclusion of this disclaimer.