RETAIL GIANTS TO DOMINATE EU MARKETS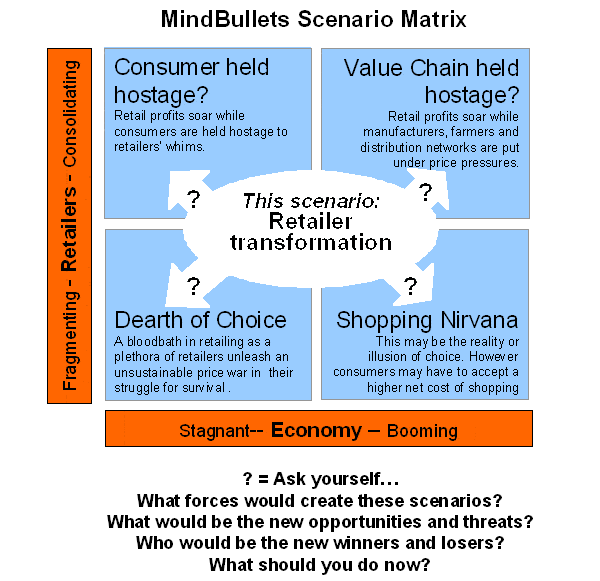 Tesco, Wal-Mart and eBay the only game in your weekly shopping
Trading in shares of supermarket chain Morrisons (the owners of Sainsbury's and Safeway) was suspended late last night after Morrisons' management blocked hostile take-over bids by Tesco and Wal-Mart.
With spiralling losses, it appears that Morrisons assets will have to be auctioned and are likely to achieve much lower prices than either of the offers from Tesco and Wal-Mart. Shareholders in Morrisons are up in arms about what they see as the "wholesale destruction of market value" by the Morrisons management team.
With fewer surviving 'small' retailers – and with Tesco's innovative joint venture with eBay Depots – Tesco, Wal-Mart and eBay could represent almost 80% of European retail markets within a few years.
EU regulators are expected to get involved to try to balance the potential loss of jobs versus the emerging retail monopoly. Neither Tesco or Wall-Mart were prepared to comment on their increasing dominance.
Consumer groups, led by Friends of the Earth, are likely to continue militant action accusing the mega-retailers of holding farmers, manufacturers and the distribution network hostage. They fear massive price and service manipulation.
The consumer realities however do not bear out those fears: consumer prices have never been lower and product choice has never been greater.
(Read the full story in the detailed Analysis/Synthesis section – for subscribers only)
---
ANALYSIS >> SYNTHESIS: How this scenario came to be
Background
The world's top 3 supermarket chains as at June 2004 are…
#1 Wal-Mart – one of the largest corporations in the world, 1 409 Wal-Mart stores, 1 562 Supercenters, 539 Sam's Clubs in the United States.Internationally, 155 stores in South America, 236 in Canada, 54 in Asia, 261 in Europe, and 684 in Latin America;
#2 Carrefour with operations in more than 30 countries, and 6000 stores;
#3 Tesco dominant in UK and with big ambitions.
In the UK the leaders are…
#1 Tesco with 1878 stores;
#2 ASDA (owned by Wal-Mart) with only 259 outlets, but focused on larger 'sheds';
#3 J Sainsbury with 462 stores, has just lost the #2 position;
#4 W M Morrison with 552 stores, substantially strengthened after their takeover of Safeway stores.
With a market share of almost 30% in the UK, an ambitious Tesco is now actively looking outside traditional food lines and geographic areas for future growth.
In the meantime, the eBay phenomenon is spreading to Europe with an explosion of 'eBay Depots' – privately owned depots where sellers can bring their goods to be sold on eBay. Ebay depots are especially big in Germany where eCommerce had never really taken off. They offer a full service facility for a commission on the sale – a real neighborhood 'Clicks Store'.
Where will it all lead?
2004: Tesco produces record results
Profit GBP 1,7 billion on sales of GBP 33,6 billion up 16% yoy
Represents 1 in 8 GBP spent on retail in UK economy
Tesco sells more baby products than Mothercare and Boots combined, including more than one billion nappies;
Sells more toiletries than Boots and Superdrug combined, including more than 20 million bars of soap;
872 million cans of baked beans;
25 million cucumbers.
Tesco employs 225 000 staff and has 960 stores in the UK
Strategy includes a massive push into non-food retailing
Public protests point out that at GBP 2,8 million a year, Tesco CEO's salary is roughly 255 times that of the average British farmer.
On 14 July Tesco announces that it has signed a 50:50 joint venture agreement with Ting Hsin, which owns the Hymall chain of stores in China. Hymall currently operates a chain of 25 hypermarkets with plans to open up to 10 more stores in the coming year.
Meanwhile UK supermarket also-rans Sainsbury and Morrisons are squabbling for attention by throwing negative accusations at each other's strategic efforts.
2005: Tesco firms up new lines
Tesco moves agressively into household services – their financial, insurance, mobile and legal services businesses are flourishing. Tesco's door-to-door delivery service in the UK becomes the epitome of e-grocery retailing in the world. Tesco develops several low-key ventures with teh Virgin and EBay brands to test consumer reaction. Turnover grows 20% to around 40 billion Pounds.
2006: Supermarket chains merge
Amongst many mergers, the one between arch-rivals Sainsbury and Morrisons appears to be the one voted "least likely to succeed". One month after the shaky merger, Tesco nipped in and bought both companies!
The EU Competition Commission vetos the British governments decision, to block the Tesco/Sainsbury/Morrison merger, on the grounds that "the combined company will not have a dominant position in the EU". Tesco with more than 2500 stores in the UK now has a market share of more than 50%.
2007: Protests against mega retailers spread
Consumers and retail employeees lobby against the EU decision to veto the UK government's decision to block the Tesco/Morrison/Sainbury merger. The enemy is the mega retailer.
On the face of it, and according to consumer surveys, the consumer appears to win with price and choice, but the retailer eventually controls all the market pressure points. They can keep prices down by suppressing wages – and what choice do workers have? Retailers can keep prices down by undue pressure on suppliers – and what choice do suppliers have? Absolute power is never a good thing – hence the regulation around monopolies. So in the end, does the consumer really win?
Within a month, protests have spread to the whole of the EU.
2008: Tesco joins up with eBay and goes global
It is clear that Tesco now has ambitions to go after Wal-Mart in the size stakes. They engineer major new acquisitions in the USA and Asia plus a major new banking strategy with CitiBank. It's Chinese operations now represnet more than 3 000 stores and almost 15% of global revenues.
Perhaps the most surprising is a major joint venture with eBay Depots that will double the retailer's presence in the USA and Europe.
Tesco will capitalize on the success of the eBay Depot network, 18 000 privately-owned drop-off points for eBay sale items, that have become major competitors to non-food retail stores. Tesco plans to combine these with small food stores and expand their footprint beyond the mega-store to friendly community stores.
The eBay brand has become synonymous with 'trusted' neighborhood retailing and the Tesco JV enables them to add food, and selected new consumer items, to entice more shoppers to their neighborhood stores.
With this move, Tesco has effectively sidelined protestors, joining forces with the biggest consumer ally, eBay.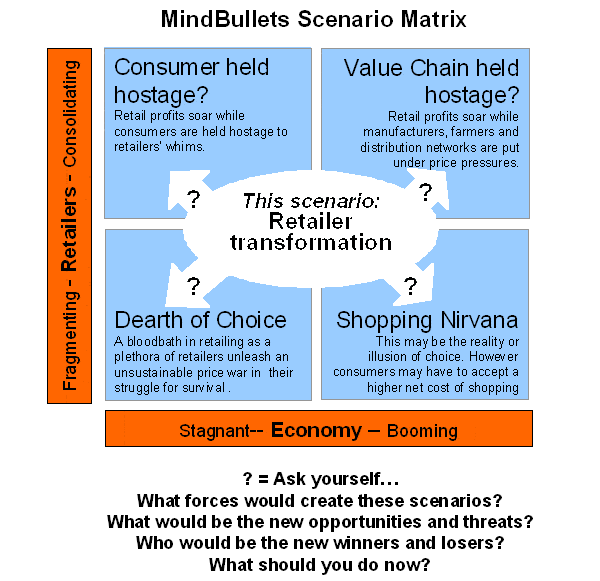 Warning: Hazardous thinking at work
Despite appearances to the contrary, Futureworld cannot and does not predict the future. Our Mindbullets scenarios are fictitious and designed purely to explore possible futures, challenge and stimulate strategic thinking. Use these at your own risk. Any reference to actual people, entities or events is entirely allegorical. Copyright Futureworld International Limited. Reproduction or distribution permitted only with recognition of Copyright and the inclusion of this disclaimer.