SA EX-PRESIDENT CHARGED IN WORLD COURT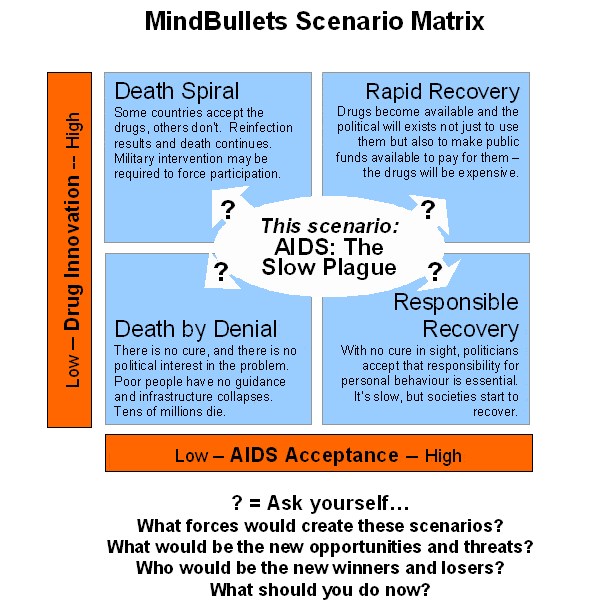 AIDS denial leads to investigation of crimes against humanity
South Africa's Thabo Mbeki looked old and weary in yesterday's BBC interview. He had just been informed that the International Criminal Court is to investigate whether his actions to deny the existence of HIV and AIDS, and prevarication over the distribution of life-saving medication be considered as a human rights violation.
Representing the rights of millions of South Africans whose relatives were infected with HIV over the period of 1999 to 2009 is Justice Mervyn Sacks.
"As president, Thabo Mbeki was directly responsible for the policies of his government. He decided, in spite of reasonable and educated advice, that his government could ignore the impact of HIV. He refused international aid and declared that the problem was primarily one of malnutrition. Ten million people have died as a direct result of this policy. We believe it represents a gross human rights violation."
This has sent a tremor through the world of politics. A precedent has been set to punish political leaders for acts of omission. Leaders who refuse to act to limit death where it is within their power to do so may be in for the high jump.
(Read the full story in the detailed Analysis/Synthesis section – for subscribers only)
---
ANALYSIS >> SYNTHESIS: How this scenario came to be
Rome Statute of the International Criminal Court:
Article 7: Crimes against humanity, Section 2 (b)
"Extermination" includes the intentional infliction of conditions of life, inter alia the deprivation of access to food and medicine, calculated to bring about the destruction of part of a population;
Article 27: Irrelevance of official capacity, Section 1
This Statute shall apply equally to all persons without any distinction based on official capacity. In particular, official capacity as a Head of State or Government, a member of a Government or parliament, an elected representative or a government official shall in no case exempt a person from criminal responsibility under this Statute, nor shall it, in and of itself, constitute a ground for reduction of sentence.
1980s: HIV Causes AIDS
In 1983 Dr. Robert Gallo of the National Institutes of Health, Bethesda, Maryland, and Dr. Luc Montagnier of France's Pasteur Institute, working independently, identify the Human Immunodeficiency Virus (HIV) that causes AIDS. The US Congress immediately allocates $ 70 million for research and blood screening for the virus is initiated.
AZT is developed and released onto the market in 1987 as a general-use HIV suppressant. At $ 10 000 for a year's supply, it becomes the most expensive drug in history. President Reagan makes his first public address on AIDS and apologizes to the US public about his late acceptance of the disease.
By the end of the decade, more than 10 million people around the world are infected with the virus.
1990s: Sub-Saharan Africa In Peril
In April 1994, South Africa undergoes a peaceful transition to democracy as millions turn out to vote for Nelson Mandela. There is so much to do and so little time in which to do it, that AIDS is left as a side issue.
In June of 1996 Nevirapine is approved for commercial production. It prevents the spread of HIV from mothers to their unborn children and retards the onset of AIDS in HIV positive individuals.
In 1999, Thabo Mbeki becomes South Africa's second democratically elected president. Under the slogan, "Getting South Africa Back To Work," many expect rapid economic development. Later, Thabo Mbeki declares unequivocally that HIV does not cause AIDS with the words, "How can a virus cause a syndrome?" He invites numerous AIDS dissidents who share his views to form an advisory council. The government drags its heals.
Zackie Achmat, himself HIV positive, creates the Treatment Action Campaign, to try and force the government to begin treating people. He vows not to take anti-retrovirals until everyone is able to.
2000s: South Africa In Crisis
In July 2000, "Break the Silence" was the theme of the XIII International AIDS Conference in Durban, South Africa. The location of the conference leaves a huge impression on the 12 000 participants that travelled there. It is considered Ground Zero of the epidemic in the year 2000. 5 000 doctors and scientists sign the "Durban Declaration" affirming the overwhelming evidence that HIV causes AIDS.
On June 1, 2001, Nkosi Johnson, a boy who was born with HIV and became an outspoken champion of others infected, dies of the disease he battled for all 12 of his years. Former South African President Nelson Mandela called him an "icon of the struggle for life." Thabo Mbeki snubbed him by walking out during his passionate plea for support as a keynote speaker at the Durban AIDS Conference.
Journalist Shaun Johnson, group chief editor of Independent Newspapers, declares in his memoirs that, "2005 was the year that the war on AIDS was lost. Thabo Mbeki shut down the national AIDS council and expelled AIDS awareness organisations from public hospitals."
The elections in 2009 were a disaster for the ANC. Illness and death had dramatically decreased the support for the ANC. Opposition candidates romped home in many of the cities. The ANC maintained power by a slim 54%. The shock was immense. New president, Cyril Ramaphosa, declared that he would take on the plague.
2010s: From Crisis To Decimation
By 2010, the year that South Africa hosted the Soccer World Cup, the devastation was obvious to everyone. Few of the major stadiums had been completed on time. The planning had been spotless, but the workforce was decimated.
Across Sub-Saharan Africa the average life expectancy has plummeted to 27 years old, figures last seen in the 15th century.
Economically, the consequences had been mixed. Under increasing pressure from plummeting availability of labour, business had moved to capital-intensive processes. South Africa's mines had become the first to use robots at the rock-face exclusively. Many businesses in the textiles industry had collapsed. Agriculture had been automated. The economy continued to grow at a patient 3%. Iqbal Jammien of the National Economic Forum declared that AIDS had cut a further 3% a year from the growth rate. Unemployment was at a record low of 15% – not because of new jobs, but because of massive illness and death.
The number of AIDS orphans, including all children under the age of 15, touched 4 million.
In June 2017, Zackie Achmat dies. In a statement written before his death and read out at his memorial, he declared, "This is a crime against humanity. AIDS should not have happened. It did not have to be this way. Thabo Mbeki is responsible and must be held accountable for his actions." A group of lawyers form The Zackie Achmat Foundation in his honour. It is dedicated to the legal protection of individuals from the wilful ignorance of the state. They approach the International Criminal Court.
2020s: Making Africa Smile
On 27th April 2024, on South Africa's Freedom Day 30 years after the first democratic election, US scientists, Dr Charles Han and Dr Fatima Mohammed, working at the US National AIDS Research Labs, unveil Nordrexadin. It is both a cure and a vaccine for AIDS.
In a massive campaign never seen before and without precedent, the UN Security Council authorises the use of military force to ensure that every single human being on earth is immunised. The campaign is to last five years and cost $ 1.2 trillion. Several wars are fought in rebellious countries that refuse to accept the medication but the Security Council believes that, in this instance, the common good is too important to allow issues of national sovereignty to prevail.
In September 2029, UN Secretary General, Horst Bader, announces, "We have completed our mission. HIV and the scourge of AIDS has been defeated." He is openly weeping. His son died of the disease only days before the discovery of Nordrexadin.
The world breathes deeply and takes stock. 230 million people have died from the disease since its discovery in 1983. It is the worst single tragedy the world has ever experienced. Sub-Saharan Africa has seen its population reduced by 43%. There are 170 million AIDS orphans.
2030: A Simple Act Of Genocide?
Project Parent kicks off in 2020. The developed nations of the world open their hearts to the orphaned children of Africa. The largest human migration ever sees more than 30 million children transported to new homes in Europe, Asia and America. The AIDS orphans have new homes.
By 2027 the world is beginning to recover from the tragedy and failures of leadership are being investigated. In a scathing report from the UN Health Organisation, South Africa is singled out as a source of continual reinfection across Africa. Said, Michael Schietekat of the UN, "Every time we got AIDS under control in Zimbabwe, or Tanzania, or where-ever, along would come a South African truck driver, or a migrant worker returning home from the mines in South Africa and reintroduce the disease." Anger grows.
In 2034, against global demands for his trial, Thabo Mbeki is extradited from South Africa to appear before the International Criminal Court. The articles of the court are clear: "Extermination" includes the intentional infliction of conditions of life, inter alia the deprivation of access to food and medicine, calculated to bring about the destruction of part of a population; and In particular, official capacity as a Head of State or Government, a member of a Government or parliament, an elected representative or a government official shall in no case exempt a person from criminal responsibility under this Statute.
Thabo Mbeki becomes the first leader to be investigated by the International Criminal Court for a sin of omission – the failure to do something to stop loss of life when he could have done so.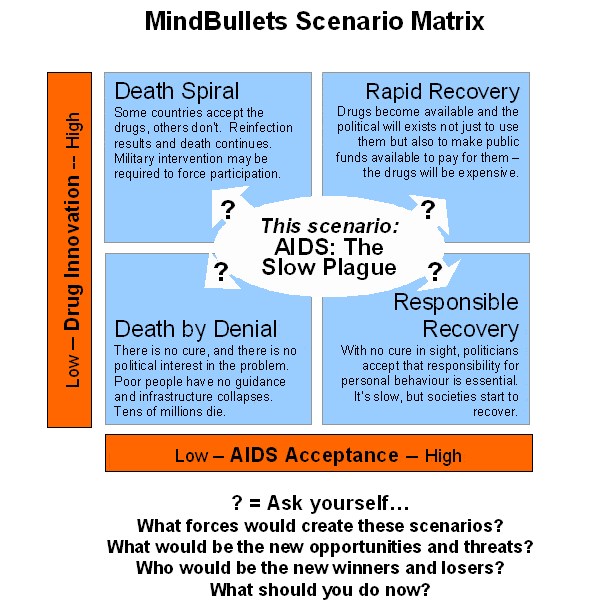 Warning: Hazardous thinking at work
Despite appearances to the contrary, Futureworld cannot and does not predict the future. Our Mindbullets scenarios are fictitious and designed purely to explore possible futures, challenge and stimulate strategic thinking. Use these at your own risk. Any reference to actual people, entities or events is entirely allegorical. Copyright Futureworld International Limited. Reproduction or distribution permitted only with recognition of Copyright and the inclusion of this disclaimer.