THE NEW MEXICAN REVOLUTION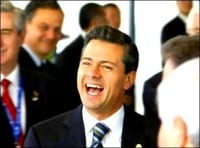 The Mexican Wave becomes a tsunami
In five years Mexico has doubled its GDP and has overtaken Latin American rival Brazil as the largest economy in the region. At Purchasing Power Parity (PPP) Mexico is bigger than the UK and France, and closing in on Germany.
The biggest reason for this rapid rise is the upsurge in demand from Mexico's gorilla neighbour, the United States. Coupled with labour costs lower than China and an investor-friendly democratic regime, Mexico has proven to be the perfect place for advanced manufacturing operations.
Mexico has also benefited from what is known as the 'Demographic Dividend'. As birth rates decline and the middle class swells, so the proportion of the population that falls into the working age group increases. With relatively fewer children to feed and educate, the society experiences a per-capita income boost that plays out in more consumer spending and general affluence.
Technology has also played its part, and Mexico has embraced 3D printing, even as a work ethic previously unknown in the region has taken root. Everyone is connected, and enjoying the economies of scale that come with collaboration and free trade. Mexico has not relied on being 'America's factory' but has moved strongly into IT services and global markets.
When President Enrique Peña Nieto said back in 2013 that Mexico was "open for business" he really meant it, and foreign investors have grabbed the opportunity. Now Mexico has usurped China as the efficient producer of choice for wealthy US consumers. There's a new label on everything, and it's not 'Made in China'. It's 'Hecho en Mexico'.
Warning: Hazardous thinking at work
Despite appearances to the contrary, Futureworld cannot and does not predict the future. Our Mindbullets scenarios are fictitious and designed purely to explore possible futures, challenge and stimulate strategic thinking. Use these at your own risk. Any reference to actual people, entities or events is entirely allegorical. Copyright Futureworld International Limited. Reproduction or distribution permitted only with recognition of Copyright and the inclusion of this disclaimer.