TUNNEL OF HERCULES CONNECTS EUROPE TO AFRICA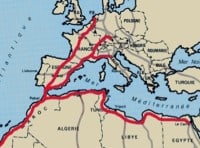 High speed rail links boost global trade with emerging markets
It has taken 20 years to complete, energized the Spanish and Moroccan economies and shifted the center of European finance to the ancient cities of Punta Paloma and Tangiers. The Tunnel of Hercules links the cities of Cadiz, Gibraltar and Tangier via 40 kilometers of tunnel underneath the Straits of Gibraltar.
"The governments of Morocco and Spain have been discussing this for a century, but now we have done it," says a delighted King Mohammed VI of Morocco.
The opportunities presented to businesses have caused many to move to port cities close to the new embarkation points. Cadiz, Tangier, Marbella and others have become regional headquarters for logistics firms, manufacturers and even hedge funds.
"Gibraltar was the obvious choice for us," says Miriam Webster of Conversion, a hedge-fund. "UK laws but with a fantastic tax structure for business and very easy crossings to international logistics hubs in Morocco."
"My engineers and designers are here in Cadiz, assembly is done in Tangier. I've been astonished at how the efficiency and access to distribution across Europe has grown our business," says Marisa Tielve, financial director at Trece, a shoe company.
As major businesses moved, so did investment. A consortium including British Airways, Goldman Sachs, Richard Branson and Berkshire Hathaway invested US$ 22.3 billion to complete the 40 kilometer tunnel.
Job-seekers are piling in on both sides of the tunnel. "At last, Africa and Europe are united," says King Mohammed VI.
---
ANALYSIS >> SYNTHESIS: How this scenario came to be
2008: A contract for a tunnel
The first modern proposal to build a tunnel under the Straits of Gibraltar came in 1930 but engineers found that the rock was too hard for digging. In 2003, Spain and Morocco began formal discussions.
Lombardi Engineering, a Swiss firm, was contracted in 2006 to design the railway tunnel.
"This isn't like the Channel Tunnel [between France and the UK]. The ocean is deeper, the geology is less stable and the Azores-Gibraltar Transform Fault, bisects the Strait. There are regular earthquakes. And there are two deep clay channels in the middle of the Strait. In short, it's impossible," says Giovanni Lombardi, chief project engineer.
"Nevertheless," says Angel Aparicio, president of the Spanish government agency coordinating the project, "we will overcome."
Construction is expected to take 15 years and cost US$ 8 billion. "We expect to start next year," says Aparicio. Then Europe's economy went off a cliff.
2013: We need a big project
With Europe's economy still struggling even as the US finally starts to grow strongly again, EU leaders are looking for a miracle.
"Standard economic theory would have it that, when business cannot invest and economies are suppressed, that government must step in to kick-start. Keynes would have had us dig holes in the ground and fill them up again. That isn't sufficient, but we do need something to get our economies going again," says Randall Munroe, an economist at the EU Central Bank.
Spain, at the center of concern and contagion about the EU, is also looking for a massive new infrastructure project that will both promote high-tech industrial development, as well as low-skill manufacturing.
"The ECB has money to invest, but it can't just give us money to finance debts. We need to show that the money will be invested in new economic activity," says Mariano Rajoy, Spain's prime minister. "We have looked as to what would serve us – and our compatriots across Europe – best and we have decided that our plans to build a tunnel across the Straits of Gibraltar must go ahead."
The political fall-out is instantaneous. Nationalists worry about creating a direct path for illegal immigrants. Germany worries about investing in a white elephant. The project is expected to take 17 years and cost US$ 14 billion.
However, investors are supportive and long-term borrowing costs for southern Europe fall. "This looks brilliant. Low-cost labor from Morocco to Tunisia meets high-tech skills in Europe. I see an opportunity. And the UK looks to be a good investment bet as well," says Marco Ruvio, at GE Capital.
The first symbolic sod of earth is dug on 15 August 2013.
2020: Investors get into the tunnel
"We're very bullish," says Nigel Cameron, a British special advisor in the Treasury.
The UK is the unexpected beneficiary of many of the opportunities in Spain. Tunneling has run into continual problems and the firms behind it, Systra and Cowi, have called on engineers in the UK to assist. Gibraltar quickly becomes an industrial headquarters as British firms are able to set up local support while continuing to have their design centers back home.
"If Gibraltar hadn't existed, we might have had to invade Spain," says Natalie Wilson, an engineer at Wood Group, normally found building pipelines out to oil rigs in the North Sea.
The geological problems are worse than many had expected. "We're already about two years behind," says Jim Harris, one of the site engineers. "We had a small earthquake last week that cracked some of the spars. We're having to invent whole new branches of structural engineering to overcome these problems."
Costs, too, are mounting. "It'll probably take 20 years and cost about US$ 18 billion," says Cameron.
Such problems might appear to be deadly for political support, but the difficulty – and the spreading of engineering and construction development across so many firms – is having a boom effect on economic growth.
Across the channel, in Morocco, businesses and government are similarly positive. "No, we don't have engineering skills, but all of these engineers need homes, food, services. We're also finding that we can do some of the manufacturing for components that go into the construction. Our economy is growing at 4.5%, all thanks to the tunnel," says Nizar Baraka, Morocco's Minister of Finance.
"Our classes are full," says Professor Hernandez at the Paloma Institute of Technology. "Everyone wants to be an engineer."
2033: A connection is made
The way was long and hard. The final cost was US$ 44 billion. When the EU refused to finance the completion of the tunnel in 2025, a consortium including British Airways, Goldman Sachs, Richard Branson and Berkshire Hathaway invested US$ 22.3 billion to complete the work. They have been guaranteed an operators' license on all transit for 100 years.
The day before the opening ceremony, the engineers and construction workers who worked on the project over the last 20 years gathered for a memorial service in Tangiers. "We are here to pay tribute to everyone who was involved and most especially to the 23 people who died in the cave-in four years ago," said Apollo Legionnaire, project manager of the combined teams.
Nothing takes away from the relief of completion and the success of the project. At the opening ceremony on 21 April 2033, a delighted Moroccan monarch cuts the ribbon.
"At last, Africa and Europe are united," says King Mohammed VI.
Warning: Hazardous thinking at work
Despite appearances to the contrary, Futureworld cannot and does not predict the future. Our Mindbullets scenarios are fictitious and designed purely to explore possible futures, challenge and stimulate strategic thinking. Use these at your own risk. Any reference to actual people, entities or events is entirely allegorical. Copyright Futureworld International Limited. Reproduction or distribution permitted only with recognition of Copyright and the inclusion of this disclaimer.