VISTA WAS THE LAST MICROSOFT PRODUCT TO BE SOLD IN A BOX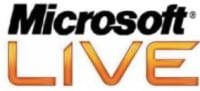 New launch expected to herald a switch to services
Microsoft couldn't have timed it better – an April 1 launch date for its new services platform, expected to be called (not surprisingly) MicrosoftLive.
It is expected that the announcement will finally herald the end of Microsoft's 'software in a box' strategy and turn its Windows and Office software into pure service offerings.
Microsoft is expected to announce a 40% reduction on lifetime costs of its operating systems and office applications software, largely due to reduced material and packaging costs, plus virtually zero infrastructure and logistics costs.
"We expect Microsoft to increase profits in the coming year even though volumes will clearly be lower," agreed Wall Street analysts yesterday. Competition from free office software touted by Google and a continued move to Linux operating systems is gradually starting to hurt Microsoft, making the switch to a more cost-effective distribution model inevitable.
Microsoft shares continued their gradual three-year slide.
The only ray of light on Microsoft's bleak strategic horizon appears to be the increasing adoption of Microsoft licenses expected in China and India due to the anti-piracy discipline inherent in its new software distribution model.
---
ANALYSIS >> SYNTHESIS: How this scenario came to be
On 30 January 2007 Microsoft released Windows Vista, the newest version of its operating system, to consumers. Although MS said that it would make Vista available for sale and download online, most people will buy the upgrade in old-fashioned boxes, just as they did back in 1995. But this time, sales are not as buoyant.
Microsoft's dominance is slowly being eroded. The plumbing in PCs has become a commodity – it matters far less. As interconnectedness explodes, open standards are growing rather than proprietary ones. Almost everything can be accessed online. The hot brands are Google, YouTube, Flickr, Picasa, BuzzLogic, FireFox and Open Office – not Microsoft.
Windows and Office are the core of the company. Almost one million PCs are in use around the world and most of them run Windows and Office. Directions on Microsoft, an independent research firm, estimates that they represent nearly 60% of sales and 80-90% of its profits.
Windows Vista took five years and US$6 billion to develop and it is two years late. Some 8,000 people worked on it. Everyone we have talked to says that Vista is clumsy and error-prone. Many users will not upgrade. But, if you buy a new computer, you seem to have no choice but to 'downgrade' to Vista and accept the time and money it takes to sort out the application and driver incompatibilities for yourself.
With 20/20 hindsight, the release of Vista may mark the start of Microsoft's Windows and Office decline from their lofty supremacy.
The real revolution undercutting Microsoft's dominance is 'software as a service' rather than 'software in a box'. Besides its bespoke search engine, Google already offers e-mail, photo archiving, music storage, free online word-processing and spreadsheet applications.
It is said the with the vast drop in broadband costs and availability, it now costs 100 times as much to store an application on a hard drive than on the network. Sun's age-old slogan 'the network is the computer' has come to be. Online software can be delivered to customers more cheaply, there is immediate feedback and applications can continually be upgraded. Those are big advantages.
Although Microsoft is on the back foot, it will not be unseated anytime soon. Microsoft has moved from an engineering culture to putting in place managers with a more commercial orientation. Bill Gates, who as chief software architect was in large part responsible for the failed vision of Vista, has given up his dominant role. His successor, Ray Ozzie, is a Microsoft outsider who was acquired with his company in 2005. Ozzie is trying to 'webify' Microsoft's product line.
Microsoft has already moved into services with products like Office Live, a set of additional services to help small businesses set up websites, and Windows Live, which provides online features. Hotmail has recently been re-branded as Windows Live Mail.
What would happen if a smaller number of users buy Vista, but decline to buy Office 2007? They may decide to get the free 'equivalents' online.
That would certainly hasten Microsoft's move to services – way before they would choose to.
2006: Toe in water for software services
Microsoft is seen to be moving toward selling products that were traditionally sold in a box, on the internet as web based services. For example, MSN Office Live, Office Online, Windows Live Messenger, Live Mail, Live Spaces, Live Local and Xbox Live – to name but a few Microsoft initiatives.
The real challenge seems to be pricing, as many web services have traditionally been free. It is clear that web users do not like to pay for anything and there are always ways to get software or services for free, from competitors or hacked versions.
Advertising is seen to play a crucial role in future, as this is one easy way that Microsoft (and others) will be able to offer their software and services for free to the consumer, as they will be funded by the advertising.
There is no clear path to the future.
2007: Sao Paulo bans advertising
In May 2007, the city of Sao Paulo in Brazil, South America's largest city, bans billboards in an attempt to clean up local skylines. Corporate logos are disappearing from the city skyline. Four signs atop Nestle's Brazilian headquarters are among the first to go. Microsoft yanks the logo from the summit of its high-rise offices. Hilton Hotels neon signs may go dark soon.
What happens if advertising is not only banned offline, but online too? How will companies then compete in a world where everything is governed by the user and is essentially free?
One activist questions: "How could this play on human rights further down the line? Do corporations, like Microsoft, have any right to restrict access to anything?"
2008: Windows Vista sales disappoint
Consumers have been slow to pick up on Vista. Consumer pressures force Microsoft to give buyers of new computers the Windows XP alternative.
Consumers shun Office 2007. Says one potential customer: "I'm sure I use less than 10% of Word and Excel. Why must I fork out more money for features I don't use?"
2009: Microsoft releases Beta version of WindowsLive
Under massive investor pressure Microsoft announces firm plans for a service-based operating system and releases a Beta version to selected corporate customers.
Several large corporate customers refuse to upgrade to Vista and institute legal action to force Microsoft to extend its maintenance coverage of Windows XP and the older versions of Office.
2010: Microsoft launches the Live services bundle
It's a 1 April launch. The press has a field day. The entire launch is handled virtually on the web. High-tech video conferences link together geeks and customers. The MicrosoftLive services bundle includes WindowsLive and OfficeLive.
The new operating system is not so much of a surprise as it mirrors what others, such as Linux, have been doing for years – but of course this is the real thing from Microsoft!
Critical parts of the operating system and the Office applications remain on Microsoft's servers, not on your hard drive.
Microsoft sells these values:
Lower up front "buy-in" price
All files and programs are available when you're on the road
Branch offices can have the same access to the company's data as the main office
Meeting schedules are available online world-wide
Automatic updates – always-on latest versions of code without updates
Free global meeting and team workspaces
Phone calls, faxes and text messages over the internet, from your desktop
When your WindowsLive subscription expires, you have several options, provided you have been a paid-up user for a minimum of one year:
You can renew it for another year – nothing changes
You can downgrade to WindowsLive Lite and continue to use your documents locally , but lose all access to online, international and team facilities
You opt out by doing nothing. MicrosoftLive goes into "read only" mode. You can look at your documents and print them, but you can't change them or create new documents
What's really surprising is that WindowsLive Lite, the basic version, is free – supported only by advertising and using Google's proprietary pay-per-click technology.
As the advertising tag line goes: "We've not just gone out of the box, we've ditched the entire box!" Prepare for a whole new world of software.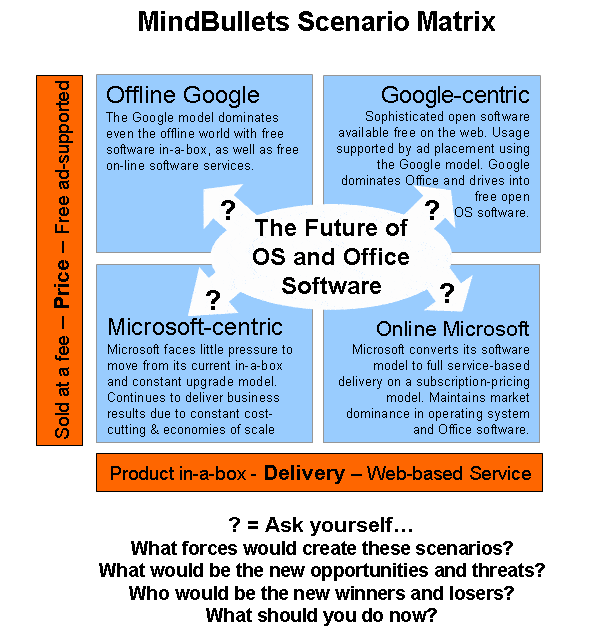 Warning: Hazardous thinking at work
Despite appearances to the contrary, Futureworld cannot and does not predict the future. Our Mindbullets scenarios are fictitious and designed purely to explore possible futures, challenge and stimulate strategic thinking. Use these at your own risk. Any reference to actual people, entities or events is entirely allegorical. Copyright Futureworld International Limited. Reproduction or distribution permitted only with recognition of Copyright and the inclusion of this disclaimer.