WIMBLEDON – THE THREE-DAY CHAMPIONSHIPS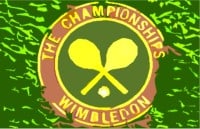 Commercial impact soars on back of lightning games
Tennis has learnt a lesson from the high-impact success in other sport entertainment – cricket with its Twenty20 format, the international Rugby Sevens tournament and five-a-side Power Football.
The Championships just completed in the leafy lanes of Wimbledon were over in just three days of hectic matches. Single sets of the 'best-of-thirteen-games' decided the winners of each round.
Day One was hectic as the wheat was separated from the chaff in a blitz of matches that lasted an average of just 30 minutes each.
Day Two was for the later rounds and quarter finals, with Day Three reserved for the semi-finals and finals of both the women's and men's tournaments.
Players were rewarded with double the prize money of 2010.
The physical space around the Wimbledon courts has of course been consistently sold out, but television and web audiences have increased ten-fold over the same period of time as The Championships have become more streamlined.
Advertisers love the broad new audience attracted to the game. The gorgeous streaker that 'interrupted' the final was an advertising hologram.
"Tennis has become a different game over the past few years – every point is now much more important – each touch of the ball can become an 'event' with so much more crowd participation," exclaimed Vera Polosi, a finalist.
The HD coverage of the most intimate details of the entire event has delighted audiences.
"Nothing escapes those detailed video images – every one of us has to be much more professional – but I think we use that to our advantage as well! In fact my contract with Nike insists on it," Polosi said.
Looking at today's overt product tie-ins and outrageous promotion of fashion on the court, it is difficult to remember that until the 1940s men and women were required to wear long white trousers and skirts to preserve their dignity.
Also launched yesterday was Wii's 'Wimbledon 2020' game that puts you personally into the role of any player, exploring both the tennis and fashion experience, with a range of more intimate angles of your choice.
And all that for less than the price of a ticket to Wimbledon.
Warning: Hazardous thinking at work
Despite appearances to the contrary, Futureworld cannot and does not predict the future. Our Mindbullets scenarios are fictitious and designed purely to explore possible futures, challenge and stimulate strategic thinking. Use these at your own risk. Any reference to actual people, entities or events is entirely allegorical. Copyright Futureworld International Limited. Reproduction or distribution permitted only with recognition of Copyright and the inclusion of this disclaimer.