AMAZON OPENS 100th CITY STORE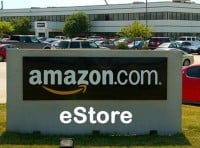 Amazon eStore Hong Kong joins the high street line-up
Amazon opened its one-hundredth city store yesterday, with queues of eager shoppers waiting to snatch up the opening specials on offer. And no, it's not fake, but a genuine Amazon retail outlet, right on main street.
Following the runaway success of the Kindle 5, dubbed "Amazon's iPad, only better" by the tech media in 2012, Amazon capitalized on their fans' demand for hands-on shopping and retail support. The first Amazon eStore opened in New York, and was quickly replicated in almost 100 markets worldwide.
The irony of the situation is that Amazon began life as an online-only book seller, but has morphed into a company that only sells digital media directly. All physical goods are handled by 'partners' and associates, including hard copy books and old-fashioned Blue Ray discs.
Except for the Kindle. That's one product Amazon controls fully, even though it's manufactured by Amazon's contractors in China. The new Kindle 5 is Amazon's interface to the Amazon Marketplace and all the apps, books, and physical goods that Amazon sells.
The key point here is that Amazon only does the selling – everything else, from design and manufacture to storage and shipping – in fact everything – is handled by partners who have, in effect, chosen Amazon as their shop-front. A shop-front for literally millions of products that Amazon never touches.
But how can a high street store display a million products that it doesn't touch? The answer is very simple – the store is filled with big screens and Kindle tablets, which display all the virtual information required for instant ordering of anything you need, along with the reviews and recommendations you expect from Amazon.
Samples of new, featured products are regularly available for in-store demos and promos, but you still have to order them through the Marketplace app.
Except for the Kindle. That's available off the shelf, with full-time real-life shopping assistance and support. If you want it.
Warning: Hazardous thinking at work
Despite appearances to the contrary, Futureworld cannot and does not predict the future. Our Mindbullets scenarios are fictitious and designed purely to explore possible futures, challenge and stimulate strategic thinking. Use these at your own risk. Any reference to actual people, entities or events is entirely allegorical. Copyright Futureworld International Limited. Reproduction or distribution permitted only with recognition of Copyright and the inclusion of this disclaimer.