BIG 3 AUDIT FIRMS ON THE RACK?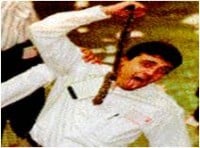 Real-time trust and auto verification change the game
At the London inauguration of the newly formed joint venture between the Global Auditing Systems Authority (GASA) and Google, Charles Smith, CEO of the joint venture, formally announced "the imminent end of annual auditing as we know it". The announcement drew gasps from the auditing profession attendees but was warmly received by governments and business alike.
This development has been creeping up on companies for years as pervasive on-line systems were audited automatically and in real-time. 'Google Business' and similar business intelligence systems, conduct automatic cross-checking and verification of millions of inter-related financial transactions in global corporations. This phenomenon is now spreading to smaller businesses with a promise of cheaper and instant results.
Large scale corporate failures, including the distressed debt fiasco of 2007, steadily eroded confidence in the traditional audit process. The need for instant real-time feedback became paramount, and possible with the 'Google Business' brand, which was already widely recognized as the trusted provider of accurate and dependable business transaction data.
Capitalizing on its "Do good" mantra, Google has grown its trusted data partner reputation over the past few years, enabling it to capitalize in a hitherto hallowed space – financial data verification.
This roller coaster change will radically impact the audit profession but will enable winners to diversify into different areas of service and new commercial value.
As the regulatory complexity of global trade increases, advisory services will continue to boom, but traditional services have now become highly commoditized.
Governments welcomed the announcement as it paves the way for much simpler tax regimes. Business also hailed the new process as revolutionary and long overdue. "We have always begrudged our formal audit fees and function. Now we can focus on what really matters in our business," said Basil Jones, CEO of AMM, the world's largest resources company.
The real challenge is for the auditing and allied professions – will they find ways to stay relevant in these digital markets? Who will be the winners in unlocking massive new business value and opportunities?
Warning: Hazardous thinking at work
Despite appearances to the contrary, Futureworld cannot and does not predict the future. Our Mindbullets scenarios are fictitious and designed purely to explore possible futures, challenge and stimulate strategic thinking. Use these at your own risk. Any reference to actual people, entities or events is entirely allegorical. Copyright Futureworld International Limited. Reproduction or distribution permitted only with recognition of Copyright and the inclusion of this disclaimer.