CROSSING BORDERS WITH FACEBOOK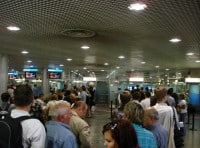 Facebook passport accepted for travel to US and EU
John Davenport, an IT engineer from London, waited in line at immigration along with the 400 others who had just disembarked from flight BA412 from London to New York. Then, as customs officers verified his identity and welcomed him in to the US, he made history.
Davenport became the first person to travel on no more than his Facebook Passport, an electronic and virtual identity management system embedded into the Facebook social media platform. All he had to do was wave his phone over a customs electronic reader and he was in.
"It seems to be going smoothly," says Caroline Zammit, a spokesperson for the US State Department. "We have been working closely with regulators, law enforcement agencies and the private sector to agree standards for recognition. We guarantee the American people that this is a better system."
"It's not a monopoly," says the CEO of Facebook, Mark Zuckerberg. "Sure, we have over two billion members, but the most popular passport service actually belongs to LinkedIn. What we have in common is unprecedented insight into member's connections, networks and online transactions."
"The connections allow us to see if a person is credible. Biometric identity connects a person to their online identity and we can track their movements in real time if we require," says James Earl, a senior customs and immigration official.
The G20 Summit in 2014 that agreed to pursue social media passports and recognize the growing use of social currency was a complex and angry affair. China, Pakistan and much of the Middle East have still banned Facebook and so are not part of this scheme. This sets back their technical ability but also makes travel for their citizens harder. It hasn't stopped people moving their savings into online money.
In the US, Davenport has crossed the border, bought a hot dog with Facebook Credits, and tweeted, "#travel #newyork WOOHOO! In New York! Holiday here I come!"
---
ANALYSIS >> SYNTHESIS: How this scenario came to be
2010: Facebook Currency
In September Facebook launches its much-hyped currency, Facebook Credits. With over 500 million users, the social network has high hopes for the new service. A Facebook spokeswoman says, "We are continuing to look at ways to extend our virtual currency via a test with several developers. The test started in May 2009 and is exploring ways for people to use their Facebook Credits with third-party applications and games on Facebook."
The currency is aimed at social gamers but the high commission charge – 30% for each transaction – is seen as a major stumbling block. "Compared to credit cards, at 2% to 5%, this is painfully expensive," says Henrique Olliers at GroupShare, a consultancy.
"We don't see them as a threat just yet," says Harriett de Moncamp at Amazon.com. "Their commission structure is just too expensive and there are few products that can remain competitive with a payment platform like that."
At the same time, AT&T, Verizon Wireless and T-Mobile announce a contactless payment system to be embedded in mobile phones provided on their networks. "We recognize that vendors won't use the service until a critical number of clients have the facility in their phones, and our subscribers won't bother either until there is somewhere to pay," says Frank Fields of Verizon Customer Services. "Our solution is to offer a free electronic payment reader for any store anywhere in the US that wishes it."
Within weeks the group is installing millions of the devices. HTC, SonyEricsson and Motorola all bring out contactless payment versions of their phones. Apple, caught short for the first time in almost a decade, announces no plans to integrate contactless payment into their iPhone series.
2011: Google Moves on PayPal
In February Amazon announces payment gateway partnerships with Twitter and LinkedIn, two of the most popular online services. "Twitter is the world's foremost micro-blogging and social networking platform, and LinkedIn is the most popular professional networking service. We realized that some 15% of our sales are sourced via these two platforms and so we realized we needed to offer better integration," says Jeff Bezos, Amazon's CEO.
This also offers Amazon a back door into Facebook as Twitter is the main mechanism by which many members make status updates. In July with Facebook Credits stalling and Amazon Money growing in market share, Facebook attempts to block Twitter access to their platform. In a move familiar to veteran Microsoft anti-trust campaigners, Amazon threatens Facebook with a lawsuit. Facebook backs down.
In August Facebook cuts their commission charges on Credits to 2.5%. Almost overnight companies selling everything from shampoo, to books, to electronic goods, set up shop on Facebook. Amazon revenues fall 5% in September but eBay suffers a fall of 11.2%. Microsoft, already a shareholder in Facebook, increases its share to 25% for US$5 billion in cash.
Google's social media platforms have failed to take off. Google Wave was shut down in August 2010 and Google Buzz continues its anemic performance. The company is in danger of becoming a one-trick success. eBay refuses to sell PayPal, recognizing that it is the company's major opportunity for its own rebirth, however, with revenues falling precipitously at the auction site it knows it must negotiate.
In November, eBay and Google announce "a merger." That is only to save face. Google is offering to buy eBay at a price of US$18.90 per share, just above the current trading price of US$18.50 per share. With revenues falling shareholders vote to accept the price in December.
The Internet services industry is ripe for consolidation, again.
2012: Mobile goes Social
Microsoft begins 2012 by consolidating its hold on Yahoo and Facebook. Sales of its Windows Mobile 7 platform, launched in late 2010, have done well and Microsoft finds itself in a unique position. "We now have some 6.8 million Windows 7 phones in the market, just behind the iPhone, and we own one of the most active social networking services," says Jenny Murdoch, of Microsoft's product development team.
The company is extremely experienced at collaboration and utilizes these skills well. A partnership involving HTC, Microsoft's long-time mobile phone manufacturer, Verizon, O2, Vodafone, Facebook, HSBC and Experian, one of the world's largest credit information services, is formed. "Experian allows us to offer a credit and identity check service to both customers and vendors," says Murdoch.
The service is simple. HSBC banking clients will be able to link their Facebook accounts and mobile phones together into one payment platform. Experian will offer credit checking to ensure that each of these identities can be tracked and secured.
The service is announced on 18 February. By June business schools are announcing it as the most successful marketing campaign of all time. Some 42 million people have linked their accounts. Microsoft has sold an additional 4.3 million phones, HSBC has signed up 18 million new customers and the numbers are still growing.
Google is quick to form a similar alliance using its mobile platform. HTC, the small Taiwanese phone manufacturer, is at the heart of both these campaigns. They are becoming the largest maker of smart phones in the world.
Regulators in the US and EU are concerned that private companies now control a major proportion of the world's money supply.
2013-15: Regulations and Global Agreements
By April 2013 there are four major virtual currencies: Amazon Money, Google Gold, Facebook Credit and Visa Cash.
Visa, the world's largest payment and credit card service, has become worried as contactless payments and social media have undermined their financial foundations. The company has tremendous brand recognition and relationships with most of the world's retail banks. The "Alliance of the Alienated" is large, wealthy and well distributed. Banks start offering contactless payment services.
In May, having overcome regulatory and anti-trust concerns, MasterCard joins the alliance.
HSBC launches SocialXchange in June, having purchased the five leading currency exchange services. "There needs to be a simple and immediate form of exchange for the virtual currencies. They are all linked to the US dollar but we also need a mechanism of interchange so that customers can purchase anything they require. This is essential for the future success of our platform," reads a press release from HSBC.
Competitors cry foul and, within weeks, SocialXchange is converted to a not-for-profit trust that will act as an impartial interchange for any and all virtual currencies.
It is at this point that governments around the world start to take note. The Chinese government, already a long-time opponent of social media, attempts to ban Facebook and Google. Riots in Shanghai and throughout Guangzhou follow as consumers discover they no longer have access to their savings. The genie is already out the bottle.
China calls for a G20 Summit which takes place in the spring of 2014.
"It is more complex than the Chinese think," says Guy James of the US Treasury. "They are simply worried about losing control of their citizens and think that censorship and controls are all that are needed. What we realize is that we are losing access to our tax base."
The discussion opens up long-running concerns about using the US dollar as a reserve currency in a world where the US now forms an ever-shrinking proportion of the global economy. After three weeks of talks, agreement is reached and governments make joint announcements. The US dollar will no longer be the sole reserve currency but will, over a five year period, be balanced by the Euro and Yen. The Renminbi can only be considered as part of the basket should the Chinese ever allow it to float.
This basket will allow the much more complex second part of the agreement to take shape. "We recognize that national currencies may soon become only part of the way our citizens wish to interact. However, we still have a duty to control money supply and inflation, as well as to collect taxes. We believe we have found a way to ensure these duties with minimal impact on the rapid pace of innovation in financial services," says James.
Global stock exchanges, which had been trading flat in expectation of the announcement, respond positively. "We've had a look at the policy framework and we're quite satisfied with what we see," says Eric Schmidt, Google's CEO.
2016: Facebook Passports
In January, making use of the open virtual currency exchange, the Chinese government introduces the vYuan and allows its citizens to access their Facebook and Google savings via this gateway. This permits the Chinese to continue banning social media while still allowing virtual currencies to take shape. Uptake is limited as many Chinese already make use of proxy-servers to access blocked domains.
In May, after two years of lobbying by a consortium of social media companies, the US and EU announce a joint set of regulations which will allow private companies to issue physical identification documentation for use in, amongst other things, passports.
"It was just something else we had to recognize," says Juliette Simms of the British Home Office. "Some of the most sophisticated identity systems are now in the hands of private companies. Virtual companies couldn't work without them. None of this means we lose control of entry, or that we can't require visas. In fact, with this level of tracking and scrutiny it makes it a great deal easier."
In fact, it's a problem that has been hurting secret services for years as it becomes ever harder to create sufficient back stories for their spies. "The spy's weakness is a strength for border control and customs services. We know who you are, and we know who your friends are," says one MI6 operative.
Microsoft, with their ownership of Expedia, sees tremendous opportunities. "The concept of an all-in-one travel service now makes sense. Get your passport, visas, travel tickets and insurance all in one place without ever leaving Facebook. Then share all your travel experiences with friends. It's brilliant," says Naomi Sauls of Expedia.
In August Facebook starts issuing passports. On 18 August 2016 John Davenport crosses a border with Facebook, Tweeting as he goes. From the photographs on his Flickr account it looks like he is having a fantastic time.
Warning: Hazardous thinking at work
Despite appearances to the contrary, Futureworld cannot and does not predict the future. Our Mindbullets scenarios are fictitious and designed purely to explore possible futures, challenge and stimulate strategic thinking. Use these at your own risk. Any reference to actual people, entities or events is entirely allegorical. Copyright Futureworld International Limited. Reproduction or distribution permitted only with recognition of Copyright and the inclusion of this disclaimer.