EU MAKES RETIREMENT AGE 90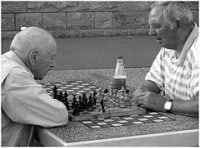 Actuarial data point way to long working lives
The UK's Institute of Actuaries has blown the whistle on the continued political battle over the official retirement age in the EU.
For the past few years the battle has been focused on the minutiae of a year or two around 70. New research has shown that when the historic figures from the last century are excluded, actual life expectancy has now reached almost 100. And, due to advances in health care and lifestyles, expected life spans increase by an average of six hours every day.
At age 50, men now have a better than 70% chance of reaching 100.
The impact is a direct result of new drugs from the field of bio-technology, plus the opening up of the pharmaceutical industry in the past decade, driving down prices and bringing massive new innovations to market.
The life insurance industry is devastated. Since 2000, each one-year increase in life expectancy has increased the pensions bill by half a billion Euros per annum. Now this news will potentially bankrupt many private and government schemes.
Next week EU ministers will meet in an emergency meeting to discuss these new developments.
If you are under 90, don't plan to give up your day job any time soon.
---
ANALYSIS >> SYNTHESIS: How this scenario came to be
The challenge of an ageing population, especially in the old countries of Europe, and in China, has a demographic and a biographic dimension. There are massive changes in population structures and lifestyles. Life expectancy is increasing and the fertility rate is decreasing in all developed regions where it is already below the natural replacement level of 2,1. Total population is increasing worldwide but population growth is slowing – and decreasing in certain countries such as Germany, Spain, Austria, Switzerland and Italy. By 2050, between 30-40% of the population in these countries will be over 65.
It is only the Americas, Africa and the Indian sub-continent that are bucking this global trend. The USA is a unique situation in that despite increasing quality of health care, many in the population are dying younger due to poor diets and increasing obesity.
World-wide the demand for high quality health care and long-term care is increasing. Today older people feel younger than in the past ("seventy is the new fifty") and seek a more active life – driving the demand for adventure tourism, lifestyle products and 'different' pastimes after retirement. The over 50s are becoming the most attractive consumer segment in many established economies.
In the UK, Saga Magazine has more than 600,000 subscribers and their web site is a leading over 50s source for travel, investment advice and related services.
Today, due to improvements in health care and lifestyles, life expectancy is increasing by an average of six hours a day! Once the real revolution in biotech and nanotech kick in during the coming two decades, we can expect this rate of improvement to accelerate.
Warning: Hazardous thinking at work
Despite appearances to the contrary, Futureworld cannot and does not predict the future. Our Mindbullets scenarios are fictitious and designed purely to explore possible futures, challenge and stimulate strategic thinking. Use these at your own risk. Any reference to actual people, entities or events is entirely allegorical. Copyright Futureworld International Limited. Reproduction or distribution permitted only with recognition of Copyright and the inclusion of this disclaimer.