Google stages a home invasion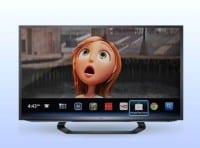 With Google Screen you get more than just television, broadband and games
Google has launched its pay TV service, with regular television channels on a broadband connection. But unlike 'on demand' services, this is an entirely new entertainment platform, even though it might look like cable TV bundled with the internet.
Google has finally invaded the heart of our homes. Now we can watch TV, browse the 'net, play games, buy music and books, and even share our Glass recordings in real time – all from the couch in front of the big flat screen. With a little help from Google.
With Google Screen you don't need to switch from one service to another; watch a soapie, the news, or YouTube just by choosing another channel. Online gaming worlds and Google Earth are just another screen-flip away, as is Amazon.
Getting into electronic gadgets in a big way since the acquisition of Motorola, Google soon realized that, like Apple and Amazon, they needed a physical retail presence to really grow their user base. People want to touch and feel the glasses, try them on, and handle the phones, see a demo of the TV.
Now Google has opened a dozen stores in major cities, simultaneously, to do just that.
But the real game-changer is that Google has become more than a source of information and technology. It's now also a creator and distributor of media, and the natural place to share our own media and stories, even if we use someone else's virtual space to do it.
And because Google is running your smart TV, you don't have to flip through channels to see what's on. Google will find Facebook for you, or yesterday's episode of Newsroom. You only have to ask. But when the whole family is watching, please don't all shout at once. Even Google has a problem with that!
Warning: Hazardous thinking at work
Despite appearances to the contrary, Futureworld cannot and does not predict the future. Our Mindbullets scenarios are fictitious and designed purely to explore possible futures, challenge and stimulate strategic thinking. Use these at your own risk. Any reference to actual people, entities or events is entirely allegorical. Copyright Futureworld International Limited. Reproduction or distribution permitted only with recognition of Copyright and the inclusion of this disclaimer.