GOVERNMENT 2.0 REALITY AT LAST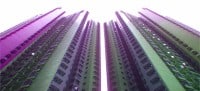 Cities show national governments the way
Government designed from the bottom up. Democracy coupled to a strong service ethic and ubiquitous participation. The world's leading cities are harnessing the power of connectivity and information to change the role of government services into real-time value-added products.
Since the first stumbling steps in the public service in the 1990s, the UK's e-Government ideas were being enthusiastically copied in some of the world's leading cities, their nimbleness far outpacing national governments' inertia.
Singapore was the initial leader but was eventually outstripped by Shanghai, Dubai, Qatar, St. Petersburg and Hong Kong. Many major cities lagged behind, citing lack of funds and lack of support. Harvard calls it "a civil leadership crisis."
In Shanghai, local government web sites now get more hits than YouTube and all Alibaba sites put together. Hong Kong's civil service now prides itself in service delivery 'beyond zero'.
Hong Kong's newly-appointed Director of Value put it well at a recent Macau Conference: "As a design objective, we believe that everything should happen instantly and at zero cost.
"Then we go beyond that, adding on top value for citizens. If we can't achieve that, in every single process and service, then I want to know why."
Wolfgang Grulke, chairman of think tank FutureWorld reflects: "This is what we have always thought about as outside-in thinking.
"It's about building services around the customer, around every single citizen – not the other way around.
"In this post-digital economy there should be no need for anyone to have to adapt to clumsy central systems – everything should be built around the way we see the world."
These unprecedented positive citizen experiences have made cities massively competitive – making it absolutely compulsory for national governments to follow suit.
Citizens are increasingly appreciative of the service ethic. They are choosing where to live and work – voting with their feet.
---
ANALYSIS >> SYNTHESIS: How this scenario came to be
e-Government
From Wikipedia, the free encyclopedia
e-Government (from electronic government, also known as e-gov, digital government, online government or in a certain context transformational government) refers to the use of internet technology as a platform for exchanging information, providing services and transacting with citizens, businesses, and other arms of government. e-Government may be applied by the legislature, judiciary, or administration, in order to improve internal efficiency, the delivery of public services, or processes of democratic governance. The primary delivery models are Government-to-Citizen or Government-to-Customer (G2C), Government-to-Business (G2B) and Government-to-Government (G2G) & Government-to-Employees (G2E).
Within each of these interaction domains, four kinds of activities take place:
pushing information over the Internet, e.g: regulatory services, general holidays, public hearing schedules, issue briefs, notifications, etc.
two-way communications between the agency and the citizen, a business, or another government agency. In this model, users can engage in dialogue with agencies and post problems, comments, or requests to the agency.
conducting transactions, e.g: lodging tax returns, applying for services and grants.
governance, e.g: online polling, voting, and campaigning.
The most important anticipated benefits of e-government include improved efficiency, convenience, and better accessibility of public services.
While e-government is often thought of as 'online government' or 'Internet-based government,' many non-Internet 'electronic government' technologies can be used in this context. Some non-internet forms include telephone, fax, PDA, SMS text messaging, MMS, wireless networks and services, Bluetooth, CCTV, tracking systems, RFID, biometric identification, road traffic management and regulatory enforcement, identity cards, smart cards and other NFC applications; polling station technology (where non-online e-voting is being considered), TV and radio-based delivery of government services, email, online community facilities, newsgroups and electronic mailing lists, online chat, and instant messaging technologies. There are also some technology-specific sub-categories of e-government, such as m-government (mobile government), u-government (ubiquitous government), and g-government (GIS/GPS applications for e-government).
There are many considerations and potential implications of implementing and designing e-government, including disintermediation of the government and its citizens, impacts on economic, social, and political factors, and disturbances to the status quo in these areas.
In countries such as the United Kingdom, there is interest in using electronic government to re-engage citizens with the political process. In particular, this has taken the form of experiments with electronic voting, aiming to increase voter turnout by making voting easy. The UK Electoral Commission has undertaken several pilots, though concern has been expressed about the potential for fraud with some electronic voting methods.
Nov 1996: UK Government launches e-Government initiatives
John Major's Conservative administration unveils Britain's first national e-Government program. A green paper called 'Government Direct' ("e" was not yet a business buzzword) set out a vision of citizens paying their taxes, receiving benefits and taking part in the democratic process via new electronic channels.
Government Direct was the first green paper to appear as a CD-Rom; if you were lucky enough to have an internet connection, you could download it in Word 6. As a media event, it had to compete with the release of the Spice Girls' first album and Bill Clinton winning a second term in office.
The ambition of 'Government Direct' was to create public services centered on the person who needs them rather than the bureaucracies that supply them.
Feb 2004: Directgov web site launched
Directgov is the UK Government's flagship digital service, delivered through the Directgov website and digital television. Directgov offers the widest range of government information and services online.
Users browse by audience groups such as 'Disabled people and carers' and 'Parents' or by topics including 'Employment,' 'Learning' and 'Motoring and transport.' Alternatively, you can access definitive government directories or use the search engine.
Book a driving test, tax your car, renew your passport, find out about child safety, parental leave, special educational needs and lots more. The site contains extensive content for motorists, parents, disabled people and carers together with broader information for other clearly identified customer groups such as Britons abroad and the over-50s. This will be expanded over time to include content for other groups including householders, jobseekers and adult learners.
As well as government departments, the site links through to relevant third parties who can offer additional trusted advice and support.
Nov 2005: Transforming Government – Enabled by Technology
The UK government publishes 'Transformational Government – Enabled by Technology' in November 2005. The strategy sets out how effective use of technology, to deliver services designed around the needs of citizens and businesses, can make a real difference to people's lives.
This implementation plan describes the actions taken since publication and the tasks to be completed by July 2007.
2010: World Cities adopt e-Government approaches
Singapore and Dubai roll out imaginative Web 2.0 versions but are soon outstripped by Shanghai, Qatar, St. Petersburg and Hong Kong.
Strongly supported as a case study by the Chinese mainland Government, Macau publicly states that it wants to be the world leader in e-Government.
New York and Frankfurt have taken a public position that it is 'not possible' to implement such services due to the recessionary economic environment and local skill shortages that persist in 2010.
2012: E-Government a big hit
Shanghai announces that local government web sites now attract more hits than YouTube, FaceBook and all the Alibaba sites put together.
2014: Hong Kong launches 'Beyond Zero'
The Chief Executive of Hong Kong: "As an overarching design objective, we believe that everything should happen instantly and at zero cost. Then we strive to go beyond that and add massive value to all who live and work in Hong Kong. If we can't achieve that, in every single process and service, then I want to know why. We want to be the single most competitive city in the world. We can only do that if citizens of Hong Kong and those who work here see the government living what we have preached for so long."
Hong Kong is taking outside-in thinking seriously. It's about building services around the customer, around every single citizen – not the other way around. In this post-digital economy there should be no need for anyone to have to adapt to clumsy central systems – everything should be built around the way we see the world.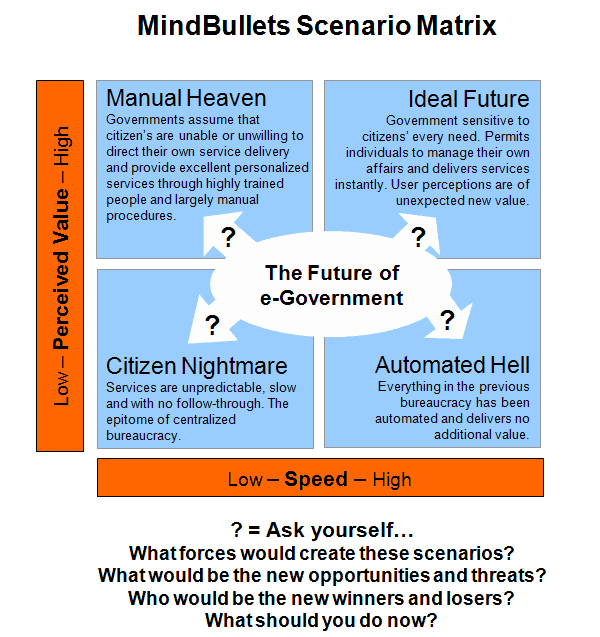 Warning: Hazardous thinking at work
Despite appearances to the contrary, Futureworld cannot and does not predict the future. Our Mindbullets scenarios are fictitious and designed purely to explore possible futures, challenge and stimulate strategic thinking. Use these at your own risk. Any reference to actual people, entities or events is entirely allegorical. Copyright Futureworld International Limited. Reproduction or distribution permitted only with recognition of Copyright and the inclusion of this disclaimer.