INDIVIDUAL RIGHTS UNDER THREAT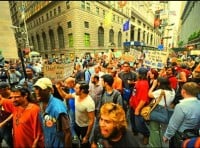 Global Council of Tribes to petition the UN to review the Declaration of Human Rights
The Speaker for the '99% Tribe' explained that the petition does not call for the end of individual rights, but will attempt to ensure that the rights of individuals will not take precedence over the rights of communities.
"Tribes have been the driving force behind the creation of a system of Ethical Capitalism and Renewable Consumerism. We fully respect individual rights, but never want to see a repeat of that sad period in history when the rights of the individual outweighed the rights of society.
"The world is still staggering after the last round of economic recessions when the unbridled greed of a small group of super powerful individuals took us to the brink of collapse. The 99% Tribe traces its lineage back to Occupy Wall Street; we have been fighting for social justice ever since; this move is a natural continuation of that process."
Since the eco-disasters of 2015, tribes have grown exponentially in power and influence. These cyber-space communities, whose membership is based on a shared 'core value' system, have become the new force in global politics.
Facebook has confirmed that worldwide membership of the seven biggest tribes has surpassed the 5 billion mark. "Tribes now constitute a two-thirds majority of the world's population."
Even the most repressive governments have been unable to stop the tide. The US President summed up the new world order perfectly during her inauguration speech: "Governments have to accept that their roles will change to territorial administrators, and their leaders will no longer be elected locally, but globally."
The world's leading brands have thrown their support behind the Global Council of Tribes. The CEO and co-founder of friction-based energy company, Frixun, stated that "Tribes have been the driving force behind the growth of our business."
"As a company we realize that support works both ways. Losing the support of even one tribe could undermine our company's market share in a matter of minutes," he added with a smile. "We all remember what happened to Nanosoft!"
Though many critics still maintain that Tribes are "social networking gone nuts," no one can deny that Tribes are the most influential force in the world today. People will never again trust individuals in government or business with their future.
Warning: Hazardous thinking at work
Despite appearances to the contrary, Futureworld cannot and does not predict the future. Our Mindbullets scenarios are fictitious and designed purely to explore possible futures, challenge and stimulate strategic thinking. Use these at your own risk. Any reference to actual people, entities or events is entirely allegorical. Copyright Futureworld International Limited. Reproduction or distribution permitted only with recognition of Copyright and the inclusion of this disclaimer.