NEW LEGS FOR THE NEW YEAR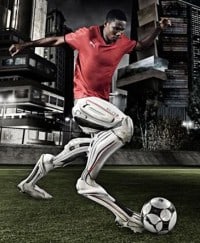 Prosthetic limbs are the latest teen craze
"I'm getting them upgraded for the New Year," beams a happy Deon Pretorious, aged 15.
Pretorious is one of thousands of teenagers around the world voluntarily choosing to undergo surgery which will render them as amputees. The trigger for this activity has been the launch of Apple's iWalk prosthetic legs.
"Our products are a dramatic improvement on our existing biology," says Jeff Monbajat, Chief Technology Officer at Apple. "Cyberdyne made the real break-through in '16 with the first directly-addressable bio-implant that enabled amputees to manipulate robotic arms and legs. We've radically improved on their designs."
The iWalk prosthetic legs were launched in a flashy campaign featuring two people. "I'm a human," says one. "I'm a cyborg," says the other.
Apple's iWalk offers the user the unlimited mobility, the capacity to run a minute-mile with no effort, and a 10,000 mile warranty. What about the loss of tactile sensation?
"The iWalk offers highly sophisticated tactile feedback. In fact, it's even better than the real thing," says Monbajat.
"And I'm getting the version with 20 terabytes of BioRAM, and built in iTunes player, as well as WiMAX and a virtual keyboard," says a grinning Pretorious.
---
ANALYSIS >> SYNTHESIS: How this scenario came to be
Background
The progression of innovation in the world of prosthetics, and bracing and support, is being driven by two things: the first is the standard one of the military attempting to care for its war-maimed; the second is the aging of the world population.
Device development is aimed at two levels. In the first is the bracing and support of existing limbs, either to provide support to the aged and infirm or, in the case of the future infantry, to provide a significant performance boost. The second area of development is aimed at creating prosthetic devices that are direct replacements for missing limbs, that move naturally and that interface with the user directly via some form of bio-feedback.
Does the video above not play on your page? Download Adobe Flash Player here.
There are a large number of companies working in this area. In the commercial prosthetics area, the two biggest are Otto Bock and Ossur. DARPA, the Defense Advanced Research Projects Agency of the US government, has provided significant investment in the public sector.
2009: Bionic Limbs
In 2009, the competition between commercial prosthetic devices manufacturers accelerates. The C-leg, by Otto Bock, has been on the market for two years and is becoming the de facto standard. This, and Ossur's recently released Bionic knee, offer the first electronically controlled, and mechanically-assisted prosthetic.
Honda, Toyota and Sony, all Japanese companies aiming products at their home-market's rapidly aging population, are all releasing mechanically-driven wearable walking braces. The aged now have the opportunity to live their lives without checking in to assisted-care facilities.
In the US, Dean Kamen – the inventor of the Segway – is finally releasing a public test version of his Luke Arm. The level of control possible from this prosthetic limb triggers a wave of further innovation.
2016: Special Olympics Draws More Viewers
The 2016 Summer Olympics in Rio de Janeiro attracts record viewership of over 1.2 billion people. However, that is nothing in comparison to the Special Olympics. Media experts estimate that 1.6 billion people tuned in to watch the double-amputees 200 meters sprint.
The reason is the three-way battle between Oscar Pistorius, the reigning champion, Gregor Demitriov from Russia, and Domingo Edwardo from Brazil. Each is wearing the latest biocompatible prosthetic leg. Pistorius is sponsored by Ossur and Nike; Demitriov by Otto Bock and Asics, while Edwardo is wearing an experimental Cyberdyne bio-implant addressing a bio-electronic composite device.
In 2012, judges had reformed the rules to allow for devices that give their users real and direct support. Pistorius had proven that prosthetics could give disabled runners an equal footing with their able-bodied competitors back in 2008. By 2012, everyone had to accept that they gave an advantage.
Now, the question was, how fast could an assisted runner go?
Usain Bolt set a new 200 meter world record only the week before, with a time of 18.9 seconds. Edwardo shattered that, with a time of 12.2 seconds.
Overnight, disabled athletes received major sponsorship deals and viewers watched the rapid evolution of their favorite sports. The aerial acrobatics capable by cybernetic superstars resulted in awe-inspiring television and made millionaires out of the athletes.
2018: Mainstreaming Cybernetics
Owen Evans used to be the star pitcher for the New York Yankees in their 2016 season. Now, the New York Cybernaughts are the most watched team. Their pitcher, Jason Robards, is a double amputee at the shoulder and is able to pitch 114.8 miles per hour. The fastest Evans ever managed was 103.
"I'm having them amputated," says Evans outside Mount Sinai Memorial Hospital. Six months later, he opens for the Naughts. 230 million people watch as he pitches at 125.2 miles per hour.
"Would you do it?" asks Larry King, during his eponymous interview on CNN of Daryl Maybanks, reigning tennis champion.
"People want to watch exciting sports. You can do things with cybernetic devices you just can't do in real life. The cybernetic tennis circuit gets twice as many viewers as we do. I played the Wimbledon tennis final last week, and half the stadium was empty. I'm a professional athlete. This is my living. My choice is to retire or get new arms and legs."
2020: The Youth Vote, for Christmas
With their heroes undergoing amputations, and cybernetic work colleagues enjoying a quality of life that few could ever have imagined, it is unsurprising when – in 2018 – voluntary amputation goes mainstream.
The first non-athlete, is action star Kurt Kroonstad. The devices are expensive, but people don't seem to mind.
"We estimate that about 100,000 of these cybernetic devices were sold by the end of 2019," says market analyst, Lisa Noble. "But that was before the iWalk."
Apple has entered the market. Under the slogan, "iWalk, iRun, iLife," their pioneering cybernetic legs are seen as the must-have youth accessory.
Warning: Hazardous thinking at work
Despite appearances to the contrary, Futureworld cannot and does not predict the future. Our Mindbullets scenarios are fictitious and designed purely to explore possible futures, challenge and stimulate strategic thinking. Use these at your own risk. Any reference to actual people, entities or events is entirely allegorical. Copyright Futureworld International Limited. Reproduction or distribution permitted only with recognition of Copyright and the inclusion of this disclaimer.