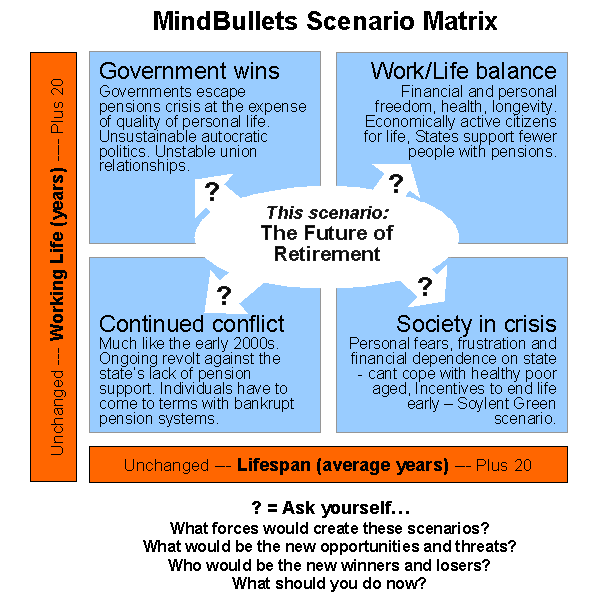 Furore as the EU scraps the mandatory retirement age as anachronistic and unaffordable
The European Union debate over Europe's pension deficit and the mandatory retirement age has been one of the fiercest in its history. Last night, insults were exchanged across the floor amidst a chaotic scene at the EU Parliament in Brussels, as mem-bers debated the scrapping of the mandatory retirement age.
The bill was narrowly passed. Politicians arguing for abolition cited two key reasons; the first being the inability of the state to adequately provide for retirement in view of dwindling birth rates, the second being that individuals are healthier, live longer and can't afford to retire.
Retirement, it is argued, is an outdated concept of the industrial age. In fact they call it Ageism. Today, as long as your mind is working, you can be econo-mically active.
Parliamentary members ran into more trouble as they left the EU headquarters, mobbed by an angry crowd of several hundred people waiting outside. They want accountability for this unmanaged timebomb.
There continues to be conflict between the young and economically active sector and the aging population. Economists believe that managing this dilemma could be a significant contributor to economic success or failure in those countries.
The pace has been forced by the urgent need to meet the deficit in Europe's pensions, but the underlying trend is fuelled by both economic necessity at the state individual levels and personal choice.
In any event, many Baby Boomers had already made that lifestyle choice – work is play and play is work, and neither ever stops…
---
ANALYSIS >> SYNTHESIS: How this scenario came to be
Background
There are many reasons why retirement, as a life stage, may become an anachronism, but there are four streams that define the trend:-
1. Increased healthy life expectancy and a shift in attitude about age
2. The economic impact of ageing population demographics
3. The un-affordability of retirement due to the depletion of state and private pension funds and the lack of personal financial planning by individuals
4. Technology which enhances physical strength and makes manual labour safer and easier plus computer and communications technology which has enhanced brain power and connectivity for continued participation in the workplace
Life expectancy and the change in attitudes towards age and retirement
Retirement is an industrial age idea founded on the fact that at around age 65 men became incapable of operating heavy machinery. Who do you know today who operates heavy machinery? And, note that this sentiment was focused only on men, women did not represent a significant part of the business paradigm in the industrial economy.
The number of pensioners or retirees who have restarted their economic activity is on the increase. The trend that began as a function of economic necessity is becoming a new value system, supported by enhanced health maintenance. The emerging physical and technological 'can-do' attitude could result in people never retiring, in the traditional sense. They may retire from the companies they worked for, but this does not mean they become economically inactive. Self-employment is on the increase.
The shift is the cumulative effect of a number of socio-economic drivers, spanning several generations, such as the Baby Boomers and their children. Baby Boomers are educated people – clever, ambitious, entrepreneurial and achievement oriented. Generally they like to work and to have the freedom to make choices. There is a slow realisation, amongst Baby Boomers, that they have inherited a retirement model from their parents; to many retirement is something that has been foisted upon them.
Demographics and economics
People are living longer. In Europe, the over-60s now account for a quarter of the population. Globally the over-60s account for 10% of the population; this figure is set to increase to 25% in 2050. The fastest section of the world's population is the elderly.
The birth rate is declining. Apart from the USA, which has the fastest-growing population growth rate of the advanced economies, the falling fertility rate is creating ageing populations in Europe and large parts of Asia. Affordability of retirement becomes a major issue in these countries.
The worker-pensioner dependency ratio (RPD) in Europe is three workers to every pensioner. In 30 years, this will fall to three workers for every two pensioners.
Families are less inclined, or able, to care for their elderly. What will happen to these people?
Business and economies will suffer as they lose their most experienced resources, due to a mandatory retirement age. The cost of investment in education and training will have a higher payback by retaining older workforces. The effect is even greater in developed countries, where there is a higher ratio of skilled older people. In Third World countries, this ratio is reversed: a vast number of the young unemployed are not educated or skilled. Many countries have lost their best skills through emigration.
Continued working would increase economic activity in a growing section of the world's population. It would provide the availability of experience and skills for an additional 10-15 years and decrease the burden on pension funds.
There is a significant shortfall in pension funds: retirement will become unaffordable. Estimates suggest that only 6% of people have adequate pension provision. What will be the alternative for people who depended on their pension funds and and who do not have the skills or inclination to find an alternative? This may be a large group of people.
Longer working lives would facilitate pension replacement rates. An extra ten years of work would increase the rate by more than 20 percentage points
2000: USA freedom to work act
President Bill Clinton signs the 'Senior Citizens' Freedom to Work Act' into public law: the result is that older Americans who want to work after retirement are now free to do so, without the threat of reduced Social Security benefits because of their earnings capacity.
A survey by the American Association of Retired Persons (AARP) shows that 80% of Baby Boomers expect to work after retirement. 50% of those surveyed will work because they have no choice; the other 50% will continue to work because they want to.
2001: Mid-life at 55
The US Congress passes sweeping pension reform legislation. It is enacted as part of a large tax cut package entitled: Economic Growth and Tax Relief Reconciliation Act of 2001 (EGTRRA).
A Baby Boomer survey by Del Webb Corporation reveals that the leading edge of this generation believes that retirement is only a mid-life event. These 55-year olds say they want a more challenging 'retirement', where they continue to work, start new businesses, increase their knowledge, and establish new goals. They put a priority on being debt-free and want substantial disposable income.
2000-2: UN urges action
The United Nations estimates that by the middle of this century the number of elderly people in the world will outnumber the children. Italy has the worlds oldest population closely followed by Japan, Germany and Greece.
OECD members promote life-long learning and back to work to increase the participation of older workers. Help and incentives are introduced
The UN warns that as the world's population continues to age, we will have to find new ways of living, working and caring for one another.
A survey by Taylor Nelson Sofres of 777 people aged 50+ years, finds that 22% are retired but have returned to some form of work. Of those aged 65 to 74 years, 34% were back at work.
A Norwich Union survey suggests that 34% of Britons aged 65-74 come out of retirement to find work: social interaction and the desire to keep active are the primary reasons.
2003: Economic implications
The economic implications of healthier and longer lives are starting to become centre-stage for government and business world-wide.
In the UK, Saga Magazine, targeted at 19,6 million people over 50, representing 44% of population becomes the biggest selling subscription title with 1,3 m subscribers and 2,5m readers. Cover idols include Helen Mirren, Mick Jagger, Sting and Tony Blair. Saga Group Chairman Roger de Haan says "Though many of the UK's over-50s are poor, this is much less so than in the 1950s. Today they are a much richer community and account for 60% of all personal savings and they control >70% of the nation's wealth, and they can smell bull**** 100 miles away!"
"They are active in the most exciting of ways. They want to go to Borneo rather than Bournemouth! They want to try white-water rafting and skydiving. At Saga you can do it without being laughed at by trendy youngsters! In terms of travel and tourism the over-50s represent the most desirable segment – they have much higher levels of manners, integrity and honesty, and provide very high levels of repeat business. Insurance underwriters and hotel operators just love them!"
Saga Group sales of GBP341m and profits of GBP55m in the past year, offering holidays and travel services in 64 countries.
Retirement affordability worries the young as well. Reports suggest that in the UK, only by working until they are 72 years old, will the current crop of young workers be able to save enough to ensure a pension equal to two-thirds of their final salary.
In Italy, already experiencing the lowest birth rates for the past decade, the government tables a proposal to postpone retirement ages from 60 for women and 65 for men by another 5 years to 65 and 70 respectively, in order to enable it balance the pension deficits towards the end of the decade.
America is better positioned than most. The US has the fastest population growth rate of the advanced economies and one of the highest fertility rates. This bodes well for their economy
Jim Parkel, president of AARP, (a large American non-profit membership organisation that provides services, information and advocacy for age 50+ and older people), identifies a new phenomenon: the changing nature of work and the need to redefine the words 'retirement' and 'work'. In focusing on emerging workplace issues that effect private-sector employees, Parkel is instrumental in addressing pension-related roadblocks that prevent employees from testing forms of phased retirement. He states that many seniors over age 65 do not need a benefit package, but do need other services and products such as 'top-notch' health care and skills-enhancement facilities.
2004: 50+ market opportunity
Saga's data base now includes >10 million over-50s in the UK and is sold for GBP1,5 billion to an international consortium. By year-end a global roll-out is in place for the rest of the English-speaking world, focusing on travel and the magazine. Health-care companies continue to thrive on escalating life-spans and demands for lifestyle drugs and surgery.
More cracks appear in Italy, Switzerland, Germany and the UK as pension deficits mount and it becomes clear that a long retirement is absolutely not affordable as the average age of the population creeps up.
Debate is building in many countries about programs to boost fertility rates. This is a sensitive issue, however it is clear that ageing population issues must be addressed from both angles. Just as wrinklies need to stay economically active for longer, there needs to be balancing influx of young workers. Anything else would simply be delaying the inevitable crunch.
The popular press takes up the personal economic consequences of a longer life. Germany's Stern magazine runs an issue dedicated to personal investments with the headline: "Ask your broker this question: What will my lifestyle be like should I live to 100? Your cash flow may work until 90, but consider what another 10 or 20 years of healthy life will do for your personal finances!" Within two months similar stories appear world-wide and cause an over-50s investment paranoia. The New York Times leads with an article "Why you will NEVER be able to retire". "You won't die soon enough" comments CBS.
2005: Wrinklies exceed 50%
In some countries the over-50s now represent 50% of the population. National pension plans buckle under financial pressures. Retirement ages are extended by five to ten years across the EU. Italy starts to offer tax incentives to parents prepared to have more than one child.
Unions react very aggressively to proposed penalties for early retirement and an extension of the retirement age. Italy, a country that has had the lowest birth rates for decades, declares the national pension budget bankrupt. Strikes spread across Europe as workers hold governments and corporations responsible for coping with the dilemmas of a longer life.
2006: Actuarial disaster
Financial services companies with links to the pension industry are threatened. With the increased visibility of future threats to profitability their share prices plummet. The age-old actuarial assumptions of gradual change are being uprooted by several major health-breakthroughs in heart disease and cancer. "If all our clients just live 5 years longer than the actuarial average, our profits will be under serious pressure" comments the new CEO of Prudential.
Meanwhile, the health care industry sees an accelerating boom by focusing on cures for the aged and new preventative care for teenagers. Big retail supports this drive for 'wellness', anticipating longer participation by everyone as consumers and investors.
"Active ageing" campaigns are emerging. Many organisations emerge to provide insight and counselling. Wrinklies are waking up to the power they could potentially wield in the economy. Holland becomes the launch pad of "B4B" (Business for Boomers) an organisation somewhat reminiscent of AMWAY. Its purpose to concentrate the skills and potential of thousands of European professionals and to create a collective marketing and bargaining power as they offer skills and services to businesses around the world. It is a brilliant example of network marketing and fractal business thinking
2007: Ageism takes centre-stage
Ageism is the new social 'no-no' of the day. Society in the 21st Century has vociferously campaigned against racism, sexism and a variety of other 'isms'. The Royal Ordnance Pensioners Association (ROPA) campaigns for, and has been influential in, the passing of legislation to outlaw age discrimination.
A massive drive in Europe, parts of Asia and USA against ageism encourages populations to capitalize on the wisdom of the older generations. Companies hiring strategies are overhauled. Japanese social consultants are much in demand to advise on Japan's ability in this regard for centuries.
The younger nations in the expanded European Union take sides against the 'old nations' and suggest that their inability to deal with the pension turbulence is threatening the complete EU business fabric and competitiveness in world markets. There is talk of a separate and competing economic union of younger nations.
B4B emerges as the fastest growing professional services firm of 2006
2008: Grey power
Baby Boomers come into their own – again. In the US workforce, the number of workers aged 34 and younger, dips to 36%. Peripatetic, hotshot Generation X, is not the answer to companies' consistency and competitive needs. As companies attempt to keep pace with competitors, they increasingly tap into the older, qualified, but often retired, Baby Boomer generation. Fortunately for employers, the concept of retirement has changed as quickly as the composition of their workforces.
A new class of worker becomes commonplace in the workforce. Older, employed for flexibility based on specific needs and peak demands, delivers better value for money, paid for output and results, a different combination of cash and perks.
2009: RPD downward trend
'Retirement' becomes a politically incorrect word – you can be 'active forever' and you can work on whatever and whenever you want to – quality output and customer value are the only measures.
The younger nations launch 'Wrinkly programs' to attract older generations to work in their booming businesses. They too have found the biggest money is in the older markets, and they need the skills to understand and support them better.
The ageing populations in OECD member countries result in significant decreases in the RPD ratio. This was threatening to reach levels of 4:10 and would have reached levels of 6:10 by 2050, if mid-1990s labour participation rates continued. The current levels of 3:10 bode well for an overall long-term decline. RPD ratio projections for 2020 are now 2:10, i.e. back to levels achieved in the 1960s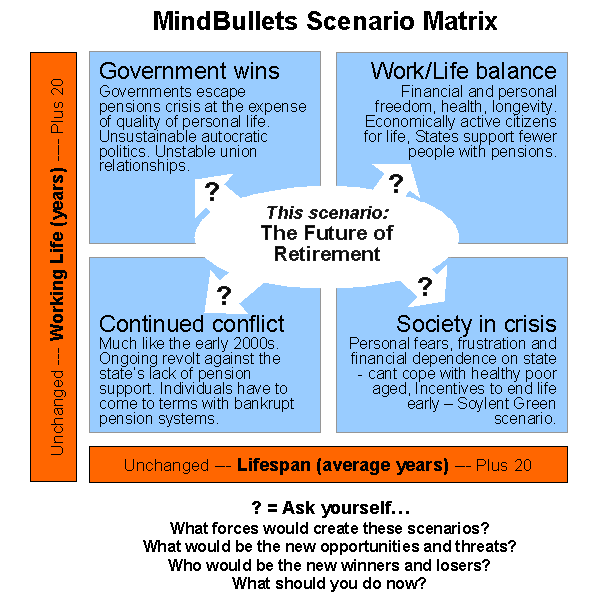 Warning: Hazardous thinking at work
Despite appearances to the contrary, Futureworld cannot and does not predict the future. Our Mindbullets scenarios are fictitious and designed purely to explore possible futures, challenge and stimulate strategic thinking. Use these at your own risk. Any reference to actual people, entities or events is entirely allegorical. Copyright Futureworld International Limited. Reproduction or distribution permitted only with recognition of Copyright and the inclusion of this disclaimer.