THE LAST VW ROLLS OFF THE WOLFSBURG PRODUCTION LINE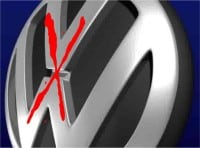 German economy gets to grips with the death of an industry
Despite recent forecasts that more cars would be sold in China and India during the next twenty years than had been sold world-wide in the past hundred, it was a dark day for the people of Wolfsburg.
Since the days of the very first Volkswagen, their town had been the center of the Volkswagen universe, making many of the most popular models and the components for many global production lines.
The red 'X' painted by protestors across the VW logo at a local dealership made it clear that this was the end of an important era for Wolfsburg, and the whole German economy.
Although thousands of management and sourcing jobs will remain, all manufacturing will be shifted offshore "within the next five years".
VW has re-captured the number one slot in China and that country is the biggest beneficiary of the manufacturing shut-down in Germany, South Africa and South America. VW's US plants remain the centre for high-tech manufacturing but their future is by no means certain.
Daimler-Chrysler is now the only major German auto company to remain with a major manufacturing presence in Germany. The protests and accompanying strikes that have crippled the German economy during the past year seem to have put the last nail in this industry's coffin – at least as far as Germany is concerned.
---
ANALYSIS >> SYNTHESIS: How this scenario came to be
2005: German auto makers consolidate and retrench
German sports car maker Porsche says it plans to take a stake of 20% in Europe's biggest auto manufacturer, Volkswagen, based in Wolfsburg since WWII, in a move that will help shield Volkswagen from a hostile takeover. "Porsche is taking this decision because Volkswagen is now not only an important development partner for Porsche, but also a significant supplier for approximately 30% of Porsche's components," said a Porsche spokesman.
Merger mania has been a disaster for the world's great car manufacturers. Daimler and Chrysler together are worth less in stock market terms than Daimler alone was before the merger. This summer the architect of the deal, Jürgen Schrempp, was pushed out of his CEO position.
At the Frankfurt Motor Show in September, for the first time three different vehicles made in China are on show. Plans are well under way for Chinese models to be sold in America as well.
Globally the industry is set for huge expansion with the motorization of China and India. Within a few years China will replace Japan as the second-largest national market after America. Some experts predict that over the next 20 years more cars will be made than in the entire 110-year history of the industry – and they will primarily be bought in China and India.
VW produces the Golf, Golf Plus, Bora estate and Touran models as well as components for other VW subsidiaries at Wolfsburg, Germany.
During 2005, VW is in public discussions about off-shoring manufacture of its new small SUV to Portugal. Finally in September VW agrees to bring the new model to Wolfsburg and to limit retrenchments until 2011, in return for union guarantees.
Daimler-Chrysler and Volkswagen have been in talks for years about a possible tie-up, but have never managed to strike a deal, it has been revealed.
On 29 September Daimler-Chrysler announces that it will lay off another 3 000 jobs in Germany.
2008: China's fossil fuel plans scupper car outlook
China's announcement that it will decommit from all fossil fuels over the next twenty years has sent the Western car industry into a spin.
There is an immediate realization that China's love affair with Toyota will mean that China will become the de facto manufacturing location for fuel-cell and hybrid cars. European and US car manufacturers accelerate their focus on costs and efficiencies.
This is a last-ditch effort to eke some life out of a commoditizing industry. It is clear that, with India and China becoming the world's primary automotive markets in the next decade, there has to be a compelling reason to manufacture anywhere else.
2011: VW announces plans to leave Wolfsburg
It was as spectacular a bust-up as any seen in the heyday of Margaret Thatcher vs The Unions.
At the end of a six-year truce, the unions have been demanding increased wages without any agreement on increased productivity. After two weeks of round-the-clock bargaining, VW executives walk out of the talks claiming: "This is the end of the road for our Wolfsburg factories."
Within a week VW announces that it will press ahead with significant investments in China and Turkey. "These plants will be the high-tech manufacturing leaders from 2015 onwards," said a VW spokesman, "and we will start phasing out all our local German production lines from 2014."
It is clear that Chinese markets have now reached a sophistication close to Germany in 2000 and their manufacturing skills and infrastructure are racing ahead.
Bosch and Siemens announce that they will create 50,000 new jobs in China in the next decade. The press release makes no mention of the implications for Germany.
Warning: Hazardous thinking at work
Despite appearances to the contrary, Futureworld cannot and does not predict the future. Our Mindbullets scenarios are fictitious and designed purely to explore possible futures, challenge and stimulate strategic thinking. Use these at your own risk. Any reference to actual people, entities or events is entirely allegorical. Copyright Futureworld International Limited. Reproduction or distribution permitted only with recognition of Copyright and the inclusion of this disclaimer.