TAKE TWO ASPIRIN AND WE'LL GOOGLE YOU IN THE MORNING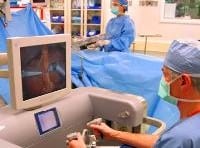 Another blow for traditional health care as virtual doctors rule
It all started way back in 2008 with consolidating patient records. Next came online medical consultations. And now the latest revolution in health is…Google Surgery!
Thousands of Google Health members are having cut-price minor surgery in low-cost neighborhood clinics. Highly-qualified surgeons are wielding the virtual scalpel – often from thousands of kilometers away!
In fact, it's a robot that's actually doing the operation, controlled remotely by the doctor, who can be working from anywhere in the world.
Google has successfully extended its trusted name in health by combining dramatic advances in remote robotic surgery with the launch of the newly franchised Google neighborhood clinics.
"The medical revolution is just beginning!" crows Google Health's President, Dr Vincent Zaroggi. "Testing of more complex procedures is already underway. And with our new advertising models, free surgery may be just around the corner!"
This is yet another blow for the traditional health industry, reeling from the onslaught of a slew of new technologies, the impact of low-cost medical tourism in countries like India, Singapore and South Africa, and a run of medical insurance scandals which have left patients angry and disenchanted with the formal health sector.
"Who trusts hospitals these days?" asks Maria Reubens from New York. "It's just one rip-off after another. I've had enough!"
By contrast, Roddy Chan, who's just undergone tendon surgery on his left hand at a Google clinic in Manchester, with top surgeon Dr Goolaham Pillay operating from Mumbai, is one happy customer.
"This is great! No waiting, no hospital bureaucracy, big bills or terrible food! Just a quick visit to the local clinic, and it's done, by an expert surgeon. And I paid a fraction of what I would have at the hospital in the city!"
What's next, online DNA?
---
ANALYSIS >> SYNTHESIS: How this scenario came to be
A global shortage of medical staff, spiraling costs, new technologies and problems in the health insurance sector, coupled with growing patient dissatisfaction, all led to the buildup of a crisis in health care.
It was back in 2007 that Google fired the first shots in its master-plan to become the global trust agent in everything from financial services to customer service ratings. Google spotted the gap in health – and pounced.
2000: Robotic Surgery
On 11 July 2000, the FDA approves the first completely robotic surgery device, the daVinci surgical system from Intuitive Surgical. The system enables surgeons to remove gallbladders and perform other general surgical procedures while seated at a computer console and 3-D video imaging system across the room from the patient.
The surgeons operate controls with their hands and fingers to direct a robotically controlled laparoscope. At the end of the laparoscope are advanced, articulating surgical instruments and miniature cameras that allow surgeons to peer into the body and perform the procedures.
2004: Health Tourism
Canada is one of the first countries to embrace surgical tours to South Africa and India.
'This is something that's happening. It's new to Canada but it's here for the long run,' says Surgical Tourism's President Yasmeen Sayeed.
Many patients combine the benefits of cheap, high-quality cosmetic or general surgery with a safari tour during convalescence.
2008: Google Health
Google Health launches in 2008, and starts quietly, by offering consumers the opportunity to consolidate their patient records – and, as is the Google hallmark, for free.
The message to consumers is clear – this is YOUR health; let us help you take charge of it. Google users from around the world respond in droves.
Just as with search, Google first builds the user market – and then grows revenue streams by charging access fees to health providers rather than patients. Within a few years millions of patients are using Google Health to manage their own records, and thousands of hospitals and health services are paying Google to manage, store and access these.
2009: Online Consultations
Google brings doctors on-board for online consultations at a fraction of the normal costs, using Voice-over-IP video conferencing and other cheap telecommunications technologies. A flurry of software applications are written to turn cellphones into simple diagnostic devices that enable meaningful remote examinations to take place.
2012: Google Surgery
And with dramatic advances in remote robotic surgery, it was simply a matter of time before Google upped the stakes in this field as well. Google Surgery is like the holographic doctor of Star Trek, assisted by a medical version of R2D2 from Star Wars.
So what's next?
Well, watch the realm of genetic sequencing – a field in which Google is already experimenting. And beyond that, expect the GoogleDoc to simply download nano-signals to your in-body chips, and cure you without any invasive procedures whatsoever!
Warning: Hazardous thinking at work
Despite appearances to the contrary, Futureworld cannot and does not predict the future. Our Mindbullets scenarios are fictitious and designed purely to explore possible futures, challenge and stimulate strategic thinking. Use these at your own risk. Any reference to actual people, entities or events is entirely allegorical. Copyright Futureworld International Limited. Reproduction or distribution permitted only with recognition of Copyright and the inclusion of this disclaimer.