US PRESIDENT RICE OPENS INDIA'S MAGLEV NETWORK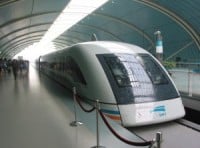 New rail infrastructure to turbo-charge Indian economy
US President Connie Rice was the honored guest at the Mumbai opening of the newly completed maglev network linking India's biggest cities. The magnetic levitation railway system reaches speeds of 550km per hour, faster than the TGV and approaching airline speeds.
The first commercial maglev rail link was built in China with German technology in 2004. The system proved so efficient that it was extended to link Shanghai and nearby Hangzhou in 2010.
In the past decade India has embraced the new rail technology to re-vitalize its worsening logistics infrastructure. The long-distance network connecting Mumbai to Delhi, Kolkata and Chennai was opened yesterday.
Called 'futuristic' back in 2006, maglev rail has proved to be extremely energy efficient and entirely safe – it has operated for 15 years in China without major incident.
Although expensive to build, like all railways, the ability to move people and goods at aircraft speed between major cities will add further impetus to the burgeoning Indian economy.
"The United States is proud to be associated with the development of technology for the benefit of the Indian people," said President Rice at the opening ceremony, alluding to the massive investment of US dollars that helped fund the network.
"We look forward to increased co-operation between our countries in years to come."
Rice was well motivated in her comments. India has become one of the major trading and investment partners for the US, rivaling China in economic size and growth.
A wreath was laid in commemoration of the terrorist attacks on Indian railways exactly fifteen years ago.
---
ANALYSIS >> SYNTHESIS: How this scenario came to be
Playing leapfrog
Who would have thought that two decades after the fall of the Berlin Wall, Germany's first female head of state, Angela Merkel, would be visiting China to see the impact of German innovation – in the form of magnetic levitation rail – in practice, and lobbying for increased investment opportunities and construction contracts?
As China continued its investment in maglev technology, India, that other spectacular growth economy, was looking for leapfrog solutions to its ancient crumbling transport infrastructure.
The India-wide 'Golden Quadrilateral' highway project addressed the urgent need for highways and a new focus on major airport works supported the increased liberalization of airlines and the retail industry, but it became clear that the rail infrastructure could not be 'upgraded' – a radical leapfrog strategy was required.
India's government/business partnership entered into negotiations with German technology firms, the Chinese government and US financiers to put in place a ten-year strategy to mirror the Quadrilateral highways with a brand new maglev rail network for passenger and goods traffic.
By 2018 even the patriarchal United States had a woman for president, Condoleezza Rice, and she was invited to officially open the new Indian maglev network.
Maglev trains are now an integral part of China's and India's transport network, critical to continued growth, and helping to address traffic congestion and ease pollution. China has benefited massively by being able to leverage its own experience in the new economic relationship with its growing neighbor, India. China is said to be negotiating similar deals with the Russian, Brazilian and South African governments.
To support the massive investments required, and the new electricity generation capability, India has also had a willing financier in the United States, who is looking for big dollar investments to offset the spiraling off-shoring of services to the sub-continent.
Not only that, but India's nuclear power program has benefited from over a decade of US support, and is delivering the electrical power needed for this highly efficient and environmentally friendly transport network. Is India breaking into a technological leadership position, or is this a subtle form of economic imperialism by the US and China? Only time will tell, but the increasingly co-dependent nature of these three economic giants' relationship is becoming obvious.
Warning: Hazardous thinking at work
Despite appearances to the contrary, Futureworld cannot and does not predict the future. Our Mindbullets scenarios are fictitious and designed purely to explore possible futures, challenge and stimulate strategic thinking. Use these at your own risk. Any reference to actual people, entities or events is entirely allegorical. Copyright Futureworld International Limited. Reproduction or distribution permitted only with recognition of Copyright and the inclusion of this disclaimer.