WRINKLIES SEEK LOVE ONLINE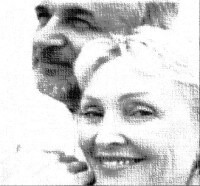 Mobile phones and the internet spawn a new mating boom for Google
January and February are dark months in the northern hemisphere. It's when depression sets in after the high jinks of Christmas and New Year celebrations. The days seem to get ever shorter and everything is bathed in gray. This is the perfect time to dump a partner and to look for greener pastures.
The wrinklies, now ever more active, fall prey to the same all-pervasive grayness at this time of the year. But they are turning to new solutions.
"I call him my Google Boy – he's my dot com.panion!" giggles gray and sprightly Shirley Jones as she raves about her newly-found on-line partner. Shirley is one of the older generation of users of Google's latest venture, Google Relationships.
From the first day of its launch the over 50s have been the dominant users of this dating service, every day more than 100,000 singles over 50 have been joining the network.
And, that's no marketing accident – the over 50s markets are booming world-wide. With large earnings and access to already acquired wealth, their numbers now make up one of the most financially attractive consumer sectors.
Already dominant users of low-cost airlines and adventure holidays, they are now determined to do nothing alone.
Google's timing is once again spot-on!
---
ANALYSIS >> SYNTHESIS: How this scenario came to be
This is Amy Owens' "Gray Guide to Online Dating" – particularly tuned to the US cultures. If you're based in the UK, beware, some of these approaches may not have the desired effect. Think global, but act local, applies here too.
"Brevity and honesty go a long way in online personal ads no matter what your age," says Amy Owens, who writes the Savvy Singles column for The Indianapolis Star. She breaks singles ads into six important elements:
A positive, attention-getting lead-in or title.
A physical description that paints a picture of you.
A description of the kind of person you are.
Three to five strong interests you'd like to share.
A description of the kind of person you're looking for.
A statement about the kind of relationship you're looking for.
Here is her advice for writing the best ad possible:
Lead with a positive, attention-getting title. "Any Good Guys Left?" is attention-getting but negative. Both "Sunny Lady" and "Striking Brunette" are positive and attention-grabbing.
Include your race, height, hair and eye color in a physical description. Men typically include their weight, while women use words such as "slim," "average" or "Reubenesque." Include your age, too.
Use words such as "quiet and shy," "amiable," "easygoing" or "down to Earth" to describe your personality, and words like "dependable," "hard-working" or "creative" to describe your character.
Be specific about your interests. Rather than saying you enjoy music, say you are a Jimmy Buffett fan or that you love classical music.
Don't specify an age range in the person you seek. Let responders choose you based on a similarity in life stage.
State the kind of relationship you would like. Singles might be seeking friendship, companionship or a long-term relationship.
2005: Match.com becomes hot and gray
Match.com, one of the world's largest online dating sites, with member companies in 240 countries and sites in 18 different languages, attracts more than 2 million new members over 50 in just two months.
2007: Over 50s emerge as the key consumer segment
As a consumer segment they are now growing faster and have more than half the entire consumer spend under their control – AND they're starting to be less cautious. They want to SKI – to Spend the Kids' Inheritance!
2008: Google launches Google Relationships
In an increasingly networked world economy, Google tries to prove the point of 'Six degrees of separation' by attempting to connect everyone to everyone else.
It doesn't work but it starts a massive new match-making site for the over-50s.
2009: SecondLife acquires Match.com
Internet literacy has been given another boost by the recent merger of Match.com with SecondLife – giving matchmaking a distinct virtual reality feel.
And, by the way, FEEL is the next big thing as SecondLife pre-announces that it will build Wii's sensation technology into its forthcoming release.
Now you'll be able to 'test drive' in the virtual world before actually committing to a real-life date.
Warning: Hazardous thinking at work
Despite appearances to the contrary, Futureworld cannot and does not predict the future. Our Mindbullets scenarios are fictitious and designed purely to explore possible futures, challenge and stimulate strategic thinking. Use these at your own risk. Any reference to actual people, entities or events is entirely allegorical. Copyright Futureworld International Limited. Reproduction or distribution permitted only with recognition of Copyright and the inclusion of this disclaimer.