ENERGY TOPS LIST OF ECONOMIC CATALYSTS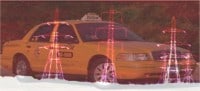 US and South Africa double prices
The economy formerly known as the world's largest, and one of the smaller first world economies, have simultaneously succumbed to price increases to control energy shortages.
Despite denials that substantial increases were on the cards, and within hours of each other, the US has doubled gas prices and South Africa doubled electricity prices.
The incoming and outgoing US presidents acted with rare unison and commitment to get wide support, increasing taxes that effectively will double gas prices. The auto industry is incensed. The environmental lobby is delighted.
It had become clear that The Energy Independence Act passed in December 2007, focused on efficiency targets for auto manufacturers, would not be enough to curb gas usage.
Never in US history has such a broad program of legislation been passed in the doldrums between the election and inauguration.
The question has to be asked why these tax increases were not higher. The US still has one of the lowest costs of car travel.
South Africa's government was spurred into action as coal prices surged ever higher and uncertainty over it hosting the 2010 Soccer World Cup increased. Rising global copper prices have increased rampant cable thefts to an estimated one billion dollars in the past year, adding to the regular demand outages during the winter.
Even after a doubling of the state-run electricity operator's prices South Africa's electricity remains the cheapest in the world, still 50% cheaper than the next in line, Australia.
The implications for South Africa's mining industry are profound. The gold price has to stay above US$750 in order for the majority of mines to stay 'in the black' and there's no sign of coal demand or prices decreasing any time soon.
It seems that world governments have decided not to be held hostage to energy shortages any more – and this is perhaps only the first step they will have to take.
---
ANALYSIS >> SYNTHESIS: How this scenario came to be
Coal prices reached about US$100 a ton on international markets in February 2008.
South Africa's electricity supplier has long-term contracts that give it access to local coal at an incredible US$14 a ton. Any new contracts for an estimated 50% increase in local demand for coal will not be met at that price and will most likely be at above US$20-30 a ton. This will certainly lead to a massive increase in the price of electricity.
The chances of South Africa becoming a net importer of coal has already threatened to drive international coal prices higher and can be expected to double the US$100 level in the near future if Chinese and Indian demand continues.
Or, how about a US$300 a ton level in future? Will coal become the new oil?
Warning: Hazardous thinking at work
Despite appearances to the contrary, Futureworld cannot and does not predict the future. Our Mindbullets scenarios are fictitious and designed purely to explore possible futures, challenge and stimulate strategic thinking. Use these at your own risk. Any reference to actual people, entities or events is entirely allegorical. Copyright Futureworld International Limited. Reproduction or distribution permitted only with recognition of Copyright and the inclusion of this disclaimer.