EU ANNOUNCES 3-DAY WORK WEEK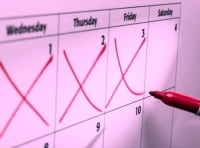 Maximum working hours cut to 30 per week
In a desperate attempt to stem the rising unemployment tide, the EU has imposed a limit of three days per week that people may work, and a maximum of 10 hours per day.
"We're not trying to drive business under," said labour commissioner László Andor, "just reduce inequality between working people and the unemployed. Businesses can have a post filled for six days a week, up to 60 hours, they just have to employ two people to do it."
Originally proposed by Carlos Slim two years ago, the 3-day work week has lots of social benefits. People are generally more productive when they only work three days, and more relaxed and healthier, as they have more time for family and leisure.
"The idea of working for six days at five hours a day is so counter-productive. That means wasting time commuting, and losing all that daylight when you could be outdoors and enjoying yourself. This way the business will get more focus on the job, and people get more time for themselves. It's a win-win," explained the commissioner.
The EU officials neglected to emphasize that they're raising the retirement age to 69, but that's also a good thing. People can and will work longer, especially if they have more time every week to take care of themselves and their families.
Whether everyone agrees with this philosophy remains to be seen. Brazil and Mexico are known to favour the 3-day work week, but China and India are treating it with disdain.
Warning: Hazardous thinking at work
Despite appearances to the contrary, Futureworld cannot and does not predict the future. Our Mindbullets scenarios are fictitious and designed purely to explore possible futures, challenge and stimulate strategic thinking. Use these at your own risk. Any reference to actual people, entities or events is entirely allegorical. Copyright Futureworld International Limited. Reproduction or distribution permitted only with recognition of Copyright and the inclusion of this disclaimer.