NEW CHILL PILL TO FIX SOCIETY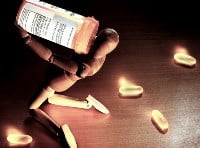 Dopamine hailed as the new weapon in the fight against crime and anti-social behaviour
In 2019, Lyla Roberts was assaulted at a bus stop in London. A bystander recorded the incident and posted it online, instead of intervening. The title of the post: "5 star entertainment! Who needs the movies!?" Roberts spent four months in a coma before being declared brain dead. It shocked the world, but has also inspired a pharmaceutical breakthrough.
The newly released drug is called Lyla and is grounded in years of research which also produced an oxytocin-inducing nasal spray. Lyla works by increasing dopamine in the brain and results in people becoming more compassionate and fair-minded. They also feel a lot happier.
Indian correctional facilities will pioneer a cognitive rehabilitation approach by prescribing Lyla to criminals. According to the Health Minister, the drug will help to create better citizens. "It comes down to social education. We'll be 'teaching' criminals appropriate conduct by altering their brain chemistry. Besides, it's for the common good of everybody; it's not like we're lacing the water supply with drugs to keep an oppressive regime in power," he said.
Lyla looks like the wonder drug that will save the pharma industry itself. For many years, the use of LED light pulses to awaken people's happiness genes was a big blow to medicine-makers, but not anymore. Lyla has proven to be three times more effective than light therapy.
As for the gangsters and the disturbed onlooker who didn't try to help Lyla – they're being sentenced today. Word on the street is that they too will soon be drinking a certain pill a day, in order to keep the bad behaviour away.
Warning: Hazardous thinking at work
Despite appearances to the contrary, Futureworld cannot and does not predict the future. Our Mindbullets scenarios are fictitious and designed purely to explore possible futures, challenge and stimulate strategic thinking. Use these at your own risk. Any reference to actual people, entities or events is entirely allegorical. Copyright Futureworld International Limited. Reproduction or distribution permitted only with recognition of Copyright and the inclusion of this disclaimer.